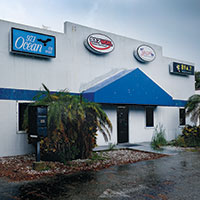 ORCA making Vero Beach its new headquarters
STORY BY STEVEN M. THOMAS (Week of September 1, 2022)

After searching for more than a year, sometimes desperately, the Ocean Research and Conservation Association has found a new home – and its new headquarters will be in Vero Beach.
The relocation from Fort Pierce to a 6,500-square-foot building on 16th Street between Old Dixie Highway and U. S. 1 that will be renovated into lab, office and education space will add to Vero's scientific power and reputation for environmental awareness.
The acquisition of the Vero building was fueled by a grant from island resident Trudie Rainone in memory of her son Donald "D.J." Rainone, who she said "was passionate about the lagoon and loved swimming in the ocean."
ORCA's new headquarters will be named the D.J. Rainone Research and Science Building in his honor. ORCA hopes to move in by the end of the year.
"It is an ideal location for us," ORCA founder and chief scientist Edie Widder told Vero Beach 32963 last week. "It is midway along the 156-mile length of the Indian River Lagoon where we do so much of our research and right in the heart of town. I love that we are on a main thoroughfare. We will put a big sign out front!"
"Vero is the perfect place for ORCA," said Laura Moss, a former Vero Beach mayor who now is an environmentally minded county commissioner. "I am very optimistic and happy about them being here. They will add to the synergy among our many hardworking environmental organizations."
"What wonderful news that ORCA has found a place in Vero Beach," Pelican Island Audubon Society president Richard Baker wrote in an email to Vero Beach 32963. "Their data is so critical to our health and the health of our wildlife. They were close when they were in Fort Pierce but it is exciting to have them even closer now, carrying on their research and education activities in Vero Beach."
ORCA bills itself as "the nation's first technology-based marine conservation organization." With 18 fulltime staff members and five part-time, it does hardcore scientific research and related marine engineering focused mainly on tracking and eliminating pollution in the lagoon.
It also conducts an exhilarating array of creative educational programs to teach children and adults about their connection to the marine environment, the perils that environment faces, and science-based ways to push back on the problems.
Widder is a world-renowned marine scientist and MacArthur Genius Award-winner who has made important discoveries about the functions of bioluminescence in the oceans and was first to film a giant squid in its deep-water habitat.
She founded ORCA in 2005 using the cash proceeds of her MacArthur award, establishing her headquarters at the old Coast Guard station on the south side of the Fort Pierce Inlet and raising the alarm about deteriorating conditions in the lagoon.
For 15 years, she and her colleagues operated from the picturesque but cramped facility with docks and dolphins out back, creating innovative pollution maps of the lagoon and engineering water-quality monitoring devices, fabricating parts with 3-D printers. They taught school kids and adults how to conduct scientific research in the marine environment and enlisted a battalion of 1,500 citizen-scientist volunteers.
Then, suddenly, last June, their landlord told ORCA its lease at the historic building would not be renewed because the wooden structure was too old and no longer fit for habitation.
They had just 60 days to move.
While scrambling to find a new place, Widder and her managing director Warren Falls put some of their gear in storage and shifted most operations and research to the organization's small Citizen Science Lab near the Vero Beach Airport.
"We started looking immediately," Falls said – but the search was challenging.
"At first we were looking for waterfront property, both buildings and lots where could build," Widder added. "We were used to that beautiful waterfront spot on the Fort Pierce Inlet where we were so grateful to come to work every day. But it was right in the middle of this huge escalation in property prices.
"It was terrifying. We thought we would never find a place we could afford. We looked at rentals, too, but it was the same thing – prices through the roof that were out of the question.
"At some point it dawned on us that we didn't have to be on the waterfront. That opened up many more possibilities."
ORCA's boats are small – the largest is a 20-footer – and they typically trailer them to places along the lagoon where they do research.
"Even if we had a facility with docks, we aren't going to travel 75 miles to one end of the lagoon and back by boat," Widder said.
They gave up the idea of building new when architects advised them that renovating an existing building would be more environmentally friendly.
After months of diligent searching by Widder, Falls and others at ORCA, they finally found the building at 1235 16th St., signed a purchase contract, did their due diligence, and closed on Aug. 17, working with commercial real estate broker Kevin Lambert.
Located on a half-acre lot, the building, which was built in 1970, was home to several radio stations before it was put on the market. Lambert had the property listed for $895,000 but ORCA was able to snag it for $825,000.
Falls said the building's existing floor plan, which includes multiple offices arranged around a large open central space, will work well for ORCA with relatively few modifications, keeping reno costs down.
The biggest interior renovation will involve retrofitting the central room as lab space, installing water and drain lines, electrical lines and other features needed for marine research. The back wall of the reception space will be opened up with a large interior window so visitors will be able to see scientists at work in the lab area as they arrive.
Out front, along the busy road, Widder plans to plant mangroves and other native plants and have porch cover columns that resemble mangrove roots. And there will be that big sign.
"Right now we are waiting for the architect to finish the plans so the contractor can bid the job out," said Falls, who is working with Vero architect Wendy Austin and Bill Bryant & Associates construction. "We would like to be open at the new location by the end of the year, but right now that is just a wish."
Widder said ORCA launched a quiet $1.2 million capital campaign to pay for a new headquarters building in April and got a powerful response from its donors.
Trudie Rainone gave $500,000 from the estate of her son Donald "D.J." Rainone, a Vero resident, Princeton graduate and successful entrepreneur and business consultant who admired ORCA's efforts to protect the lagoon, according to Widder and his mother.
He died from cancer last November at age 44 and his mother gave the gift to serve a cause he cared about and perpetuate his memory.
"I want people to remember him and be aware that he was a very caring and loving man," said Trudie Rainone, who is now a member of ORCA's board. "He wanted his ashes scattered in the ocean and I guess I feel that if he is in the ocean, I want to do whatever I can to protect it."
Other donors stepped up as well and more than $900,000 has been raised so far.
"I practically tear up when I think about the generosity of our donors and how welcoming the city of Vero Beach has been to us. It is really wonderful and we are very happy to be here," Widder said.
While waiting for the new building to be finished, Widder, Falls and their staff and volunteers will continue their wide-ranging research and educational activities from home offices and the Citizen Science Lab at the airport where staff members have kept the organization operating despite being "jammed in on top of each other."
"Our team has been fantastic and we haven't slowed down despite the disruption," Widder said. "We did a big pollution mapping study down in the south fork of the St. Lucie that was probably the most comprehensive we have ever done. Our citizen science program has grown explosively and we are continuing to develop new protocols and techniques for tracking pollution."