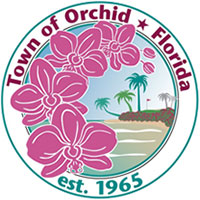 Orchid has no need for Town Council election
STORY BY SAMANTHA ROHLFING BAITA (Week of September 8, 2022)

With just three candidates qualifying for three open seats on the Orchid Town Council, the northernmost of the county's barrier island municipalities will not require an election this November. 
Filling the vacant four-year seats will be council newcomers James Raphalian and John Heanue, as well as returning incumbent Bob Gibbons, who just completed a term as mayor.
After earning an MBA in finance from Penn State, Raphalian, 76, worked with major firms in the industry for more than three decades, including Schwab Capital Markets and PaineWebber, and has continued to dedicate much of his time and expertise to several charitable causes. He retired to Orchid from New Jersey in 2013. 
"I think the best way to serve a small community like ours is define and enforce the policies of our town. It is key to understand our culture and to help in the future direction of that in these changing times," Raphalian said on Monday.
Heanue, 77, earned a degree in finance from the University of Colorado and worked in the banking and investment business for 35 years, the last 25 as a managing director with Goldman Sachs.
Heanue has also volunteered many hours to cancer support efforts, including driving patients to their treatments.
He has been as resident of Orchid since retiring to Florida from Larchmont, N.Y., three years ago, and considers serving on the town council a way to "give back" to the community.
Gibbons, a 1969 graduate of Fordham Law School, practiced for 42 years, most as a partner at Debevoise and Plimpton LLP, a major international law firm headquartered in New York City.
Gibbons represented corporations, investment banks and government institutions, foreign and domestic, in developing and financing industrial facilities and public infrastructure (such as the municipal electric utilities of Jacksonville and Orlando).
Following the November election, the three will be sworn in, and the new town council will be seated.
The five-member Orchid Town Council then will choose who among them will serve as the mayor and vice mayor.
In addition to Gibbons, continuing on the board will be Paul Knapp and Mary Jane Benedetto, both of whose current terms on the Town Council end in 2024.
Council members since 2018, Sims Browning's and Patti Oertle-Phaneuf's terms will end in November, and both chose not to seek re-election.
The incoming council faces no known big issues, budget challenges or staffing problems.
The Town of Orchid, most of which consists of the Orchid Island Golf and Beach Club, has a population of approximately 415.