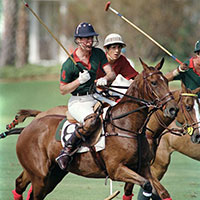 Remembering when the future king of England visited our island
STORY BY MARY SCHENKEL & LISA ZAHNER (Week of September 15, 2022)
Photo: Britain's Prince Charles playing polo at the Windsor Polo Club of Vero Beach on February 18, 1989.

The exclusive enclaves of Vero's barrier island are no stranger to famous visitors, who mostly come and go with little fanfare. But when the Prince of Wales lent his royal presence to charity polo matches at Windsor three decades ago, he brought Scotland Yard, the U.S. State Department and a cadre of international press with him.
As the former Prince Charles – now King Charles III since Queen Elizabeth's passing – ascends to the throne and mourns his mother's death along with royal-watchers around the globe, his visit so many years ago has been woven into barrier island lore, and Windsor will forever be known as the place where Prince Charles sparked an enduring passion for polo in Vero Beach.
The Windsor community, creation of Canadian retail and manufacturing magnate Galen Weston and his philanthropist and politician wife, former supermodel Hilary Weston, was founded in 1989 on 472 acres of island citrus land.
Before the streets and amenities of the planned development were even sketched out, the Westons built a seaside holiday home for themselves, then homes for a few of their friends. Next to be cleared and constructed was a private polo field, or polo pitch as the Brits call it, for Galen Weston to practice and host matches.
It was on that pitch that the Prince of Wales arrived on Feb. 18, 1989, to play a charity polo match, and meet fans who purchased tickets to the elaborate event. Dressed in evening attire and sipping champagne, Vero residents enjoyed an escape into a royal fairytale for an afternoon.
More than 4,000 people turned out for the area's inaugural polo match – quite a crowd considering that Indian River County's population at the time was only 90,000. Polo aficionados drove up from Palm Beach and reporters traveled from London to watch the Prince of Wales play.
Charles arrived by helicopter, flanked by Scotland Yard bodyguards, landing on Windsor's north polo field to join his friends the Westons and polo teammate Geoffrey Kent, who he'd met in Kenya in 1970. Geoffrey and Jorie Butler Kent were one of Windsor's first families.
Windsor's debut to the world beyond the Westons' aristocratic social circle, the polo match was sponsored by Rolex, and raised an estimated $100,000 for various wildlife conservation causes, including Vero's fledgling Environmental Learning Center, founded in 1988. Busch Gardens Tampa brought animals for guests to see up close as zoologist Jim Fowler of the Mutual of Omaha's Wild Kingdom television show emceed the wildlife-themed luncheon of 550 people who paid $250 a plate to attend.
Prince Charles petted a Florida panther and was photographed feeding a chimpanzee with a baby bottle. Straight from the luncheon, he changed into polo clothes to warm up for the match for about an hour, a reporter on the scene noted, as he'd been traveling for two days and was suffering from jet lag. Charles scored two points and the Prince's Windsor Park team won  that day 10 to 7.
The royal then made an appearance at a reception in his honor before departing for Palm Beach, where he'd play polo again on Sunday. The Orlando Sentinel found a fan in the throngs at Windsor who not only had come up to Vero for the Windsor event, but would also follow Prince Charles back down to Palm Beach for his match the next day. The Baroness Inge von Reith of Palm Beach said of the prince, "It's a joy to watch him play."
Polo is a fast and physical sport and it's not uncommon for players to suffer serious injuries. An ambulance was standing by on site to whisk Prince Charles to the hospital should anything go awry, but fortunately no one got hurt during the charity match.
"He has to be careful, you know. After all, he is going to be the king," the Baroness von Reith reminded the Sentinel reporter.
Vero Beach 32963's own staff writer Samantha Rohlfing Baita was working as a radio reporter in 1989 and covered Prince Charles' Windsor visit, calling in live reports from the sidelines of the polo match. Though she contained her excitement and handled the assignment professionally, as a life-long Anglophile who had followed Prince Charles in the news for decades, she was thrilled to be there.
"It was a warm and windy day. The event created a very big  buzz for little Vero Beach. There was a huge crowd, and security all over the place, a very, very visible presence," she said.
Along with local reporters and media outlets from across Florida, the event was covered by the Associated Press, United Press International and the British tabloid The Sun. Author George Plimpton tossed out the first ball of the polo match and Rolex Watch U.S.A. President Roland Puton attended the event.
"Obviously everybody, guests, ticket holders and us, the press, were kept very carefully corralled and nowhere near the prince," Baita recalled.  "Several of the big networks were there, cameras, and ladders and wires all over the place. Many of the attendees were dressed to the nines and the champagne was flowing – not in the press tent. The excitement level was off the charts.
"The action on the field was pretty breathtaking – big, beautiful, fast polo ponies, thundering hoofs, the slash of mallets – was even more exciting with England's crown prince in the mix," she added.
Prince Charles' first visit to Vero may have only lasted a few hours, but it made a big impression on locals. Charley Replogle, owner of the Ocean Grill, recalls being inspired to take up the sport after watching Prince Charles play. 
The current King of England played at Windsor at least twice, and while Replogle attended both times, it was the first visit that he found most memorable.
"Geoffrey Kent at the time was personal friends with Prince Charles, and he invited Prince Charles to come and play at his Polo Club, which was Windsor," said Replogle.
"I already knew how to ride horses, and when I was watching Prince Charles, I thought, I could do that," said Replogle.
"As I recall, they put out over the loudspeaker a phone number to call if you wanted to learn how to play polo," Replogle added. The person to call was David Branham, who at the time was the director of the Windsor Polo Club, as Max Segunda is today.
"So when the phone number came across, I called and became a polo player. And so you probably could say that Prince Charles inspired Charles Replogle to start playing the game," he said with a chuckle, noting that he, George Kahle, and the late Elaine Harrison all played at Windsor in those early days.
Replogle remembers Prince Charles as "a very good polo player who was very nice on the field, a complete gentleman. He was very nice to everybody. The other players were also being gentlemanly toward him; they wanted to make sure he had fun. It was a big event, and everybody wanted to make sure that it went well."
Although he couldn't remember who won the match, he guessed it was likely the team Prince Charles played on. "It's a long time ago," said Replogle.  "I played probably 500 polo games after that."
George Kahle, who along with his children and grandchildren would later become entrenched in the sport, also considers that visit by Prince Charles the impetus for his becoming a polo player.
"It was kind of cool. It was an unusual opportunity to see this royal person, and I enjoyed watching the game. So it was the celebrity factor to a small degree and then just getting exposed to the sport of polo. Shortly thereafter, Charley (Replogle) and I both became polo players and both of us played for close to 30 years," said Kahle, who retired from the sport a couple of years ago.
"Leading up to that game, everybody was instructed that since the prince was playing and (a member of) the royal family was there, we could not wear purple. We thought it was funny; the impact of royalty on Vero Beach," Kahle recalled with a laugh.
"My wife and I have had horses forever, so I rode, but not seriously. Once I knew that they were going to be giving lessons at Windsor, I started riding virtually every day just to get my legs in shape, so when the lessons came around, I wouldn't be as likely to fall off," said Kahle.
"It's a really tough sport. I honestly can't think of any sport that is more demanding. Certainly no equine sport. I've talked to people that competed internationally at other horse events and who also play polo. Without exception, they all said that polo is by far the most difficult."
Like Replogle, Kahle joined the polo team at Windsor in those early days.
The prince's second visit to Windsor came a year later in February 1990 when he spent a bit more time and played two polo matches on Friday afternoon and on Sunday, competing for the Prince of Wales Cup against Canada's Maple Leaf team, the White Birch team from Greenwich, Conn and a team from the Ponte Vedra Polo Club.
He reportedly spent Saturday relaxing at the three-story oceanfront estate of the Kents, and headlined another sold-out charity luncheon before the Sunday match, raising more money for wildlife conservation. Roughly 2,000 people attended the Friday match, with the crowd nearly doubling on Sunday. Tickets to the match ranged from $20 to $175 each.
Bonds between Windsor's developer and the British royal family would strengthen, as Galen Weston was awarded the title Officer of the Order of Canada in 1990. Later on, he was admitted to the Order of Ontario in 2005. Both Galen and Hillary Weston hold the title of Commander of the Royal Victorian Order, invested by Queen Elizabeth II.
Hilary Weston, who served as Ontario's lieutenant governor in the 1990s and as Queen Elizabeth II's representative in Ontario, received the Queen's Golden Jubilee Medal in 2002.
Though the royal visits to Windsor Polo Club were first and foremost for polo and charity, it was noted in media coverage that the publicity wouldn't hurt property sales in the exclusive gated community. The Sun-Sentinel reported that Windsor had 280 luxury homesites for sale in 1989.
"Windsor was just getting started when the prince was here. They were organizing and promoting polo to increase their profile in the community, and they basically had an open invitation to come be a temporary Windsor person and play polo," said Kahle.
He added with a laugh, "That worked for a couple of years and then they decided they didn't need the riffraff anymore." Polo continued to thrive in Vero, and the local teams moved to Pointe West, but Windsor still hosts a well-attended charity cup polo tournament every two years.
In addition to the contributions of 32963 staff writers, this story draws on contemporaneous reports from dozens of media sources, plus articles written about Windsor in the years following Prince Charles' visits.