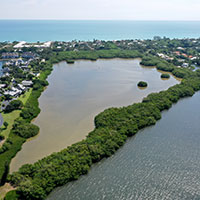 Riverfront (yes, not oceanfront) property listed for $25 million
STORY BY STEVEN M. THOMAS (Week of September 15, 2022)

Vero's continuing ascent into the real estate stratosphere was illustrated anew last month when a riverfront development tract on the south barrier island went on the market for $25 million.
The 17.45-acre property,  directly across A1A from Atlantis and bifurcated, at least for the moment, by a 110-foot-wide strip, is bounded by The Moorings' South Passage neighborhood on the north and St. Christopher Harbor on the south.  To the west is a gorgeous mile-and-a-half-wide stretch of the Indian River Lagoon.
The tract is composed about equally of lowlands and submerged or partially submerged lands.
Miami real estate investor Jonathan Molano, who has a keen interest in Vero Beach, identified the property as an investment opportunity and purchased the land in two transactions earlier this year.
"We like the property and assembled it because we love Vero," Molano told Vero Beach 32963 on Monday. "Vero is awesome, in our opinion – truly one of a kind."
To market and sell the Vero riverfront tract, Molano hired Oren Alexander, a superstar Miami and New York City broker who sold the most expensive residential property in U.S. history a couple of years ago – a $238 million Manhattan penthouse.
Alexander and his brother, Tal, who left Douglas Elliman in June after 10 years and founded their own company, said "this truly stunning 17.45-acre assemblage with Atlantic views is an exquisite opportunity to create a spectacular private estate, residential development, or yacht club with a full marina and private amphibious plane landing."
If the $25 million price seems like a lot, listen to this.  As managing partner of Bal Harbour-based MREIT LLC, Molano bought the first chunk of this property – 10.75 acres – this March 9, paying $215,000, according to county property records.
The seller was Port St. Lucie-based Axum Properties Inc., which purchased the tract for $2,500 via a tax deed in 2007.
Then in June, Molano purchased four additional parcels totaling 6.75 acres for $300,000 from Atlantis Properties, developer of the neighboring subdivision.
The two sections currently are divided by a narrow strip of property owned by Maasai Special Projects Fund, a Vero Beach-based nonprofit.  Molano said he is "talking with the group" about purchasing their property, but is moving ahead with marketing the acreage he owns in the meantime. 
In a bit of understatement, he said he believes the property he purchased was greatly underpriced, and that combining the parcels added to their value. The property "is like a little private island," he said, noting it has 800 feet of frontage on A1A and 300 feet of lagoon frontage.
"We ran a lot of comps," he said. "We are offering the property for $33 per square foot while nearby property has sold for $80 per square foot and waterfront lots elsewhere in Vero are asking close to $200 per square foot.
"It's zoned RS-3, single-family residential with up to three units per acre, which means up to 52 homes – in theory – but our idea is more to develop a single extraordinary estate or two unique estates."
He noted the sale of nearby riverfront and oceanfront homes with less acreage for $20 million and $27 million, and said waterfront estates 10 acres and larger are becoming more popular with ultra-luxury buyers from places like California and Chicago.
"Everyone wants to move to Florida and there is very little waterfront property available," Molano said.
"Griffin spent $350 million to assemble a 12-acre homesite in Palm Beach," he added, referring to billionaire hedge-fund manager Ken Griffin, who recently moved his family and companies to Florida.
Current luxury waterfront construction costs are between $500 and $600 a square foot, not including land, according to well-known island builder Joe Foglia, who has built some of the largest houses in 32963.
At that rate, a boat-loving billionaire could pay Molano's asking price, build a 10,000-square-foot house and be in for around $30 million – less than 10 percent of what Griffin paid just for land 60 miles to the south.
When the Alexander brothers launched their new business, OFFICIAL, it was in large part to concentrate exclusively on the "really rich" instead of the merely "wealthy," according to an article in Wealth.
And those are the kind of clients who can easily spend $30 or $40 or $50 million for an expansive waterfront estate close to all of Vero's shopping, dining, entertainment and cultural amenities.
"We checked and you can land a seaplane there," Molano told Vero Beach 32963, which would be convenient for an owner commuting to their weekend home from South Florida.
The idea of developing the property as a yacht club and marina seems like more of an uphill battle.
Molano said he and the Alexanders did some due diligence and believe a yacht-club project is possible, but top island brokers and developers are skeptical. Likewise county planners.
"I would say something like that would be very difficult if not impossible," said Ryan Sweeney, the county's Chief of Current Development. "Besides county regulations, you'd have to go through FDEP, St. Johns River Water Management District, the Army Corps – probably all the way up to a federal EPA study.
"The property is zoned residential, which doesn't allow for building a marina at all. I don't see it happening."
Regardless of what can or can't be built on the property, Molano has some very high-powered sales help.
The Alexander Team, which racked up $1.7 billion in sales in 2021, was the topped-ranked Elliman team in both New York and Florida in 2021 based on sales volume and gross commission income, according to The Real Deal – and the brothers are expanding aggressively in Aspen, the Hamptons, California and elsewhere.
The Alexanders left Elliman because the brokerage was "set up to take care of too many different segments of the market," Oren Alexander told Bloomberg real estate writer Jenifer Epstein in August, speaking from St. Tropez, France, where he was cruising for clients along the Riviera.
"We sell to the top 1/10th of 1 percent of buyers," he said.
That philosophy and focus might just pay off for Molano.  "We're getting a lot of calls daily," he said on Monday. "We are just waiting for the right buyer."
As for the future, he said he was buying another property here "that hasn't closed yet and looking for more in downtown Vero. We believe Vero is one of the few towns that have great commercial real estate potential that many real estate funds don't know about yet."
If you would like to see how bigtime South Florida real estate players view Vero Beach in 2022, check out this promotional video published by Molano: https://vimeo.com/733369128