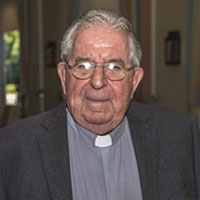 The late Father Richard Murphy implicated in theft
STORY BY LISA ZAHNER (Week of September 29, 2022)
Photo: Father Richard Murphy

A sad coda to the life of the late Father Richard Murphy – for two decades the beloved pastor of Holy Cross Catholic Church, and frequently lauded for the island parish's humanitarian work in Gifford and Fellsmere – came with his implication last week in a multi-year scheme with his church administrator to embezzle a huge sum from the Diocese of Palm Beach.
News of former church administrator Deborah True's arrest spread all the way to Murphy's home turf in Ireland, where the Irish Central newspaper ran a story saying County Wexford native Murphy and True "are accused of fraudulently depositing nearly $1.5 million of parishioners' donations into a bank account over a five-year period."
Because Murphy is deceased, police have not detailed how much the priest may have personally benefited from donations of the faithful.
But in True's case, Vero Beach Police detectives have bank statements and copies of checks showing that nearly $700,000 of church money went to pay her personal debts and expenditures.
Murphy had pastored the affluent barrier island parish from 1997 until his death in 2020.
True, 69, who retired from the Diocese of Palm Beach four months after Murphy's passing, came to Vero with Murphy 25 years ago as a package deal, and was the priest's caregiver in his final days and personal representative for his estate. 
Court records show that True and Murphy set up an off-the-books bank account in 2012 in the name of Holy Cross Catholic Church, with the two of them being the only signers. True, who was in charge of the banking, deposited parishioners' donations into that account; but when she and Murphy filed quarterly financial reports with the regional diocese, they left that account off the reports, so the income never showed.
When a new bookkeeper and pastor were hired, they discovered the PNC bank account "that the parish was not aware of," Det. Kyle Eder wrote in the complaint affidavit. They contacted the diocese, and Palm Beach Diocese CFO Vito Gendusa called the Vero Beach Police Department in December to report the crime.
Eder served subpoenas on PNC, as well as on banks where True had credit card accounts.
Going back through the oldest records he could obtain – which in some cases meant only two years of documents – Eder pieced together an ongoing pattern of donation money going into the off-book account, then out to True's creditors, and to her personal bank account.
More than $33,000 was paid to Wells Fargo bank to cover True's credit card purchases at stores like Bed Bath and Beyond, Dillards and Home Depot. In addition, $236,000 was used to pay off two PNC credit cards in True's name, with charges ranging from shoes to electronics, airline tickets and rental cars to pet supplies.
Finally, police found 74 checks written for more than $147,000 and deposited into True's personal bank accounts. The total True is accused of stealing is $697,138.98.
Between January 2015 and May 2020, police say the parishioner donations that were deposited into the shadow account totaled more than $1.46 million, which works out to an average of more than $22,000 per month.
How much money from donations was deposited in that account and taken from 2012 through the end of 2014 is not known, as police said that "due to PNC's record retention period, statements could only be obtained dating back to 01/2015."
In May 2020, after Murphy died and before True retired, bank records show that she closed the account, withdrawing the last $811.38 to zero out the balance.
On Sept. 2, Det. Eder interviewed True by telephone.
"True ultimately admitted to using funds in account (redacted) to pay off her own personal debt, claiming that she was given permission by Richard Murphy."
True certainly knew the funds were donations from parishioners to support the church and its community outreach efforts, as the complaint affidavit says True told police "she was the only person who would deposit checks received by Holy Cross."
True now lives in Frederick, Colo., just north of Colorado Springs, where she purchased a two-story home with a three-car garage in June 2021 for $550,000, according to Weld County, Colo. public records.
After a warrant was issued for her arrest, True turned herself in and was taken into custody at the Indian River County Jail on Sept. 19.
She was released the next day on $25,000 bond, and was required to surrender her passport.