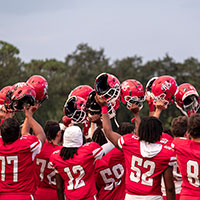 Vero High football team remains undefeated
STORY BY RAY MCNULTY (Week of September 29, 2022)

An unplayable Citrus Bowl field forced Vero Beach High School's undefeated football team to play Friday night's home game at Sebastian River's Shark Stadium, where Gov. Ron DeSantis made an unannounced appearance and watched his 4-year-old son, Mason, perform the pre-kickoff coin toss.
"Obviously, it was a unique situation," Vero coach Lenny Jankowski said after the Fighting Indians improved to 5-0 with a 21-17 victory over Miami's Palmetto High.
Jankowski began searching for alternative sites after he, Vero Beach administrators and school district officials evaluated the Citrus Bowl's rain-soaked field last Thursday and determined it would not dry enough to accommodate Friday night's game.
"When we went out there Thursday, you couldn't even walk across the field," he added. "Our field has issues. There are a lot of different theories, and we've worked on the drainage, but it has been a nightmare.
"As it turned out, we made the right call because we got more rain Friday."
In addition to football in the fall, Billy Livings Field is used for soccer in the winter and lacrosse in the spring. The school district hopes the field conditions will improve when a new soccer, lacrosse and track facility is built at the planned Jimmy Graves Sports Complex, immediately west of the Citrus Bowl.
There was a "Twilight Zone" feel to the evening, however – which was unavoidable, perhaps, given Vero Beach's long history at the Citrus Bowl, where big crowds annually provide the Fighting Indians with one of the best home-field advantages in Florida.
But a large, festive crowd followed the team to Sebastian, and the Fighting Indians Marching Band filled the air with the Vero Beach fight song and war chant.
Vero Beach fell behind 7-0 in the first quarter and trailed 17-14 in the third quarter before scoring the winning touchdown in the fourth quarter.
It was Vero Beach's first game at Shark Stadium since 2017, when the Fighting Indians crushed Sebastian River, 34-6. The county's two public high school teams haven't played each other since 2018.
Vero Beach is scheduled to play against Fort Pierce Central tomorrow (Friday) night at the Citrus Bowl, but it will not be the Fighting Indians' homecoming game as planned.
Jankowski said the potential impacts of Hurricane Ian prompted school officials to postpone the homecoming festivities – "with the exception of the dance," which will still be held Saturday night – until next Friday, when the Fighting Indians are scheduled to play Wellington.
Vero Beach, which won its first four games by a combined score of 171-6, is scheduled to play eight of its 10 games this season at home. The Fighting Indians' only away games are October 14 at Port St. Lucie Centennial and Oct. 21 at Martin County.
The regular-season finale is scheduled for Oct. 28, when Vero Beach will play against Treasure Coast at the Citrus Bowl.