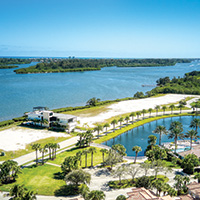 17 'extraordinary' luxury homes set for Grand Harbor riverfront
STORY BY STEVEN M. THOMAS (Week of April 13, 2023)

Vero's slim inventory of new waterfront homes and Grand Harbor's ongoing renaissance both will get a boost in the next week or so when a developer breaks ground on 17 luxury homes on the western shore of the Indian River Lagoon across from Bee Gum Point.
A second phase of the project on the  Grand Harbor riverfront is slated to bring 18 condos to market.
A sales trailer was set up at the site at the end of March and Orlando developer Shane Acevedo told Vero Beach 32963 that he just paid his impact fees and will receive a building permit from Indian River County "any day now."
"This will be the first new direct riverfront subdivision built in Vero in many years," said Dale Sorensen Real Estate broker associate Rita Curry, whose team has the listings. "Inventory is still tight in every category, including new houses on the river, and we have had hundreds of inquiries about these homes.
"We were a sponsor of the [USTA] women's tennis tournament Grand Harbor hosted in January and had more than 300 people sign up for information, just at that event."
Acevedo is offering five models that range in size from 3,648 to 4,035 square feet under air, with as many as four bedrooms and six baths. Two-story models come with two-car garages, while three-story homes have three-car garages.
Architecturally, one model is distinctly modern, while the others are more coastal contemporary with a West Indies twist. They are priced pre-construction from about $2.95 million to $3.2 million, which Curry says is a bargain.
"People are asking $900 a square foot for riverfront houses on the island that are 20 or 30 years old and need maintenance," said Curry, who has been selling real estate in Vero Beach since the 1970s. "We start under $800 a square foot for brand new, concrete block homes that have the finest finishes and meet all the latest codes."
Curry and her team, which includes her daughters Suzanne Curry and Kristin Casalino, said that, besides fine design and all the benefits of new construction, the top selling point for Laguna Village is the waterfront location with its sweeping river views.
Homeowners will hear the river lapping among the reeds at the bottom of the seawall when they are on their waterfront lanais and be able to look out across the Intracoastal Waterway, with its parade of beautiful boats and bottlenose dolphins, to wooded preserve land on the far shore.
"The views are extraordinary and untouchable," said Casalino. "All that land is owned by either the county or Indian River Land Trust and will never be developed."
Another top selling point is the Grand Harbor setting. In timing that turned out to be good for Acevedo's project, the country club community has been on a steady upswing since members took control of the club two years ago from a developer who seemed to have lost interest, adding new members and upgrading facilities.
Both of the community's championship golf courses have just been fully renovated and clubhouse renovations are underway.
"It is rare to move into a new subdivision house and have all the amenities complete," said Rita Curry. "Grand Harbor really has it all – two 18-hole golf courses, the beach club that was just renovated, the main clubhouse, the tennis center, new pickleball courts and a beautiful, protected harbor with 140-some moorings."
Unlike most other clubs in the area that have waiting lists to join, Grand Harbor has memberships available, including golf memberships, at a lower cost than other area clubs, according to Rita Curry.
In addition, Laguna Village homeowners will have their own clubhouse and pool, shared with an existing neighborhood, that is already built and is included in resident's quarterly HOA fee.
But Curry and her team aren't just relying on what looks like an excellent value proposition to sell Laguna Village.
"We don't care who brings the buyers," said Suzanne Curry. "We are marketing these houses to every agent we know. We have connections on the West Coast and big connections in South Florida. We have the houses listed in multiple MLSs from Brevard down to Fort Lauderdale."
In addition, real estate agents in the Orlando area where Acevedo is headquartered are marketing the houses, and the listings are going out to Dale Sorensen Real Estate's worldwide network of affiliated real estate groups and websites.
In response, Suzanne Curry said, "We are getting lots of interest from all over, from South Florida to the Northeast. We also think we will get buyers moving here from within Grand Harbor who are familiar with what a wonderful community this is and the lifestyle it offers."
Rita Curry and her team said some interested buyers have been sitting on the fence, waiting for construction to start before signing on the bottom line and they believe that bulldozers onsite will trigger contracts.
Acevedo, principal and head of development for A&R Meridian Development and Construction, said he will start three houses this month, including one that has been sold and two spec or model homes. He said he expects to be sold out within 24 months.
Sometime during that period, A&R Meridian, which is the builder as well as the developer of Laguna Village, will release plans for a second phase of the project.
"We are looking at building two condominium buildings with nine condos each that will be about 2,200 square feet and start around $1.5 million," Acevedo said, noting that condo details are still preliminary.
The development has a very Vero origin.
"A friend of mine from high school who knows Shane told him about the land, and he came and looked at it a couple of times," said Suzanne Curry. "We were able to put a deal together, even though the prior developer was a little difficult."
"Her friend knew we were looking for land," said Acevedo. "When he brought me here, I was amazed. I had always thought of Vero as a sleepy little beach town but I discovered that it was red hot.
"The property has fantastic views, relative to the price we paid, and being in Grand Harbor with all it offers creates a lot of additional value. Our houses, which were custom designed for this location, went through the community architectural review committee and we have kept our lines of communication with the board open. The community board president, Jeff Caso, has been great."
Acevedo and his partners closed on the 4.2-acre Laguna Village parcel on March 10, 2022, paying $9.8 million.  Design, engineering and permitting followed.
"The deal went quick," said Acevedo of the purchase handled by The Curry Team. "We got it done in a month."
He called Vero Beach "an incredible find."
"I am pretty impressed," he said. "It is essentially a less expensive Jupiter. Vero is just as beautiful and desirable as Jupiter, but homes on the river like the ones we are building in Grand Harbor would be three times as much down there."
Acevedo has a local project supervisor but comes to Vero often himself to check on progress and look for additional opportunities.
"I usually stay at Costa d'Este and it is like a vacation every time I come down here," he said.
"We are very excited to be entering the Vero Beach market."