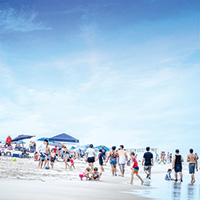 Big 'Break': Island lures record wave of tourists
STORY BY CASEY STAVENHAGEN (Week of April 20, 2023)

Northerners seeking the idyllic Florida getaway for a break from the cold have flocked to Indian River County in record numbers this winter, packing our island hotels, restaurants, beaches and roadways.
The surprising surge in pandemic-weary tourists that the county saw at Spring Break time a year ago turned out to be only a taste of what was to come. 
This year, bed tax receipts levied on guests staying in hotels here got off to an amazing start, with both January and February topping the record that had been set in March 2022.
While final March numbers are not yet available, another new record appears a certainty, and the county said bed tax revenue for the first five months of the current fiscal year through Feb. 28 is up 47 percent over 2022.
"We've had some really strong months lately.  It has been really intense," said Indian River County Internal Audit Director Ed Halsey. "Tourism is way up; it's improving all the time."
The beach itself is the main attraction for family-style spring breakers here, and Vero Beach Lifeguard Association president Patrick Sullivan said parking lots at the city's protected beaches, Jaycee Park and South Beach Park, have been perpetually full over this season.
While beach attendance numbers are normally also counted at Humiston Park, that beach was without lifeguard protection for most of the winter as a result of storm damage from last season's hurricanes.
While the Humiston Park boardwalk is still a wreck, a lifeguard tower was restored in March and the Lifeguard Association reported 85,000 visitors were counted at the three beaches last month.  Halfway through April, the lifeguards reported around 10,000 additional visitors for each of the three beaches despite plenty of inclement weather.
With the large influx of families, Ocean Drive shops like Cravings reported an incredibly busy season.
Owner Mary Sue Walker, who recently celebrated her business's 40th anniversary, said "we have more and more people from around the country and around the world coming here. Spring Break has been busier every year we have been in business. We will take care of up to 1,000 people that will come through our doors in a day during the busiest months."
The increased crowds also tested the limits of hotels, restaurants and other businesses dealing with ongoing worker shortage issues since Covid lockdowns in 2020.
Vero Beach Hotel and Spa General Manager Awet Sium said "staffing is still an issue; being able to retain employees. We've done a good job, we've been very active about it. We've been very intentional in our process in hiring and training employees as best we can; that's probably the biggest thing we've done well."
Sium agreed with Sullivan that Covid lockdowns in other states had played a role in pushing tourists to Florida, filling hotels to capacity.