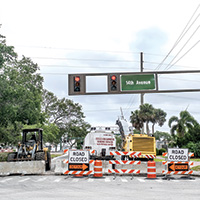 Brightline plans to reopen downtown Vero railroad crossings within a week
STORY BY GEORGE ANDREASSI (Week of April 13, 2023)

Brightline anticipates completing construction on improvements to three railroad crossings in downtown Vero Beach by April 21 in anticipation of starting high-speed passenger train service between Orlando and South Florida in June.
The railroad crossings at 23rd Street, 26th Street and 14th Avenue are set to reopen at 7 p.m., Saturday, April 21, according to Brightline's latest construction and testing advisory.
Brightline closed the three downtown Vero Beach railroad crossings on March 23 to construct a second track in the Florida East Coast Railway right-of-way and install a variety of safety features.
"Brightline is more than 90 percent complete with construction to Orlando," said company spokeswoman Katie Mitzner last week.
The $2.7 Billion construction project includes improvements to the FECR tracks between West Palm Beach and Cocoa and new high-speed train tracks along the Beachline Expressway/State Road 528.
The project also includes improvements to 156 railroad crossings, including 31 in Indian River County.  Among the additions are new crossing gates, pedestrian gates, signals systems, pavement markings and roadway profiles, Mitzner said.
Despite closing three downtown Vero Beach railroad crossings, Brightline conducted test runs at 79 mph last week through 16 railroad crossings in southern Indian River County.
Brightline conducted signal and track cutover tests while integrating the new second railroad track into daily operations.
FECR runs an average of 15-to-20 trains per day through Indian River County at speeds ranging from 40-to-60 mph.
Brightline plans to operate 32 passenger trains per day between Orlando and South Florida with speeds in Indian River County  reaching up to 110 mph.
Brightline agreed in June 2021 to install an extra $31 million worth of safety features at the 32 railroad crossings in Indian River County to settle a state lawsuit and resolve the county government's claims.
Indian River County spent approximately $4 million on legal and lobbying expenses on the train project since 2014, taking an unsuccessful appeal of the Federal Railroad Administration's approval all the way to the U.S. Supreme Court.
Brightline started operating in South Florida in January 2018 and currently has stations in Miami, Aventura, Fort Lauderdale, Boca Raton and West Palm Beach.
Brightline started construction on the 168-mile link between Orlando and West Palm Beach in April 2019.