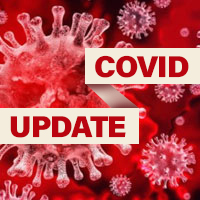 COVID infections, hospitalizations fall
STORY BY LISA ZAHNER (Week of April 6, 2023)

After a one-week spike, the number of new local COVID-19 infections are back down to pre-spring break levels, and hospitalizations fell sharply, too.
The Florida Department of Health reported Friday that 59 people had tested positive for the Covid virus during the week ending March 30, down from 110 cases the previous week. The current case positivity rate for test results reported to the health department is 8.5 percent, lower than the 10 percent benchmark public health officials look at to determine when community spread is on the rise.
Local hospitalizations dropped from 11 patients admitted with three patients in critical care last week to four patients hospitalized on Monday and only one in critical care. "We are definitely trending in the right direction," Cleveland Clinic spokesperson Arlene Allen-Mitchell said of the weekly statistics.
Across the nation, the Midwest and Great Plains states, plus Maine reported the highest number of new infections per 100,000 population. Florida ranked in the category with the least cases compared to population, with fewer than 20 new cases per 100,000 people compared to a national average of 42 new cases per 100,000.
World public health officials have been watching China closely to see what may result from the lifting of COVID-19 restrictions in the country as people resume unimpeded travel in and out of China this spring. Some media outlets reported last week that China's public health officials have discovered 120 new Omicron subvariants among the country's 1.4 billion people.
The highly transmissable XBB.1.5 subvariant is currently the dominant one in the United States, responsible for approximately 74 percent of cases, followed by the BQ.1.1 subvariant with 15 percent of cases in March. The subvariants driving the spread of COVID-19 in China this spring are the BA.5.2 and BF.7 versions of the virus, which together account for nearly 90 percent of China's cases according to a recent Chinese study published in the Lancet medical journal.