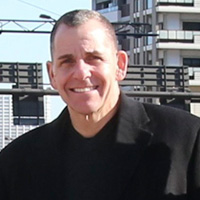 Career federal agent joining race for sheriff
STORY BY RAY MCNULTY (Week of April 20, 2023)
Photo of Jim Eisenhut

Barring any last-minute complications, the next entry into the 2024 sheriff's race will bring a world of experience – from Vero Beach to Iraq, from Chicago to Japan, from Washington, D.C., to Pakistan, even to Afghanistan.
Jim Eisenhut, a Vero Beach High School graduate and former deputy who went on to spend 20 years as a federal agent assigned to the State Department's Diplomatic Security Service, is expected to formally announce in the coming week that he's running for sheriff.
"I've got a few more meetings this week, then I'll make a final decision, but this is something I've always wanted to do," Eisenhut, 53, said in a phone interview last weekend.
"The Indian River County Sheriff's Office was the foundation on which I built my career, and Vero Beach is my hometown – the place where I grew up, the place I came home to from overseas assignments," he added. "I have a real passion for this community.
"So I've been taking a hard look at getting into this race, and I think it's the right time for me to get in."
In fact, Eisenhut said several recently retired members of embattled Sheriff Eric Flowers' command staff, along with other current members of the agency, have "reached out" to him and offered to support his campaign.
As of Monday, Flowers hadn't yet filed to run, but he said last year he will seek re-election.
Flowers, though, is scrambling to recover from a mistake-filled 2022, which began with Vero Beach 32963 publicly exposing his extramarital affair only 13 months after he told his deputies to hold their oaths of office sacred, as if they were marriage vows.
His troubles didn't end there.
His deputies were involved in two controversial shootings. He gave a TV interview in which he inexplicably told a reporter where his school resource officers store their AR-15 rifles on campus. And he got pulled over – by one of his own deputies – for driving a car with a stolen license plate.
Then, over the past couple of months, three members of Flowers' command staff suddenly retired, and Sheriff's Capt. Milo Thornton announced he was running against him.
The retirements grabbed the attention of county commissioners Joe Flescher and Deryl Loar, two former law-enforcement officers who said last month they were so concerned about the state of the agency, especially the deterioration of deputies' morale, that they would consider running for sheriff.
Loar, who served three terms as sheriff before endorsing Flowers in 2020, said last week he had decided against running and instead would continue to focus on his job as a first-term commissioner.
"I've been doing this for six months, and I really enjoy it," Loar said. "I like it more than I thought I would, and there's a lot of work to be done for the county."
Flescher, a former New York City police officer and deputy here, said he was still mulling a run for sheriff, but only because, "at this juncture, I'm still very much concerned about the fate of the agency, and I'm not optimistic about the options currently available."
Would Eisenhut's candidacy convince him to not run?
"It very much could," Flescher said. "I believe that, in the next few weeks, we will see some interesting changes in the composition of this race."
Flescher would not elaborate, but he worked with Eisenhut when both were deputies, and he seemed to be impressed with Eisenhut's credentials, which include 12 years with the Sheriff's Office and a bachelor's degree in professional administration from Barry University in Miami.
Unlike Thornton, who said Flowers' damaged reputation was not a factor in his decision to run for sheriff, Eisenhut said he was disappointed with Flowers' performance after supporting his candidacy in 2020.
"The lack of leadership, of accountability, of transparency – it hurts my heart to see where the Sheriff's Office is now," Eisenhut said. "This agency is very young, in terms of experienced deputies. And now, with the recent retirements of those command staff members, we've lost decades of institutional knowledge.
"It's time for something different, something better."
If he files, which could happen within the next week, Eisenhut would be the third Republican to enter the race, joining Thornton and Fellsmere Police Chief Keith Touchberry, who was the runner-up to Flowers in the party's 2020 primary.
Also running is no-party-affiliation candidate Deborah Cooney, who lost to Flowers in a landslide in the 2020 general election.
"Name recognition is obviously a concern, since I've been away for most of the past 20 years, so I'll need to get out there, hit the streets and give people in this community an opportunity to get to know me," Eisenhut said.
"I'm not a politician, but I've been around so many different political leaders, here in the U.S. and around the world," he added. "I'm very comfortable working in that arena."
During his two decades as a special agent for the State Department, Eisenhut's assignments took him to Europe, Asia and Africa, as well as to field offices in New York, Chicago, Miami and Washington, D.C., where he was a special agent in charge of protecting dignitaries.
He served in U.S. embassies in Iraq, Libya, The Netherlands and Afghanistan, where he was on the security team assigned to protect then-President Hamid Karzai.
From July 2020 to March 2022, Eisenhut was the senior regional security officer at the U.S. Consulate in Peshawar, Pakistan. Immediately prior to that assignment, he spent two years in Japan as the special agent in charge of security for the U.S. at the 2020 Tokyo Olympics.
Last April, shortly after he retired as a federal agent, Eisenhut was hired as the police chief of Indian Creek Village, a tiny and posh island community known as "Billionaire Bunker" in northeastern Miami-Dade County.
Three months later, however, he resigned.
Eisenhut said last week he left the job for health reasons, only to learn later that his condition had been misdiagnosed. He said he's healthy and fit to serve as sheriff.
"I've always been in law enforcement, but with my background and what I've done around the world, I possess the experience and skills to serve as sheriff in a county that continues to face new challenges," Eisenhut said.
"I've worked with people of different cultures in different countries in different parts of the world," he added. "I know how to develop relationships and build partnerships, not just within the agency but within the community, too.
"For me, coming back here, it's about surrounding myself with the right people and putting them in the right positions – and doing it based on merit, not friendships."
Loar said Eisenhut has a "pretty remarkable resume," but he quickly added that Eisenhut would need to raise and spend a considerable amount of money to overcome his lack of name recognition in the community.
The former sheriff said he expects Thornton, who has friends throughout the county and is popular with several prominent local residents, to fare well in raising campaign contributions.
He also wondered why Flowers hadn't yet filed to run.
"That's very odd," Loar said, adding, "The contribution threshold for this race is going to be between $350,000 to $500,000 – total – and we're probably going to be in a recession by the time the election comes around.
"You need to get that money quickly."
Loar said a crowded field usually favors the incumbent, so if, as expected, both Eisenhut and Flowers enter next year's sheriff's race, Flowers' chances might be better than many think.
Or maybe not.
"In most cases, the incumbent wins a crowded race – but that's an incumbent who hasn't had any controversy," Loar said. "This incumbent doesn't have as much steam as the typical incumbent.
"There are going to be four or five candidates, so it's going to be a fun race," he added. "It'll boil down to who's organized and who gets people excited."
Eisenhut believes that's him.
"Once I file," he said, "I'm 110-percent in."