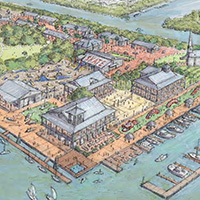 City manager seeking a 'quarterback' to oversee Three Corners development
STORY BY RAY MCNULTY (Week of April 6, 2023)

Determined to find a proven "quarterback" to lead Vero Beach's much-anticipated efforts to develop its Three Corners properties, City Manager Monte Falls has begun interviewing candidates for the project manager's job.
He met with four applicants last week, and he was scheduled to meet with three more this week.
The city plans to contract with a developer to create a dining, social and recreational hub on the mainland's waterfront – on 33 acres at the west end of the 17th Street Bridge – that Falls has optimistically said could open during the summer of 2028.
That developer will work with the project manager, whose sole job will be to oversee that development from start to finish, Falls said, adding that he expects to have someone or some firm hired by June.
One applicant – former St. Lucie County deputy administrator Alphonso Jefferson – didn't show up for his interview last week and later told Falls he already had accepted another position.
"We're happy with who's on our list, but if we get another good applicant or two, we'll talk to them, too," Falls said last week. "But if, after we get through these interviews, there's somebody we're convinced is right for the job, we'll make an offer.
"The goal is to hire the best person we can get."
Joining Falls in the interviews are City Planning Director Jason Jeffries and Human Resources Manager Gabrielle Manus, but Falls said the final decision as to whom to hire "ultimately rests with me."
Falls' list of applicants includes engineers, contractors, an architect and a management consultant.
That consultant, in fact, is former City Council member Robert McCabe, who spent 31 years as a finance specialist with General Motors but, according to Jeffries, also oversaw the redevelopment of former industrial properties when the company began decommissioning manufacturing plants.
McCabe was among the candidates interviewed last week, along with two retired engineers who live in the Vero Beach area: Derrick Cave, who previously worked in the local Kimley-Horn & Associates office; and Peter Polk, who founded two firms in Texas and is also a transportation specialist.
Falls and his team also interviewed David Milton, a Vero Beach resident who owns and runs a construction and consulting company and is a principal and managing member of the Stillwater Wealth Management Group.
Milton, though, preferred that the city hire his company to manage the project. "He didn't seem to be interested in becoming a city employee," Falls said.
Among those scheduled for interviews this week were Anthony Donadio, owner of Donadio & Associates, the Vero Beach-based architectural firm that has been doing business for more than 32 years.
Falls also planned to interview Steve Weronik, a Port St. Lucie resident who founded the Legends Grill sports restaurant in Connecticut, where he has previous experience as a project manager, contractor and highway construction engineer.
Colin Eichenmuller, deputy public works director for the city of Oak Ridge, Tennessee, was supposed to be interviewed last week, but the meeting needed to be rescheduled.
Prior to overseeing Oak Ridge's construction of a new water-treatment plant, Eichenmuller worked for the city of West Palm Beach, where he was the construction supervisor who managed the Clematis Streetscape Restoration project.
"We're looking for someone who has previously done this kind of work," Falls said. "We could go with a firm, if that's the best option, or we could hire someone to join our staff. We haven't made that decision.
"At this point, I'm not going to close any doors," he added. "This is a very important position who will be managing a very important project for the city. It's important that we bring in the best person available."