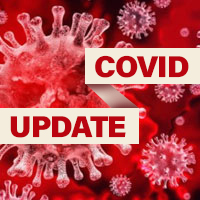 Covid emergency wanes, but some still hospitalized
STORY BY LISA ZAHNER (Week of April 27, 2023)

With two weeks remaining of the COVID-19 federal health emergency, and facemasks now optional at the county's largest hospital for the first time in three years, the number of new infections in Indian River County remains low for April, but local residents are still being hospitalized for complications of Covid illness.
As of Monday, "currently, there are seven patients in-house who are Covid-positive with none in the ICU," Cleveland Clinic Indian River Hospital spokesperson Erin Miller said.
Since March 2020, one fourth of the county's residents have reported testing positive for the Covid virus at least once. This number is likely significantly larger, as it does not capture positive test results on popular and widely available home Covid test kits. Should a person test positive on a rapid, self-administered swab test at home and never seek medical care, their case would not be included in the aggregate numbers.
Meanwhile, Cleveland Clinic announced that wearing a mask is now optional for patients and hospital visitors.
"We are able to safely make this change as COVID-19 case levels and hospitalizations have remained low, and vaccines and new tools to prevent the spread of COVID-19 are readily available," a spokesperson said.
Seventy-two percent of local residents age 6 and older have now chosen to be vaccinated, many of those opting for not only the two-shot course of vaccine but also for multiple boosters, including the updated "bivalent" booster last fall, which was targeted at Omicron highly transmissible subvariants.
Last week the U.S. Food and Drug Administration authorized a fourth booster shot (a sixth shot for those who got the Moderna or Pfizer BioNTech formula), but only for the immunocompromised and for people aged 65 and older.
"Most individuals who have already received a single dose of the bivalent vaccine are not currently eligible for another dose. The FDA intends to make decisions about future vaccination after receiving recommendations on the fall strain composition at an FDA advisory committee in June," an April 18 announcement said.
Those with compromised immune systems may now get another bivalent booster two months from their last shot. Seniors 65 and older must wait four months from their last bivalent shot to get another bivalent booster.
The original circa 2020 formula can no longer be given. "The monovalent Moderna and Pfizer-BioNTech COVID-19 vaccines are no longer authorized for use in the United States," the FDA said.
A newly formulated booster shot which would be designed to protect people against emerging strains of the virus might be available this fall, if the FDA authorizes it.
"At this stage of the pandemic, data support simplifying the use of the authorized mRNA bivalent COVID-19 vaccines and the agency believes that this approach will help encourage future vaccination," said Peter Marks, M.D., Ph.D., director of the FDA's Center for Biologics Evaluation and Research.
"Evidence is now available that most of the U.S. population 5 years of age and older has antibodies to SARS-CoV-2, the virus that causes COVID-19, either from vaccination or infection that can serve as a foundation for the protection provided by the bivalent vaccines."