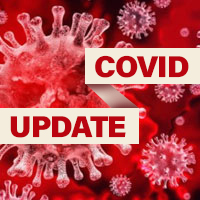 Covid hospitalizations doubled in week
STORY BY LISA ZAHNER (Week of April 13, 2023)

Florida did not report new infection data last week to the federal COVID-19 tracker, so it's tough to tell if numbers are up or down, but locally, hospitalizations at press time for complications of Covid illness had doubled from just one week ago.
The Centers for Disease Control and Prevention Covid Data Tracker cited five new hospitalizations over the past week, and on Monday Cleveland Clinic Indian River Hospital spokesperson Arlene Allen-Mitchell said, "We have eight patients in-house today with COVID. None of the eight patients is in the ICU."
That number is way up from four people hospitalized with Covid one week prior. Two weeks ago, the number of new infections doubled in a one-week spike after spring break for public schools and colleges. Typically a rise in hospitalizations follows roughly two weeks behind a marked increase in new infections.
With the federal COVID-19 emergency set to end on May 11, most areas of the country are managing a fairly low rate of new infections per capita. The United States' seven-day rolling average of new cases – a statistic that soared to more than 200,000 cases per day during the Delta-variant surge in 2021, and to more than 800,000 cases per day in early 2022 as Omicron variants spread like wildfire – is now less than 20,000 per day. 
Now out of crisis mode, public health officials are studying what worked and what went wrong in 2020 and beyond as the world reacted to the spread of COVID-19, and are planning for the next global. pandemic, which most experts see as inevitable.
Two recent polls designed to gauge public opinion about the pandemic found that 45 of Americans feel the federal government was very unprepared for the Covid pandemic. But more telling is the fact that only 49 percent of those surveyed felt the United States is any better prepared for the next pandemic – even after lessons learned since 2020. Eighty-eight percent of survey respondents said it will take a significant investment of dollars and other resources to get better prepared.
A study of global vaccination rates and best public health practices found that in areas where people distrusted government officials the most, vaccination efforts were not as successful, unless there was a grassroots effort to build trust within communities by local public health officials.
Doctors also continue to collect data on and research the constellation of troubling symptoms referred to as Post-Covid Conditions (PCC) or "long covid" which afflicts an estimated 65 million people worldwide.