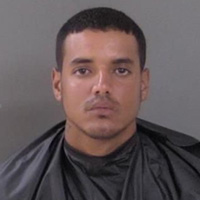 DNA evidence leads to arrest of suspect in New Year's attack on Ocean Drive
STORY BY CASEY STAVENHAGEN (Week of April 27, 2023)
Photo: Convicted sex offender Robert Leetrell Coleman Jr, 30, of Vero Beach was arrested for sexual battery in a New Year's Eve attack.

Vero Beach police have arrested a local man with a prior sex-crime conviction for a New Year's Eve attack of a local woman outside an Ocean Drive hotel, after DNA evidence matched the suspect interviewed by detectives days after the crime.
On April 13, three and a half months after the attack occurred, registered sex offender Robert Leetrell Coleman Jr., 30, was charged with sexual battery in relation to the case. His bail is currently set at $150,000. As of press time, he was still in custody at the Indian River County Jail.
"It does generally take several months to get results back from the lab once we have evidence sent in," said Detective Lee Evans.
Coleman emerged as a suspect in the case after police reviewed security footage from Sol Mar Cocktail Lounge in Portales de Vero, where police say he was seen speaking to the victim at the bar. One of the establishment's bartenders recognized Coleman and identified him to police, according to the warrant affidavit.
When police interviewed Coleman on Jan. 4, they noted a "fresh small scar on the left side of his eye," records say. He told police he went drinking with friends on New Year's Eve and was punched for talking to a man's girlfriend.
When questioned, Coleman denied committing the attack, but consented to a DNA swab.
The victim told police she left Sol Mar with friends to walk back to the Driftwood Inn where they were staying, and the attacker followed them and they talked along the way. When her friends went inside, she stayed in the parking lot talking with him.
The victim told police that, when she and Coleman were alone in the Driftwood Inn parking lot, Coleman said, "You need to face the fact that you are gonna get raped tonight," and proceeded to attack her.
The woman told Vero Beach police she struck the attacker in the head with her phone, which stopped him. Upon investigation of the scene of the crime, police found blood droplets that were DNA matches to the swab from Coleman and to the rape kit.
In 2015, Coleman pled "no contest" and was convicted in St. Lucie County on a charge of lewd computer solicitation of a child. His arrest affidavit claimed he blackmailed a minor to strip for him on Skype, for which he was sentenced to three years in prison.
Coleman has been arrested four other times locally since being released – twice for possession of a controlled substance, once for violation of probation, and once for not providing email/instant messaging names as required by his sex offender registration.