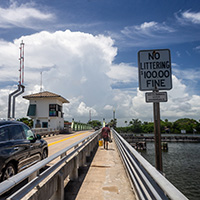 FDOT finally set to start work on new bridge at southern end of the island
STORY BY GEORGE ANDREASSI (Week of April 27, 2023)

Construction is finally scheduled to start in May on a new high bridge over the Indian River Lagoon in Fort Pierce that will replace the ancient drawbridge that long has served as the A1A southern gateway to our barrier island.
The Florida Department of Transportation scheduled an open house meeting on the $111.5 million construction project for today (April 27) from 5 p.m. until 7 p.m. at the River Walk Center in Fort Pierce.
FDOT plans to construct a new high-level fixed bridge that will directly link U.S. 1 to the barrier island, traversing the Florida East Coast Railway tracks and Old Dixie Highway.
Construction is expected to be completed in late 2027, FDOT's traffic report said. The new span is needed to replace a deteriorating drawbridge that was built in 1963.
The new bridge will provide a navigational clearance of 85-feet for a 125-foot-wide section of the Intracoastal Waterway channel, FDOT records show.
The bridge will feature one 12-foot-wide travel lane in each direction, a 12-foot-wide shared use path on the north side of the bridge, an 8-foot-wide sidewalk on the south side and 7-foot-wide bicycle lanes on both sides of the roadway. An observation deck will be built beneath the west side of the new bridge.