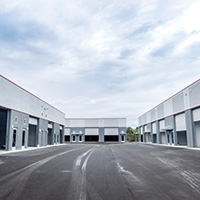 For 'car guys' driving Vero's red-hot luxury garage market, bigger is definitely better
STORY BY STEVEN M. THOMAS (Week of April 20, 2023)

Even before the Covid-19 pandemic, large, luxury garages for boys with toys were coming into vogue. Now, with all those new post-pandemic toys out there, there is no sign of the garage boom abating, in Vero Beach and across the country.
As partners Joe Schulke and Vic Lombardi gear up to start the second phase of their $25-million Motorhaus 2.0 luxury garage project, they have the benefit of important new information about what 32963 buyers want.
What they hear is: 'Bigger is better.'
"Our biggest units sold first," said Schulke, managing member at the engineering firm Schulke, Bittle & Stoddard, LLC. "We are sold out of the 24-foot by 55-foot first-phase units and we have adjusted the second phase to build more big garages, including some that are even bigger."
The second phase was planned to include 32 garages with eight 55-foot units, but now will consist of 26 units with 14 of the big units, including some that are 25 feet by 60 feet, which amounts to 1,500 square feet. Three of the big garages are already reserved, before ground has been broken.
"People have told me that wealthy people bought more toys during pandemic, and they may be right," said Schulke. "I think most of the people buying the largest units are RV owners. I've also been talking to a guy who has a big boat that he trailers, which a 55-foot unit is perfect for."
Schulke is right about the toy buying. CNBC reports that "boat sales skyrocketed ... during the coronavirus pandemic as more Americans turned to the lifestyle amid more flexible work environments that allowed people to spend extra time enjoying the outdoors."
Recreational vehicle sales enjoyed a similar boost.
According to Forbes, RV sales revved to the highest level ever during the pandemic, "fueled by consumers' interest in 'social distancing,' (and) the freedom many gained to be physically untethered from their workplaces."
The 93-unit Motorhaus 2.0 project at 2400 41st St., two blocks west of U.S. 1, is one of six luxury garage projects completed or underway in Vero in the past several years aimed at car collectors and people with large RVs or boats. The units can be customized with bathrooms, kitchenettes, mezzanine levels and all kinds of luxury features and finishes.
Similar projects are sweeping the country, pushing the envelope of private, luxurious, versatile space.
"Dream Garages," an article in Douglas Elliman's Fall 2022 magazine, quotes numerous architects and builders who specialize in building luxury garages from the East Coast to California.
New England architect Patrick Ahearn, who like Schulke and Lombardi, is a "car guy" himself, told Douglas Elliman writer Shaun Tolson his carriage house and car barn projects start at $500 per square foot.
"People are looking for a really high level of fit and finish," he said. "They want to have a timeless space," where cars can be displayed as art and there is room for social gatherings.
Here in Vero, nearly 200 units have been built or begun since Schulke discovered the untapped market niche when he and his some of his partners were searching for an ideal place to store and work on their classic cars.
When they couldn't find a suitable place, they decided to build the product they were seeking, judging correctly that other "car guys" would want in.
After that project, called Autohaus, Schulke teamed up with Lombardi, owner of Waters Edge Estates, one of the top high-end homebuilders on the barrier island, to build Motorhaus. That luxury storage project sold out before the foundation was poured.
Next came Motorhaus 2.0, where construction is nearly complete on the 67-unit first phase less than a year after the partners broke ground.
"I would say that we have done a pretty fantastic job getting a large project to the current point very quickly," Schulke says.
"We have built seven buildings totaling about 75,000 square feet in 11 months. We started construction June 1 and plan to CO units in May. I think the second phase will go even faster. All the infrastructure is in and we really know what we are doing at this point."
Schulke attributes much of the rapid progress to a dedicated team of local subcontractors who have worked on all three of his garage projects.
They know the ins and outs of the tilt-up concrete wall construction used at Motorhaus and Motorhaus 2.0, which makes the garages bomb shelter-like hurricane refuges when needed, as well as places to hang out with friends, working on classic cars or watching sports on a big screen.
"Tru-steel, See-Ray Plumbing, Manning Electric and Sheltra Contracting, our site preparation sub, all have hit it out of the park," Schulke says. "We are all pulling on the same rope."
To get good subs lined up, Schulke and Lombardi signed them up early and gave them large cash deposits for material.
Speed is important. The project is being financed by a construction loan that requires interest payments each month – payments that have escalated month by month as interest rates have risen.
"It is a gamble working with that kind of loan," says Schulke, "but we have been able to generate the cash flow we need and get the work done fast enough to make it worthwhile."
Indeed, 56 of the 67 first-phase units have been sold at prices ranging from $199,000 to $340,000, with 30-percent down payments in hand.
Schulke says the average sales price so far has been $240,000, with island buyers purchasing 90 percent of the units. That figure times 56 amounts to about $13.5 million, and 30 percent of that number is more than $4 million – not bad since the partners picked up the 6.4-acre project property for $950,000.
There are 11 first-phase units still available. With the big units all sold, they start at $209,900 and go up to $235,000.
In addition, there are 23 second-phase units that can be reserved with a five-percent deposit. They range in size from 23 feet by 40 feet to 25 feet by 60 feet. Prices start at $225,000 and go up to $355,000 with a number of standard features, but not including luxury buildouts.
Schulke says the first phase of Motorhaus 2.0 will be complete in May and construction will start on phase two early this summer, once he has a few more reservations. If that schedule holds, the second phase units will be complete a year from now.
Meanwhile, he and Lombardi are looking ahead to their fourth luxury storage project.