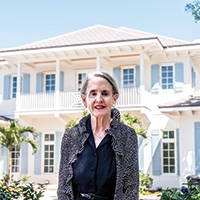 Home sale profits will launch foundation honoring husband
STORY BY STEVEN M. THOMAS (Week of April 27, 2023)
Photo: Margaret Griswold in front of spec home.

Longtime John's Island resident Margaret "Peggy" Griswold just finished an eight-figure spec home in JI with a deeply personal purpose in mind.
Instead of using the profits from the sale of the house – just listed for $12,500,000 by Luke Webb with John's Island Real Estate – to bolster her own portfolio, she told Vero Beach 32963 she will use the proceeds to start a foundation in honor of her deceased husband.
Henry Bridgman Griswold was a World War II veteran severely wounded in Northern Italy while fighting with the famed 10th Mountain Division that drove the Germans out of the Po Valley in the closing months of the war.
The 7,400-square-foot house on a waterway that connects to the Indian River Lagoon – designed by Gregg Anderson, developed by Mrs. Griswold and built by Vic Lombardi, owner of Waters Edge Estates – was completed in March.
"It's a beautiful, exceptionally well-constructed, upscale yet understated coastal house," said Webb. "Mrs. Griswold did a wonderful job of working with the architect and builder to come up with the perfect blend of form and function in a superb custom home.
"Even though it was built to be sold, Mrs. Griswold and Waters Edge spared no expense in the construction details and finishes of the home.  Everything selected was of the highest quality, [materials ordinarily] used in much more expensive custom homes."
Fitting within the broad category of British West Indies design, the elegant house was built in just 14 months and comes with what Lombardi called "a very high-end trim package" that includes lavish use of limestone, marble, mahogany, cypress, poplar and white oak.
"The job went well," said Lombardi. "We looked ahead and pre-ordered a lot of things so we would not face delays. The architecture, the volume of the high-ceiling rooms, and the finish materials all are outstanding. All the trim is poplar and we used 3-piece base and 4-inch casing everywhere. The family room and kitchen have a vaulted ceiling that goes up to 16 feet – and that is a wooden ceiling with beams and nickel joint [tongue and groove boards]. The office is all white oak."
The two-story house has five bedrooms – two down and three up – five and a half baths, a three-car garage and resort-style swimming pool with spa at the water's edge.
"Throughout the build process, Mrs. Griswold spoke fondly of her late husband Bridg and how she wished he was still alive and they could be doing this project together," said Webb. "Since he is not, she wanted to start a foundation to honor his memory and legacy. The foundation is also something she wants her children and grandchildren to be involved in."
"My hubby was in Lovell General Hospital in Massachusetts for six months after he came home from the war but never received his purple heart," said Griswold, who is a generation younger than her deceased husband. "He was over there on skis with a rifle on his back, chasing the Germans down mountains and was severely wounded by shrapnel but he never got all the recognition he deserves."
During the ferocious campaign to clear Apennine Mountains and Po Valley, "an artillery shell landed close to Griswold," King Lambert, a friend of Henry Griswold, wrote in a letter supporting his application for military health benefits. "The blast and concussion was … severe" and badly injured the young first lieutenant. 
Despite his war wounds, which broke his leg, damaged his hearing and led to removal of the upper lobe of his left lung, Griswold – commonly called Bridg – went to college after the war and had a successful career "with Reader's Digest and Broad Street Sales Corporation on Wall Street," according to his obituary in the New York Times.
"He was a terrific athlete, too," said Margaret Griswold. "He played tennis, squash and baseball and was a great skier. His sterling silver awards were all over the Racquet Club of New York, the Field Club of Greenwich, Jupiter Island Club and others."
The Griswolds lived in Greenwich, Connecticut, and on the North Shore in Chicago before coming to Vero Beach, where they bought a courtyard home on Cowry Lane in John's Island where Margaret Griswold still lives.
The couple bought the lot at 120 Coconut Palm Road where the spec house sits in the 1990s with the intention of building a home for themselves.
By that time, though, Henry Griswold's war wounds had begun to catch up with him. With his health in decline, the couple decided to put the project on hold.
"Bridg" gradually succumbed to dementia that may have been related to his wartime concussion-induced hearing loss. Born in 1925 he died in 2018, the day after his eldest son's wedding.
"There was nothing really wrong with him. I don't know if he decided to go then because he knew I was surrounded by loving family and old friends, but we lost him." Margaret Griswold said.
The idea to revive the house project as a spec home and create a foundation in her husband's memory occurred to her sometime later during "one of those times when you wake up in the middle of the night and think about things."
Griswold hired Lombardi and proceeded with design and permitting.
"The concrete pour started on Jan. 1, 2022, and we finished in a little more than a year," Griswold said. "Most builders around here take two years to complete a house, but Victor got the job done quickly."
Griswold plans to use the money from the sale of the spec house as initial funding for the foundation. She also intends to sell a multimillion-dollar condominium she purchased at the Indigo project in Vero Beach when it is complete and donate the proceeds to the foundation.  
In addition, she said she plans to do more spec home projects to continue funding the foundation.
Griswold said the foundation will not be focused sharply on a single cause, but will be a flexible instrument intended "to help people."
"It will be focused on helping individuals – children, unwed mothers and veterans. I would like us to give back within this community," Griswold said. "The mission is to really do our due diligence and figure out where the funds can have the most impact. I want to keep it simple to begin with and then expand as ideas emerge."
The proposed foundation has not been yet been officially formed or named, but Griswold has a philanthropic family background. Her family founded the Owen L. Coon Foundation in Chicago, which has donated on a large scale to Northwestern University and Northwestern Hospital, starting in 1946 and continuing today.
She said her older brother, a California attorney who has been "intimately involved with the Coon Foundation" for many years, will be advising her going forward.
"I've also been talking to people here who have started foundations to get their expertise," Griswold added.
Why Henry Griswold never received his much-deserved purple heart is a bit of a mystery, but may be due in part to the disastrous fire at the National Personnel Records Center in St. Louis in 1973.
According to U.S. government archives, the fire destroyed "80 percent of the records of US ARMY personnel discharged November 1, 1912 to January 1, 1960," including the records of Henry Bridgman Griswold.
Griswold's "heroic actions are well documented, for which he was awarded the Bronze Star and other medals [in theater] ... by command of Major General Hays," King Lambert wrote in his letter to the government.
Webb launched the just-completed home with a "phenomenally" well-attended open house on April 16 that so far has led to "a number of good showings, with interested buyers continuing to look."
Webb said Griswold's home at 120 Coconut Palm Road is the only move-in-ready new house for sale in John's Island.