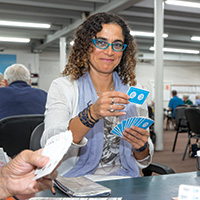 In the cards: Vero woman gets top post at American Contract Bridge League
STORY BY PIETER VANBENNEKOM (Week of April 27, 2023)
Photo: Bronia Jenkins lands prestigious post.
In a move that underscores the importance of Vero Beach in the bridge world, the organization that regulates all competitive bridge in North America has named a local woman, Bronia Jenkins, as its new chief executive officer.
Jenkins, 54, will move from her home in Vero Beach to the Memphis, Tenn., metropolitan area to take up her new position effective May 1. The American Contract Bridge League (ACBL), which oversees all competitive bridge in the U.S., Canada, Mexico and Bermuda, has its headquarters in Horn Lake, Miss., a Memphis suburb.
In making the announcement, Joann Glasson, president of the ACBL's Board of Directors, said the board "unanimously and enthusiastically" endorsed Jenkins' selection. "We wanted something different," Glasson said, "and they (the board's search committee) did a fabulous job finding Bronia. She is a breath of fresh air."
The local Vero Beach Bridge Center has decided to honor Jenkins on her appointment with a meet-and-greet during the mid-afternoon break of the regular duplicate game next Monday, May 1, starting at 1 p.m.
Jenkins steps into an already difficult position at a difficult time, as the ACBL suffered a steep decline in membership during the Covid pandemic, dropping from about 170,000 members to about 140,000 – although the attrition seems to have slowed in recent months as face-to-face bridge events started up again.
The league is being torn in different directions by its various constituencies, including bridge clubs across the county, permanent headquarters staff and its individual members, including a small group of influential professionals at the top and a lot of aging recreational players who have pushed the average age of ACBL membership to well over 70. The league also faces serious choices as to whether to support and reward online bridge, which grew exponentially during Covid as clubs and tournaments were closed down, or the old face-to-face version. Cheating was rampant online and the integrity image of the league suffered some major black eyes with several high-profile cheating scandals.
Additionally, there has been little stability at the top. Jenkins becomes the sixth executive director in less than a dozen years, so the average tenure of her recent predecessors was less than two years. Ironically, the last occupant of the job before the revolving door started, Jay Baum, also retired to Vero Beach after completing his term (although he and his wife Kathy later moved back to the U.S. heartland to be closer to family).
Jenkins' appointment was almost universally greeted with approval – and surprise – by the community of bridge professionals who hang out on the main bridge websites (although one cynic predicted not much would happen – the board would probably fire her in about a year anyway). Another commenter warned that the pros who support her need the rank-and-file to continue paying them, so she'd better pay some attention to them, too.
With the bridge league being pulled in so many different directions, the new CEO will need a strong personality and all those who know her agree that Jenkins certainly has that.
Jenkins was actually born in France (she speaks fluent French) and lived in Montreal, Canada, as a child before moving to California with her family. She represented Canada on a youth team, winning a silver medal, before she moved to the U.S., where she studied mechanical engineering at MIT. She started playing bridge as a teenager in North Canton, Ohio, while there as an engineering intern at The Timken Company.
Jenkins captained the USA2 woman's team at the 2017 World Championships (the Bermuda Bowl) and holds three national titles.
She previously worked as a financial services executive, including a stint with Bank of America in New York, prior to taking a sabbatical to raise her two children in Vero Beach. She became actively involved with the St. Edward's private school which her children attended and she eventually taught math there. She also formed a student bridge club at St. Ed's.
Jenkins said she decided to apply for the ACBL leadership position because for her, "it's the perfect next chapter – it's all the things I know I can do and care about. There's no other game I love like the game of bridge. It creates bonds, friendships and wellness for people in the community."
Jenkins, who says she plays bridge "at a very high level," has not been a member of the local club for several years. She has played mostly in national and international events, although she occasionally drops into the local club as a visitor.
Apart from the Vero Beach Bridge Center at 1520 14th Avenue, Indian River County has two other "open" bridge clubs, at the Community Center and at a Sebastian church, as well as about 10 "invitational" clubs associated with private communities or country clubs that are affiliated with the ACBL and where MasterPoints can be won, making Vero Beach one of the most active bridge communities in the nation.