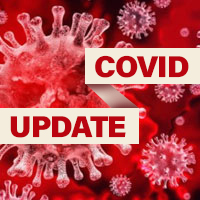 New COVID infections remain low here
STORY BY LISA ZAHNER (Week of April 20, 2023)

With the official COVID-19 public health emergency scheduled to expire in three weeks, the weekly number of new infections remains low locally and in most of the country, but Covid complications killed more than 1,700 Americans the first week in April.
The Centers for Disease Control and Prevention reports five people were hospitalized here for COVID-19 illness last week. Eight people were hospitalized the previous week and Cleveland Clinic Indian River Hospital spokesperson Erin Miller said on Monday, "There are nine Covid-positive patients in-house this morning; none of which is in ICU."
Since Covid patients still occupy fewer than 2 percent of the county's staffed hospital beds, Indian River County remains in the CDC's green zone, or Low Covid Community Level category.
Public health officials attribute the lack of a major winter surge in cases, hospitalizations and deaths this past winter to newly formulated "bivalent" booster shots taken by roughly 54 million people in 2022, and the U.S. Food and Drug Administration may authorize an additional booster shot for those who want to feel extra protected.
But a group of Midwestern researchers say their findings indicate that a different booster formulation might be more effective.
Currently the Centers for Disease Control and Prevention lists 10 different Omicron subvariants that have been identified as causing COVID-19 illness in the United States. The XBB.1.5 strain is dominant in April, as the CDC attributes 78 percent of new infections to that strain, but it seems to be on the decline as other variants gain steam. About six weeks ago XBB.1.5 was said to be responsible for 90 percent of new Covid infections.
Subvariant XBB.1.16 is a newcomer on the list and is already the second most prevalent strain, accounting for 7.2 percent of new infections, so it's being called an emergent subvariant to watch worldwide. It's the dominant strain in India, where researchers are studying it to determine how easily it spreads, and how sick it makes infected people, compared to other variants.
Researchers at Washington University Medical School in St. Louis say vaccine developers may need to look into the future to keep COVID-19 at bay as it becomes a permanent part of our daily lives.
They formulated an experimental vaccine targeting not a dominant strain but an emerging one that was quite different from Covid Classic circa 2019 and early 2020. They recruited eight volunteers to get that shot, then compared their antibodies with those of 39 people who had received the original Covid vaccine plus the 2022-version bivalent booster. They published the findings in the April 3 issue of Nature magazine, and the medical school reported on the experiment, quoting the researchers.
"The challenge with COVID-19 is that the virus keeps mutating," said senior author Ali Ellebedy, Ph.D., an associate professor of pathology & immunology, of medicine, and of molecular microbiology at Washington University Medical School.
"It's not that the vaccines don't elicit a lasting antibody response. They do. The problem is that the virus changes and the existing antibodies become irrelevant. Here we showed that it's possible to design a variant-specific booster that doesn't just strengthen the antibodies people already have but elicits new antibodies," Ellebedy said. "This means that periodically giving boosters targeting new variants would allow population-level protection to be maintained even as the virus evolves."
Though the December 2020-era Covid vaccines boasted a 90 percent efficacy rate, that has waned significantly over the past two and a half years, as doctors see more breakthrough cases caused by virus variants that have evolved to evade the antibodies prompted by the older vaccines. The medical school reported that up to 300 different antibodies were found in their eight test subjects who got the experimental booster.
"The whole point of making boosters against new variants is to teach the immune system to recognize features in the new variants that are different from the original strain," Ellebedy said in the Washington University report.