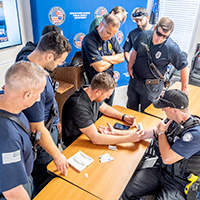 Shores buys high-tech portable ultrasound machine
STORY BY LISA ZAHNER (Week of April 13, 2023)

Indian River Shores residents who have a medical emergency at home or in the town may benefit from a recently purchased piece of technology that isn't typically available in the back of an ambulance.
The Shores invested $5,000 in a portable General Electric ultrasound machine and is training paramedics how to use it to save lives of patients in transit to the hospital.
Not the previous generation's clunky ultrasound machine attached to a big screen, this ultrasound wand links by Bluetooth signal to any smart phone or tablet to display a clear image of the scan.
Public Safety Chief Rich Rosell told the town council how the new hand-held, wireless ultrasound would be used to improve care. "If we get a call and somebody has an aortic aneurism or some other type of bleed, we can diagnose that immediately. It enhances our ability to keep you alive and get you where you need to be."
Having this diagnostic tool will enable the Shores' paramedics to give the hospital's emergency room a better idea of what kind of care will be needed.
"It will also be used to make the decision of whether to MedEvac a patient or not," Rosell said.
Rosell said he and Deputy Chief Mark Shaw have wanted to purchase the portable ultrasound for some time. "The technology finally caught up to where the affordability is reasonable," he said.
The VScan Air CL unit can be used to scan the chest, abdomen and extremities. It clearly shows arteries and veins and can let paramedics know if a lung is collapsed, if there's internal bleeding or if an injured leg or arm is getting good blood circulation.
"We can use it in a case where it's hard to find a pulse or there's a weak pulse," Shaw said.
Since the department has two ambulances plus an advanced life-support fire truck, it would take three portable ultrasounds to equip all three units. Shaw said he and Rosell plan to put $5,000 in the budget next year for a second unit so both ambulances are equipped.
Shaw said all three shifts got training from the town's Medical Director Dr. Bobby Ford, an emergency room physician from Rockledge.