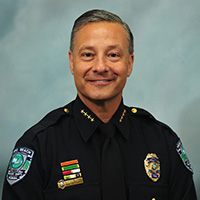 Vero police chief: More cops needed in face of growth
STORY BY RAY MCNULTY (Week of April 27, 2023)
Photo of Vero Beach Police Chief David Currey.

As the county's population surges toward 170,000, Vero Beach Police Chief David Currey plans to ask the City Council to include in his fiscal 2023-24 budget the funding to hire three more police officers.
While the population of Vero itself is not growing, Currey said the additional police officers are needed to help meet the increasing demands placed on his department by county residents who come to the city to work, shop, dine, socialize, use the city's parks and airport, attend shows and sports events, and conduct business at the courthouse and government offices.
"The more people who move to our county, the more we're going to see these people in Vero Beach," Currey said. "It's something we've been talking about for a while now – because the county is going to continue to grow, and we're the county seat.
"And when people are here, regardless of where they came from, we're responsible for their safety and protection," he added.  "We still have to do our jobs."
Currey said the addition officers would allow his department to do those jobs more effectively and efficiently as it responds to more calls for service, sees more traffic on city roadways and provides a police presence at the Vero Beach Regional Airport terminal for more commercial flights.
The agency currently employs 57 sworn officers who serve a 13.1-square-mile city with a population of 17,000.  The annual salary for an entry-level officer is just over $48,000, plus benefits.
The chief said one of the new officers would become the third member of the department's Traffic Enforcement Unit, which is patrolling roads that over the past few years have become noticeably more congested, especially during the community's busy season.
"Everyone's main concern seems to be traffic, which is the most visible issue," Currey said. "We have 800 to 900 crashes per year in the city."
Currey said he also wants to add a "utility officer," whose duties would include serving "on the boat, on the beach, or on the bike." The department's Marine Division operates a 20-foot police boat and works with other state and local agencies, particularly the Florida Fish & Wildlife Conservation Commission.
"With more people coming to the county," he said, "we're seeing more people with boats."
The third new hire could be assigned on a full-time basis to patrol – possibly by foot – the downtown area, specifically along 14th Avenue and including Pocahontas Park, both of which have been plagued with problems associated with an influx of homeless people.
Those problems include panhandling, public drunkenness, sleeping on public benches and the accosting of passersby who work, shop or dine downtown. This latter problem became so alarming that the city has removed all the downtown benches.
"We're not Miami or Jacksonville or Tampa, but we are a city," Currey said. "We're the urban hub of this county. As a transient individual, where are you going to go? You're going to gravitate to the hub, where people are.
"It's unfortunate that we had to remove the benches, but we had to do something to respond to the complaints we were getting," he added. "The thing is, downtown is actually a low-crime area. The crimes we're seeing from the homeless are just nuisance crimes – trespass, panhandling, drinking alcohol in public …
"We patrol downtown, but we're talking about having a full-time officer dedicated to that area, at least at certain times."
The recent arrival of Breeze Airways in Vero Beach also has put a strain on Currey's department, which provides a police presence in the airport terminal for every departing flight.
Those assignments, though, are covered solely by overtime hours.
"We can't pull officers away from the other assignments every time there's a flight, so it's an overtime detail," Currey said. "And our officers can be there for two to three hours for each flight.
"Fortunately, some of that expense is covered by money the city gets from the airport."
In addition, Vero Beach police officers – since the 2018 mass shooting at Marjory Stoneman Douglas High School in Parkland – have been assigned to school resource officer (SRO) duty at Beachland Elementary, Rosewood Magnet Elementary and St. Helen's Catholic.
"Before the Parkland shooting, we never had school resource officers before," Currey said. "Now we have three, and we could have more. Some churches are looking to start kindergarten through Grade 6 schools, and if they do, they'll need to have some type of police presence, too."
The growth and development beyond the Vero city limits is not just a challenge for the police department.
As more homes are built and the county's population continues to grow, City Manager Monte Falls said "it impacts many city departments," and Falls said he plans to discuss with new county administrator John Titkanich ways a growing county might be able to ease the city's burden.
Two of the county's most popular dining, shopping and gathering places are the Central Beach business district – particularly along Ocean Drive – and downtown Vero. Both attract county residents in big numbers.
The much-anticipated Three Corners project, which is expected to draw big crowds to the city's mainland waterfront, could open as soon as the summer of 2028.
By then, even 60 sworn police officers might not be enough.
"We'll be ready for the challenge," Currey said, adding that his department continues to protect and serve as it recovers from cutbacks and reductions in rank imposed by the city a decade ago, at least partly because of budget concerns.
Currey said the department had a deputy chief and two captains when was appointed police chief in 2011. A year later, however, the city requested that he eliminate the deputy chief's position, along with one captain, one lieutenant and a sergeant.
Now, he said he's bringing back the deputy chief's position, and he already has regained one lieutenant and one sergeant.
"We're still moving forward and getting back those ranks, but we're also hoping to add officers and put more boots on the ground to meet a growing demand," Currey said. "There's not much that happens in this community that we're not a part of."