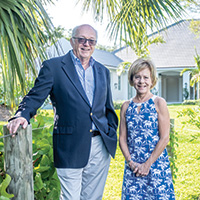 'Virtual subdivision' bringing 18 new homes to island market
STORY BY STEVEN M. THOMAS (Week of April 6, 2023)
Photo: Photo of Bob McNally and Sally Daley.

What do you call a collection of 18 new residences – some large, some cottages, some condos – all being built to the same exacting standard by the same island builder, but tucked into island neighborhoods stretching from Riomar to Central Beach to the Bermuda Club?
A virtual subdivision, according to Palm Coast Development and Douglas Elliman, who are marketing them as a portfolio to the house-hungry 32963 island, where demand continues to outpace supply, with inventory about half what it was in a typical pre-pandemic April.
The 18 residences include a pair of cottages at the north end of Club Drive, a large single-family home in Riomar Bay II, three charming side-by-side, single-family houses on Azalea Lane in Central Beach, and 12 big riverfront condo units in two new buildings in the Somerset Bay Condominium development.
They range in size from 3,000 square feet to 4,800 square feet and in price from $2.4 million to $6.85 million, with an aggregate value of more than $50 million.
Despite their geographic and price diversity, the properties are being presented like a subdivision, with a single hardcover book highlighting details of all the residences and a unitive marketing push online and in print, extending to the far reaches of the Douglas Elliman real estate network.
"You have Coke buyers and Pepsi buyers," said broker-associate Sally Daley of the Vero Douglas Elliman office. "If someone is looking for waterfront we have that, or if they want to live in Central Beach or in a condo with wonderful river views we have that too, with a wide range of prices."
At the same time, the properties have enough in common to justify the subdivision metaphor. All will be brand new when families move in, a top-of-the-wish-list-item for many buyers, and all are being built by the same well-established island builder.
Palm Coast president Bob McNally told Vero Beach 32963 every residence will include "the exact same" windows, custom millwork, premium flooring, high-end appliances and market-sensitive design.
"We wanted to make this diverse offering to attract the largest pool of prospects while also offering a product with a great deal of consistency and value," said McNally.
The dwellings are similar enough that the estate house at 785 Lake Drive in Riomar Bay II will serve as a model home for the entire portfolio – until it is sold – allowing buyers to see and touch the finely-fitted, luxury finishes and features that will be found in all the properties.
McNally and Daley decided to offer their virtual subdivision to the public now because the 4,820-square-foot Lake Drive house was just listed, giving them a move-in ready product, along with residences under construction that can be reserved with refundable deposits.
The current offering and innovative business plan have been in the works for more than three years.
"It really started when I was selling my last spec house, back in 2019," McNally said. "I sat in that house every weekend to show it to prospective buyers, and I am really glad I did. I learned a lot from the feedback.
"What emerged was a dichotomy. People were really keen on new construction but also wanted to be in an established neighborhood, and proximity to town was overwhelmingly important to many of them.
"That started us on a mission of looking for places between the bridges – and we found them. We found one, then we found two, and then we found more."
"Several of our purchases were off market," said Daley, who was the chief birddog in the deal. "We weren't going to wait for things to come to market."
McNally bought an empty .82-acre site near the entrance of Riomar Bay II in October 2020, paying $625,000. Six months later, in March 2021, he bought three side-by-side empty lots on Azalea that total .75 acre for $1.9 million. In December 2021, he spent another $675,000 on a .36-acre parcel on Club Drive, where the matching set of cottages will be built.
In November, McNally decided to expand the portfolio, shelling out $4 million for the last two pads in the Somerset Condominium development where a dozen 3,000-square-foot riverfront condos will be built.
"They will be like houses in the sky," Daley said of the large apartments. "We ask ourselves where the market is going then try to figure out how fill a void in the market."
McNally broke ground on the Lake Drive house in late 2021 and completed it in March. He has cleared the lots on Azalea Lane and expects to pour slabs there within the next month. All three Azalea houses will be built at the same time and when the last one is dried-in this summer, McNally will move his crews to Club Drive to commence construction there. Daley is accepting reservation deposits on both projects now.
McNally said the Azalea houses will be complete by next April, followed by the Club Drive cottages three months later, sometime early in summer of 2024.
Engineers are still putting the finishing touches on the two condo building designs. McNally has site plan approval for the buildings and plans to begin construction and start taking deposits in September.
Judging by a walk-through of the Lake Drive house and architect renderings of the other properties, all of the residences McNally and Daley are bringing to market will appeal to buyers.
The four-bedroom, four-bath house in Riomar Bay II comes with 10-foot doors, 12-foot ceilings, crema marble floors, elaborate, white-painted custom millwork that feels as smooth as glass to the touch, a two-room guest house with bath and kitchenette, a gorgeous, oversize pool with waterfall spa, and a dock on the river.
The house looks like a typical upscale subdivision house from the curb but turns into an expansive, beautifully designed Anglo-Caribbean estate when you step through the heavy double front entry doors.
The lot is more than 200 feet deep, almost like something you'd find in the estate section, and there's a 1,600-foot sight line from the front door, across the great room, through the massive glass sliders, and out across the lot and water to a far tree line. The house is listed for $6,850,000.
The three houses on Azalea Lane look homey and architecturally refined in the renderings and will offer an ideal version of Vero's village lifestyle, located just a block from Cardinal Drive and Casey's, two blocks from Sexton Plaza and the beach.
The three-bedroom, three-bath, two-story houses with big, beautiful kitchens and two-car rear garages are located at 765, 775 and 785 Azalea Lane. They range in size from 3,328 square feet to 3,573 square feet and are being offered preconstruction starting at $3.5 million.
The rear garages, which make for an attractive, new-urban street view of the houses, came about because McNally didn't want to butcher the existing oak canopy on the lots. He asked the city for a variance to put the garages behind the houses along a shared driveway and the city approved the plan.
"They were fantastic," McNally said. "The plan passed unanimously with the planning board and city council. I really didn't want to cut those oak trees down."
The three-bedroom, three-bath, 3,150-square-foot cottages on Club Drive just south of Causeway Boulevard, where a small commercial building is now, are pleasingly symmetrical mirror images of each other. They will sit across from a little piece of Indian River Land Trust conservation property and offer residents the easiest possible access to the mainland or anything north or south on A1A.
They're within walking distance of the South Beach restaurants and South Beach Park, closer to St. Ed's than homes in Central Beach or Indian River Shores, and only a mile or so away from Ocean Drive shopping and dining.
The 12 condominium units will be updated and improved versions of the existing Somerset Bay condos, with cleaner more modern lines and wide-open southerly views of the Indian River lagoon and Intracoastal Waterway.
McNally started in construction and development working for his father's company in New Jersey, where he climbed through the ranks to become CEO. "We built 3,700-some condominium units and 2 million feet of office space," he said, noting that the company needed just a two-person service department to service the thousands of condos they delivered, an indication of high-quality construction.
He came to Florida in 1995, working for a couple of years for his wife's uncle, Phil D'Angelo, building mega-mansions in Stuart – up to 34,000 square feet – before concentrating his efforts on the barrier island.
Here, he has built 278 custom homes and 45 condo units, including those in Ocean Park, the highly regarded condominium and retail development at Humiston Park.
"I walk my jobsites every day," McNally said. "So I don't take on much work outside of Vero. I just turned down a really good job in Satellite Beach because it would have been too time-consuming to go up there daily."
Daley is banking on McNally's building expertise and reputation, along with continued post-pandemic migration to Florida, a shortage of new homes on the island, and higher prices in Palm Beach, Miami and Naples – Vero's competing markets – to make the virtual subdivision a success.
"The migration hasn't slowed one bit and there continues to be strong demand, so we have scarcity on our side," Daley said.
She's also counting on the magnetic appeal of brand new, up-to-code homes that incorporate of-the-moment design and finishes – and Vero's nostalgic small-town appeal.
"Sally and I talk about this all the time," McNally said. "They aren't making no more waterfront and they aren't making any more places like Vero Beach. Our buyers mostly come from the northeast, a lot from New Jersey and Connecticut, and they grew up in established neighborhoods where you could take a walk in the evening and your kids could ride their bikes.
"They don't want to live in some planned community someplace. They want to live someplace like they did when they were kids, and Vero offers them that. Along with warm weather and low taxes!"