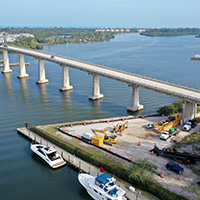 Wabasso Causeway: Long-awaited bridge work to get underway
STORY BY SAMANTHA ROHLFING BAITA (Week of April 13, 2023)

An updated construction project designed to make the high-span portion of the Wabasso Causeway safer for cyclists and pedestrians is scheduled to finally get underway later this month and end this summer after the $1.4 million state project hit some snags in 2021.
Florida Department of Transportation officials say no vehicle lanes will be closed during the day, but that single-lane closures may occur overnight between 6 p.m. and 7 a.m. except for Friday and Saturday nights, holidays and during special events in the Vero Beach area.
"Business and residential access will be maintained at all times," the agency stated in a letter about the construction.
About 35 people heard Florida Department of Transportation engineers outline the project details Feb. 22nd at the Environmental Learning Center. Orchid Mayor Bob Gibbons showed up, as did several other Orchid residents, as the town's concerns have helped shape the design.
The first phase of the long-awaited bridge improvements will include installing a pedestrian and bicycle railing next to the westbound lane on the north side of the C.R. 510 Wabasso Beach Road bridge. A second phase will mirror the railing next to the eastbound lane on the south side of the bridge.  
In September 2021, work had already begun on FDOT's bike and pedestrian safety project on the bridge between U.S. 1 and the gated island communities along Highway A1A, a hazardous stretch of bridge which offered little room between bikes and motor vehicles.
However, the project, which originally included a 3-foot chain link fence, was brought to a halt when residents of the barrier island drowned it in a flood of complaints that the fence would destroy the iconic river view.
Though stanchions for the chain link fence are already up, FDOT – working closely with the county Municipal Planning Organization – decided to change the design.  Now, the first order of business, says FDOT Administrator Sarah Storey, will be to remove the stanchions.
Also scheduled to begin this spring about 700 feet south of the bridge is the Environmental Learning Center's extensive dock project, which will encompass the removal and replacement of the pilings and deck of a 25-plus-year-old dock extending 365 feet into the Indian River Lagoon.