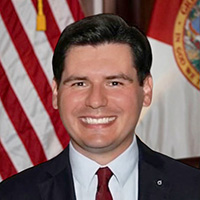 3 will vie for 2 Vero council seats as Dingle enters race
STORY BY RAY MCNULTY (Week of August 24, 2023)
Photo of Taylor Dingle.

Jumping into the race shortly before 11 a.m. Friday – the final day of the qualifying period – Taylor Dingle ensured that there will be a Vero Beach City Council Election in November.
Dingle, who ran unsuccessfully in 2021 and 2022, will be joined on the ballot by Mayor John Cotugno and former council member Honey Minuse. Two-term incumbent Rey Neville did not file to run for re-election.
Cotugno, Minuse and Dingle will be competing for two council seats.
"I'm not surprised Rey didn't run, especially after he left for vacation without filing his papers, but I didn't know if anyone else would get in," Cotugno said last weekend. "Then Taylor contacted me late Thursday night to tell me he was going to run, and I shared my thoughts with him.
"He believes this is his opportunity to win, based on the number of people in the race and who's running."
Dingle said he had been monitoring the city's website for weeks to see who would enter the race. With the filing deadline approaching last week and only two candidates running, the co-founder and chairman of the Young Republicans of Vero Beach decided to take another shot at winning a seat on the dais.
But only after getting a rousing endorsement from his wife, whom he said had endured three bouts of COVID-19 while suffering from a form of Lyme disease.
"With everything she had been through, we were going to take a break from running," Dingle said. "But with only John and Honey in the race, I talked to my wife and we had our Rocky Balboa moment."
He was referring to the memorable scene in the "Rocky II" movie in which Rocky's wife, Adrian – who didn't want her husband to fight a rematch against the Apollo Creed character – recognizes what the opportunity means to him.
"She tells him, 'Win,'" Dingle said. "Something similar happened to us. My wife saw the opportunity we have now and told me, 'Do it.' … So the voters of Vero Beach now have a choice."
Dingle, 27, first ran for a City Council seat in 2021, when he received only 9 percent of the vote and finished fifth in a seven-candidate race in which Cotugno and Neville won election.
He ran again last year, getting 11 percent of the vote to finish sixth in an eight-candidate race that saw three council newcomers – Tracey Zudans, Linda Moore and John Carroll – win seats on the dais.
"Some people have told me to wait a couple of years, but if I wait, we'll already be a long way down the road on major projects like the Three Corners project and relocation of the wastewater treatment plant," Dingle said. "And who knows where we'll be with the Twin Pairs lane reduction.
"I'd rather be a part of making the decisions than need to undo them."
Dingle, who serves as vice chairman of the city's Utilities Commission, said he's getting support from throughout the community, particularly voters who want to see "new blood" on the council and "young people having a voice" in local government.
He said he supports the Three Corners development, relocation of the city's wastewater treatment plant from the banks of the lagoon to the airport, and renovation of the municipal marina, including the planned construction of a new and larger boat-storage facility.
He is opposed to the proposed lane reduction along the Twin Pairs through downtown Vero Beach.
"If we reduce State Road 60 to two lanes in each direction, you know that at some point one lane is going to be closed for some type of construction," Dingle said. "Then we're down to one lane, and that's not enough to accommodate the growth we're expecting in the county.
"How are first responders going to get through there?"
He said he's also concerned that the bottleneck – along with Brightline high-speed passenger trains zipping through downtown 32 times each day – would create traffic backups that would prompt drivers to find alternate routes through residential neighborhoods.
Overall, though, he said he likes the path the city is on.
"We're moving in the right direction," Dingle said. "I think I'd be a great addition to the council. I'd certainly look out for those residents under the age of 30 or 40 and who are concerned about our quality of life.
"My generation is going to live with the consequences of the decisions our City Council makes," he added. "I've been learning and growing best I can to prepare myself to serve on the dais. I'd like to make Vero Beach our Camelot."
Cotugno appears to be a strong candidate for re-election, which means Dingle needs to beat Minuse to win. Dingle believes he can overcome their advantage in name recognition.
"They really don't need to campaign, but I do," Dingle said. "We're going to do it the old-fashioned way – knock on doors, make phone calls, reach out to the voters."
Cotugno, who celebrated his 75th birthday on Friday, said he's simply going to run on his record, his performance as mayor and the council's accomplishments.
"I think my record speaks for itself," he said. "We have a very productive council, and we're moving forward with a number of significant projects. Hopefully, people will like what we've done."
Minuse, a longtime Vero Beach resident and fiscal conservative who served on the city's Planning & Zoning Board for 10 years and held a leadership role with the Indian River Neighborhood Association, was elected to the City Council in 2020.
She lost her seat in November, after she was targeted by a local grassroots group opposed to the city's plan to build a substantially larger boat-storage facility at the marina. She finished fourth, 209 votes behind Carroll.
Minuse said she believes her experience, perspective and passion are needed as Vero Beach prepares to shape its future.
"Until Friday, it was just John and I, so I didn't know what to expect," she said. But I've been preparing my campaign, just in case. Fundraising will be really important, but I'm feeling good about it.
"A lot of people are excited that I'm running."
Neville did not respond to phone and text messages left last week.