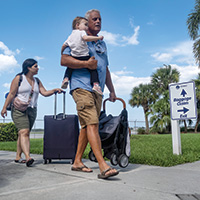 As Breeze adds Providence flights, Vero airport plans expansion
STORY BY LISA ZAHNER (Week of August 3, 2023)

With Breeze Airways opening up a new destination for travelers just in time for winter residents and tourists, the Vero Beach Regional Airport is getting ready to welcome a steady stream of passenger traffic this season and beyond.
Beginning Nov. 2, Breeze Airways will add nonstop flights to Providence, R.I., three days per week on Tuesdays, Thursdays and Sundays. The new route is the northernmost option for Vero residents, on top of its current service to Hartford, Conn. and Westchester, N.Y.
Vero Beach Mayor John Cotugno, who grew up in Providence, expressed his excitement and vowed to be one of the first to purchase a ticket for the new route, calling the city's relationship with Breeze Airways an "excellent and continued partnership."
Also in November the airport will begin taking bids on an expansion project to make guests more comfortable, and to replace a temporary baggage claim area now housed under a tent. The initial plan was to convert a 960-square-foot banquet facility at C.J. Cannon's restaurant into an indoor baggage claim area.
"We have determined the available space is not sufficient for an indoor baggage claim, so we plan to build a permanent shelter for baggage claim outside of the terminal, and provide covered walkways from the airline aircraft to baggage claim, then to the terminal," Airport Director Todd Scher said.  "The former banquet rooms will house new restrooms, waiting area seating for those picking up inbound passengers, and possibly a rental car counter."
Scher said the tent has provided a good, working system in the meantime, and severe weather hasn't impacted the departures and arrivals so far. "It isn't fancy or even close to ideal, but it is functional!"
Construction should start in February on the new amenities, and most of the cost is being footed by the Florida Department of Transportation.
"There are two FDOT grants that will be used for this work, although the funding is for other terminal improvements as well. The two grants total $1.5 million, of which FDOT contributes 80 percent and the Airport contributes the remaining 20 percent."
Breeze Airways pays the city about $10,000 per month, regardless of the number of flights or passengers, but this month, and starting this month those revenues should increase a bit.
"In August, we will begin charging 'per turn,' or a charge each time an airline aircraft arrives, uses our terminal facilities, and departs.  The Per Turn charges are different for weekdays, holidays and weekends, based on personnel expenses.  Per Turn charges are in addition to some fixed expenses," Scher said.