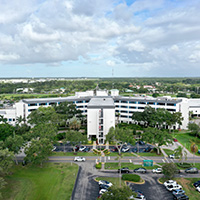 Cleveland Clinic here to no longer have 'president'
STORY BY PIETER VANBENNEKOM (Week of August 17, 2023)

Local physicians working for Cleveland Clinic say they've been informed the position of president of the Indian River Hospital has been eliminated and that henceforth, final decisions for the medical center here will be made in South Florida.
"We've been told that there will be no new president and that from now on, Conor Delaney will be in charge of everything here," said one physician who asked not to be identified because he was not authorized to speak on the matter. Cleveland Clinic has made no official announcement.
Dr. Delaney, an Irish born and educated surgeon based at Cleveland Clinic's facility in Weston, is president & CEO of Cleveland Clinic Florida, a position in which he oversees five hospitals, a research center and numerous outpatient centers in five counties across the southeastern part of the state.
The last president of Cleveland Clinic Indian River Hospital, Dr. Greg Rosencrance, left late last year to take a position as president of the health system associated with the University of West Virginia in Charleston. He was reportedly unhappy with the corporate politics at Cleveland Clinic.
Following Rosencrance's departure, Dr. David Peter, the chief medical officer here, was named "interim president." Until recently Cleveland Clinic was saying the search for a new president was ongoing.
But when asked about the matter on Monday, a hospital spokesperson said: "Dr. David Peter has been the interim president and was recently named VP/CMO (vice president/chief medical officer) of CCIRH, taking over the role.  So yes, Dr. Peter is now in charge." 
The hospital, which had made no public announcement it had ended the search for a president, offered no explanation of the significance of the change in Dr. Peter's title.
Cleveland Clinic took over the previously independent community hospital in Vero Beach in January, 2019, after winning a competitive bidding process. At the time, Cleveland Clinic committed to invest at least $250 million in the hospital over the next 10 years as well as maintain all current services.
Cleveland Clinic Indian River runs the 332-bed hospital as well as the adjacent wellness center, cancer care and mental health facilities, and also runs several diagnostic facilities and owns physician practices around the community.
The organization has been plagued in the past couple of years by high turnover rates among physicians as well as technicians at its diagnostic facilities.
All appointments with local Cleveland Clinic physicians and other providers have been handled for some time out of a central facility in South Florida, and local Facebook sites have been full of complaints about dropped appointments.