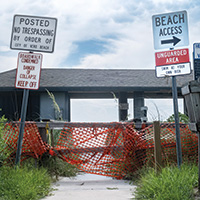 Crossings to Vero's vaunted beaches still in shabby shape
STORY BY SAMANTHA ROHLFING BAITA (Week of August 10, 2023)

Vero Beach, known far and wide as the Hamptons of Florida for its many splendid   beachfront homes and its seaside village charm, is putting that reputation in jeopardy.
Nine months after Hurricane Nicole slammed into Vero's shoreline, orange "crime scene" tape, traffic cones, crude barricades and warning signs continue to obstruct routes to the beach at two of the city's three ocean parks.
The boardwalks and beach access points at Humiston and Jaycee parks are still wrecked, with sections of boardwalk missing and shattered timbers laying on the sand. Partial, temporary repairs feature crooked boards and mismatched materials, more reminiscent of a kid's tree fort than the toniest section of Long island.
Vero Beach Director of Public Works Matthew T. Mitts told Vero Beach 32963 that the city gets frequent complaints about the dilapidated condition of the beach parks.
He said city leaders are as frustrated as the public at the pace of repairs, which he and City Manager Monty Falls blame mostly on slow response from FEMA, and the complexities and expense of maintaining seaside infrastructure in the face of eroded beaches and frequent hurricanes.
"We wish our beach facilities were fully restored now so they can be enjoyed by all," Mitts said. "As we have stated before, we are trying to rebuild facilities that are resilient to future storms while minimizing the direct cost the city has to expend for the repairs."
At Jaycee Park, a temporary ramp has been jury rigged so that people can walk from the park down to the beach, but the southern half of the 1,400-foot-long Conn Beach boardwalk still looks like an abandoned construction site.
Nicole washed out portions of Ocean Drive, which was closed for a month after the storm, and part of the road is still collapsed at the south end of the boardwalk, along with the final section of the boardwalk.
A majority of the staircases from the road to the boardwalk are boarded up and blocked with orange cones and tape or concrete traffic barriers.
At Humiston – an otherwise storybook little park next to one of the island's most popular seaside restaurants and traversed by thousands of tourists and residents monthly – it looks like hurricans landfall was a month or two ago, not last November.
An employee at the Citrus restaurant called the sight diners see from the outdoor patio "kind of embarrassing."
Most of the boardwalk is gone, leaving two small sections with ragged edges and warning signs. A sandy path over the dunes provides ad hoc beach access, but the scene is far from picturesque.
Last weekend, locals Sue and Dan Shaw stood on the pathway that used to lead to the Humiston boardwalk and shook their heads, gazing at a dilapidated wooden walkway with a large wood plank nailed across its entrance, which was unceremoniously draped with orange plastic mesh.
A few yards away, one of the short low-light pedestals had been knocked over and lay forlornly in the grass, wires stretched from their center connection.
Just to the side of the path, should there be any doubt, was a sign stating, "No Trespassing, by order of the City of Vero Beach." And, just in case, a second sign on the same pole proclaimed BOARDWALK CONDEMNED, DANGER OF COLLAPSE, KEEP OFF – not exactly the ambiance that earned Vero its Hamptons comparison.
The couple said they felt the storm damage should have been repaired by now.
Island broker Buzz MacWilliam feels the same way. His office is right across Ocean Drive from Humiston Park
"Would  Palm Beach County wait around for years to fix this?" he said. "Or would  they take the initiative and get it done and worry about FEMA later? Wouldn't the first priority be to get the job done?
"It's a shame the boardwalk is still closed. It brings people out to watch the sunrise, just leaning on the rail, admiring the view. It's such a wonderful asset to the city but now it's an eyesore. This certainly makes a bad impression with tourists, who might not be inclined to come back.
"The good news is, we still have other great beaches – South Beach Park is the prettiest beach in the county," MacWilliam added. South Beach wasn't damaged by Nicole because its infrastructure is set back 500 feet from the surf, behind a mangrove buffer.
At Humiston, the boardwalk was more like 50 feet from the surf at high tide.
"We had to demolish the entire boardwalk at Humiston because it was no longer safe [after the storm]," said Mitts, who is an engineer.
"At Humiston we are being forced to either rebuild the boardwalk [where it was] or retreat further landward. Either option will take some time to do and this work will have to be done between November and March outside of sea turtle nesting season."
At Jaycee Park and adjacent Conn Beach, Falls and Mitts want to build a seawall to protect the boardwalk, road and other infrastructure and are trying to get the federal government to help pay for it.
"There is a 100 percent chance ... [Ocean Drive will be washed out again] at some point in the future if we do not armor the beach at Conn," said Mitts. 
"The greatest delay is coordinating with FEMA to determine funding eligibility for hazard mitigation," Falls said. "The boardwalk, on-street parking and Ocean Drive roadway are protected from erosion by the beach dune along Conn Beach.
"The dune [which was washed away by Nicole] acts as a sacrificial granular seawall and erodes after major storm events. The cost of replacing the sand along Conn Beach is a repetitive and ultimately unsustainable cost for the city," he said.
"The city desires consideration from FEMA to assist in funding a seawall along Conn Beach that would provide resilient infrastructure. Resilient infrastructure along Conn Beach would reduce both costs to the city and ultimately funding reimbursement from FEMA requested by the city following storm events that reoccur every 2-3 years.
"The approximate cost for each time the City replenishes sand along Conn Beach to protect our infrastructure is $250,000. Over time, it may be more cost effective to build a traditional armored seawall in lieu of using sand as a sacrificial seawall."
Asked when repairs and possible seawall construction will take place at Conn Beach, Falls said, "We don't have a schedule."
At Humiston, a three-phase restoration is planned, according to Mitts.
"We are currently in Phase 1.  We have an emergency beach access that allows beach patrons to walk over the beach dune. This situation is not ideal because people are walking on the sand of the dune instead of over it.
"Phase 2 will be done sometime between November 2023 and March 2024. We will construct a temporary beach dune crossover. This crossover will go from the grass/sodded area of the park with a wood structure that will safely allow beach patrons to walk over the dune.
"Phase 3 will be further out in time. I do not have a schedule. This phase will consist of either rebuilding a boardwalk approximately as it was before or constructing an elevated sidewalk further inland from the dune.
"We are still determining whether it is possible to get a permit to rebuild the boardwalk as it was and what funding FEMA can provide under different restoration scenarios. The ultimate goal is to have multiple dune crossovers and a facility the community can enjoy that is resilient to future storm events."
"You'd think they could navigate the bureaucracy and get it done," said MacWilliam while touring the park. "This should be a vibrant scene with lots of people on the boardwalk and beach and in the park. When they do rebuild, I hope they will include the new lifeguard headquarters they have talked about building here."
"We understand the remaining damages and perceived lack of progress are frustrating for the public," Falls said. "However, we have restored access to the beach and the [Conn Beach] boardwalk.
"Even though these repairs will take longer than we would like, it is our ultimate goal to build facilities that are more resilient to future storms. We want future generations of residents and tourists alike to enjoy the beaches with fewer delays following future storms."
No repair budget had been penciled out for either park as of Monday.