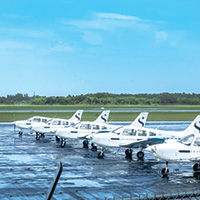 Enthusiasm high as Skyborne's pilot training grows here
STORY BY RAY MCNULTY (Week of August 17, 2023)

Amid sharp increases in post-COVID air travel and a global pilot shortage, Skyborne Airline Academy's Vero Beach campus has been buzzing with activity as more than 300 flight students have come here for training during the past 18 months.
The campus, in fact, got busier in June.
That's when the first 20 students enrolled in Delta Airlines' pilot-career pathway program arrived in Vero Beach to train at the carrier's Propel Flight Academy, which operates in partnership with Skyborne.
This past Tuesday, Delta and Skyborne officials were scheduled to attend a ribbon-cutting ceremony to celebrate the grand opening of a newly renovated building that will serve as the Propel academy's administration headquarters at the Vero Beach Regional Airport.
"We'll be sharing the building with Delta, which will have a presence here," said Ed Davidson, Skyborne's managing director of flight-training operations in Vero Beach. "We provide the training and facilities, but Delta will have at least one or two representatives on site to oversee the program and offer career counseling to their students."
Delta is the largest of the carriers with which Skyborne has established partnerships. Among the others are SkyWest Airlines, the nation's largest regional carrier, and Envoy Air, a wholly owned subsidiary of American Airlines formerly known as American Eagle Airlines.
In addition, Skyborne has agreements to train pilots for two charter airlines.
Those partnerships and agreements are good for business, Davidson said, adding that Skyborne students – those who start with no flight experience whatsoever – will spend as much as $85,000 to become an airline pilot.
"That's 15 to 20 percent less than it would cost you to get your medical or law degree," Davidson said.
Some Skyborne students, however, don't have even a bachelor's degree, since airlines no longer require a college education for its pilots. Davidson said the academy's enrollment consists of a mix of high school graduates, college graduates and "career changers."
Some of those looking to change careers, he added, are well educated and in their 30s and 40s.
"With the salaries, benefits and time off airline pilots are getting nowadays, it's a very attractive career – and the national news media has really been hyping the pilot shortage," Davidson said.
"A lot of people, especially younger people, see an excellent opportunity to come into the airline industry and accelerate their careers quickly."
The website for The Boeing Company, one of the world's largest airplane manufacturers, states that the long-term demand for newly qualified aviation personnel remains strong as 649,000 new pilots will be needed to fly the global commercial fleet over the next 20 years.
The site claims the air-travel industry still faces "lingering challenges" in meeting the demand, citing "insufficient training capacity to support significant personnel shortages and the lag time required to bring personnel online while continuing to prioritize safety."
According to Boeing, investment in early career-development programs and outreach efforts that "spark excitement among future aviators" is essential to a healthy aviation market.
That excitement can be found on the Skyborne's Vero Beach campus, where Davidson said about 60 percent of the students are from the U.S. and the overall enrollment is up 135 percent since the academy began its operations here.
Skyborne, which was founded at the Gloucestershire Airport in the United Kingdom in 2018, quickly earned an international reputation as one of the most respected commercial-pilot training schools in the industry.
Skyborne purchased Flight Safety Academy in Vero Beach in May 2021.
While the global pilot shortage has helped attract students to the Skyborne campus, it also has created a national shortage of certified flight instructors as commercial airlines – particularly regional carriers – have lured them away with better salaries, benefits and schedules.
Skyborne, which currently has 49 such instructors, should have 55 to 60 to accommodate its enrollment, Davidson said.
"Flight instructors typically have over 1,500 hours and the rating required by the airline industry, so they're attractive to the airlines, especially the regional airlines desperate for first officers," Davidson said. "They're getting hired, and we're trying to replace them."
To that end, Davidson traveled the state last week, making stops in Daytona Beach, Orlando, Tampa, West Palm Beach, Fort Lauderdale and Miami in an effort to recruit instructors.
"We've hired 15 in the last two months," he said. "They've come to us from other schools, because of our higher wage level and benefits package, so our outlook is better. But it is a problem throughout the industry.
"We won't solve the pilot shortage until we solve the flight-instructor shortage."
Delta's Propel program, launched in 2018 to identify, select and develop the next generation of pilots, is designed to take candidates though to their commercial and certified flight instructor ratings on their path to becoming a first officer.
A statement from Delta described Propel as a highly selective program that provides current employees, who have worked for the company for at least three years, with a transition opportunity and the support to pursue a career as a commercial airline pilot.
To qualify, candidates must have a private pilot's license and at least 100 hours of flight time.
Only a select few are chosen each year. They are then given a defined path, timeline to become a Delta pilot, and five-year leave of absence to complete their training.
After being trained by Skyborne and working no more than 42 months at a Delta Connection carrier, Propel participants may transition to a pilot position at Delta Airlines.
When Delta's partnership with Skyborne was first announced last summer, Davidson said Propel candidates can expect to spend 30 to 40 weeks at the academy, where they'll train in single-engine Piper Warrior aircraft.
"Every aspect of our training is designed to prepare cadets for airline operations in terms of core knowledge and decision making, flight deck procedures and professionalism," Davidson said.