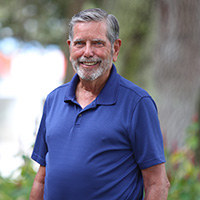 Neville won't seek 3rd term on City Councill
STORY BY RAY MCNULTY (Week of August 31, 2023)

Two-term City Councilman Rey Neville said in July he would seek re-election only if there weren't candidates who shared his vision for Vero Beach.
Apparently, he's satisfied that the city's foreseeable future will be in capable hands.
When the qualifying period ended on Aug. 18, Neville was not among the three candidates who filed to run for two council seats in the November election.
Instead, at age 81, he plans to return to private life, do some volunteer work in the community and travel with his girlfriend to parts of the world they hadn't yet visited.
"Serving on the council does take up a fair amount of time, depending on the workload for a particular meeting and how much reading you need to do to be prepared," Neville said.
"But it's not so much the time commitment as it is having to be here every two weeks for the council meetings," he added. "And, sometimes, we've got special meetings and workshops.
"It makes it very difficult to just take off somewhere."
Neville, in fact, missed the council's Aug. 8 regularly scheduled meeting because he was on a cruise in Alaska. It was only the second meeting he has missed, other than during the COVID-19 pandemic.
Last week, however, Neville attended the council's three sessions – a budget workshop Monday, regular meeting Tuesday morning and special-call meeting Tuesday afternoon, when council members met privately with City Attorney John Turner to discuss settlement negotiation and strategy for Vero Beach's ongoing litigation with Indian River Shores over water and sewer service.
"I'm not complaining," Neville said of the demands of being a council member. "I've loved it. All four years. Every single minute of it. I've always felt I was doing something worthwhile, and I feel good about it. I think I did a good job."
Neville, who won a second term in 2021 by finishing second to now-Mayor John Cotugno in a seven-candidate race for two seats, said in July he was less certain that he would run this year.
In addition to citing his desire to travel, he said wasn't sure if he still had the political support that carried him to victory in his first two campaigns.
Running for the two City Council seats in the Nov. 3 election are Cotugno, former councilwoman Honey Minuse and third-time candidate Taylor Dingle, who jumped into the race on the final day of the qualifying period.
Neville said he expects Cotugno, whom he described as a "good politician who has done well as mayor" after being the top vote getter in 2021, to hold onto his seat. He said Minuse, who lost her seat in a tight election last year, "did a good job for the city."
This year's election comes at a transformational time in the city's history, as the council already has approved multiple major projects:
• Development of the Three Corners property into a waterfront dining, retail, social and recreational hub at the west end of the 17th Street Bridge.
• Relocation of the city's wastewater treatment plant from the banks of the Indian River Lagoon to Vero Beach Regional Airport.
• Expansion and renovation of the municipal marina, including the construction of a significantly larger boat-storage facility.
The council also is preparing to develop a master plan to revitalize the city's downtown area, working to address the shortage of affordable housing, and getting the approvals and permits needed to pump irrigation water from the Main Relief Canal on the mainland to John's Island.
"We're moving forward with several projects, and we're excited about them," Neville said. "The Three Corners project has gotten a lot of attention, and justifiably so. But developing a plan for downtown is essential.
"When people go downtown," he added, "they look around and see what it could be."
Having suffered through the budget cuts necessitated by the Great Recession, Neville said he welcomes the city's renewed efforts to restore Vero Beach's stature as a picturesque, seaside resort town.
"We don't have the budget to support it as well as we should," he said, "but it's nice to see that we're polishing things up a bit, especially on the beach."
Neville refused to say he's proud of his contribution to the city the past four years – "That's a dangerous thing. I'm not a prideful person," he said – but he takes satisfaction in the council's work and accomplishments during his tenure.
"And we're not done yet," he added.
Neither is Neville, who was 8 years old when his family moved to Vero Beach from Connecticut in 1950 and is still healthy enough to enjoy his walks across the Barber Bridge.
"I'm still carrying around a decent brain," he said. "I've got to find something worthwhile to do, and I'm sure I will."