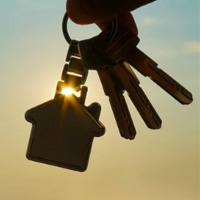 Non-MLS agents elbow into our hot real estate market
STORY BY STEVEN M. THOMAS (Week of August 3, 2023)

In recent years, one "name" has appeared at the top of the list of real estate agents who sell the most homes in Indian River County – and it isn't one of the island's star brokers, who regularly sell the $10-million-and-up homes and notch as much $200 million a year in sales.
The list is topped by a collective amalgam called "non-MLS agent" – a term applied, presumably, to the horde of sharkskin-suited or Chanel-clad sharpies who come from around the country, but mostly South Florida, to represent clients in real estate deals in Vero Beach.
They are called "non-MLS" because they don't belong to Indian River County's multiple listing service, a local organization that allows brokers and agents who are members to share information freely and efficiently about property with the aim of bringing buyers and sellers together and getting everyone's listings sold.
"What has happened and is continuing to happen, more and more so, is that agents from out of the county – who used to just refer clients to local agents – now are bringing their customers here," Dale Sorensen Sr. told Vero Beach 32963.
"This is a report from our multiple listing service that covers Jan. 1, 2022, to Dec. 31, 2022, which shows the total sales of each individual agent," Sorensen continued. "[It shows that] $473 million of the sales in Indian River County last year were generated by non-MLS agents ...
"They came into the county and sold ... 1,165 properties, approximately 14 percent of all the properties here. That is 14 percent that we, the agents in Indian River County, have lost.
"My guess is that if you went back 20 years, it would be zero percent," Sorensen added. "That is significant."
Island brokers all say that while non-MLS has been No. 1 in the county for a while, the trend has accelerated in recent years.
"Prior to covid, non-MLS sales were common but they doubled during the pandemic when people were searching for an escape from the big cities," said ONE Sotheby's International Realty broker-associate Cindy O'Dare.
O'Dare, who sold a home in Windsor to a buyer repped by a North Florida agent and had realtors from as far away as Chicago bringing clients to listings, said "a lot of Miami agents drive up. We do at least 10 deals or more a year nowadays with non-MLS agents."
Low inventory in South Florida, and the explosion of online real estate information, are factors fueling the increase in non-MLS agents in Indian River County. The increase in home prices here has made Vero more attractive to out-of-market realtors as well.
With some homes in Central Beach now selling for $2 million and more, and many $10-million-and-up properties along the ocean and the river on the barrier island, a Miami agent is more likely to feel it's worth his time to load clients in the Mercedes and drive them up to show them a property than would've been the case 10 or 20 years ago.
"Anyone with a real estate license can broker any home for sale in Florida," said Sally Daley, broker-associate at Douglas Elliman on the island. "If I am a real estate agent in Fort Lauderdale and sales volume is down 30 percent because of low inventory and I need to put food on the table, then selling a house in Vero beach is an attractive proposition, despite the distance.
"Also, if I'm a South Florida agent and I can't find anything for my client in South Florida, I may expand my search on the Internet and look to see what's available in Vero Beach."
"We know buyers have discovered in Vero Beach," said Marsha Sherry, broker at The Moorings Realty Sales Co. "But agents have discovered it, too."
Buyers, who spend more and more time and attention searching for houses online, are also driving the non-MLS sales trend.
"What happens is, a buyer finds a house they like on Zillow or Realtor.com and tells his agent 'There is a cool house in Vero Beach that I'd like to see,' and the agent comes up with the client and writes a contract," Sherry said.  "We are low on inventory here, but so are they down there, so they're casting a wider net."
Island agents have mixed feelings about the increasing influx of outside agents. They are always happy to see qualified buyers, regardless of the county or state they come from, and work with non-MLS agents to get their clients' homes sold. But there is a level of resentment, too, along with complaints about competence.
"The out-of-town agents don't know the good inspectors or surveyors or other people you need to complete a deal and we end up having to recommend people to them," said O'Dare.
"On top of that, we often have to meet those professionals at the property to get the inspections done" because the South Florida agent is "in a meeting" 100 miles away at the time.
"They are used to listing houses by total square footage, while we list living area," said Chip Landers, a realtor with Berkshire Hathaway Florida. "That can cause confusion."
"Buyers are better off working with someone who really knows and understands the market," said Daley.
"For example, in our county the seller typically pays for the buyer's title, but in rest of state, they want the buyer to pay for it. I had a deal in which an outside agent wrote the contract having their buyer pay that cost – which I did not remark on – and it cost their buyer money."
Some non-MLS agents never come to town at all, sending their clients instead and relying on Vero listing agents to show the property while they wait for their commission check to ping in their bank account, possibly while drinking a pina colada on a boat in Biscayne Bay.
Besides complaints, there seems to be a tinge of atavistic fear of being overrun by South Florida agents as they increasingly turn their attention toward Vero.
No one really thinks that will happen, but the touch of fear has a basis fact. The two largest MLS organizations in Florida are directly to the south. Beaches MLS encompasses St. Lucie, Palm Beach and Broward counties, stretching from Fort Lauderdale to the southern border of IRC.
In Broward County alone, there are 26,173 active real estate agents, which surpasses the combined number of residents in Vero Beach and Indian River Shores.
Add the other two counties in Beaches and there are more than 52,000 real estate agents trying to make the payments on their condos and luxury cars, and who are eager to sell as many houses as humanly possible.
There are another 24,480 "non-MLSers" in Miami Dade County, where the Miami Association of Realtors MLS operates seven offices to service their busy members.
If ambitious agents continue to arrive in Vero from the south in ever-increasing numbers, or descend en masse on some sunny day in Season, there won't be room to drive on A1A let alone fit into a broker's open house.
Most island agents say that if they had a client wanting a house in Palm Beach or Miami, they would refer the client to someone they knew and trusted in that area who had expertise in that market – not because they don't like money, but because it would be better for the client to be represented by someone fully knowledgeable.
"I have an ethical obligation to my client," Daley said, "and they will be better served if I find a great agent down there who really knows that market to represent them."
Despite the sense of competition and multiple complaints about non-MLS agents, island agents ultimately welcome the outsiders.
"We say, bring it on," said O'Dare. "We make it very easy for outside agents and protect the clients from anything going wrong. We don't mind the extra work at all if it leads to a sale and benefits our seller."
"I do deals with them all the time," said Landers. "My job is to get it sold. I don't care who brings the buyer. It can be difficult sometimes. They have a different way of doing it. But you get it done."
"We love outside agents," said Sherry. "Most of the time, they have no clear idea of what Vero is but if they bring a buyer, we are happy to see them."
"It is kind of a double-edged sword," said Sorensen. "We are happy it does create more sales, but it is a loss of income for local agents."
MLS organizations originated in the 19th century, long before, computers or the Internet, according to RESO, an organization that oversees development of real estate industry technology used to channel data collected by multiple listing services – house addresses, features, prices, etc. – into a smooth stream of information than can flow seamlessly into broker and third-party websites.
Multiple listing services started as formal or informal gatherings of brokers who shared information about their listings in hopes that other member brokers would have a buyer for them, and also to find out what was available for their buyers.
According to the National Association of Realtors: "The brokers agreed to compensate other brokers who helped sell their properties, and the first MLS was born, based on a fundamental principle that's unique to organized real estate: Help me sell my inventory and I'll help you sell yours."
Buzz MacWilliam, broker at Alex, MacWilliam, Inc., remembers his father, Alex MacWilliam, meeting weekly with other Vero brokers at a drugstore counter to exchange that kind of information before a formal MLS existed here.
Multiple listing services are usually owned by the brokers who founded them or by a Realtors association formed by the brokers. If they are owned by a Realtors association, they are subject to overarching national MLS rules, but also are allowed to formulate many of their own rules governing how listings are prepared and submitted, and what obligations brokers and agents have as members and participants.
As the economy and real estate market grew with the country, more than 1,400 multiple listing service came into existence, but that number is down to about 500 now and consolidation is continuing.
"Indian River County is one of the few counties in Florida that has its own independent MLS," said Landers. "We didn't want to join in with South Florida because they are so much bigger than we are and would've been in control of how things were done here."