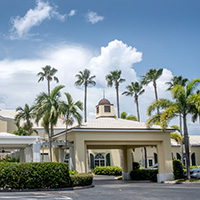 Oak Harbor re-energized as members gain control of club
STORY BY STEVEN M. THOMAS (Week of August 17, 2023)

When Oak Harbor members took over ownership and management of their club two weeks ago, they didn't waste any time before launching the first phase of a multimillion-dollar slate of improvements.
"Aug. 1, the first day we were in control, we rolled out a new menu in our dining room with lower prices and better selections," said Rob Hill, one of five members of the club's new board. "The second thing we did was sign a contract to completely reroof the club house. It got to be a busy first week."
"We are going to fix things up here," said Lizzie Hallinan, another member of the new board. "It will take a while, but we will absolutely do it. We have a great group of members here who love this club."
"The board is already close to their goal of raising $2 million for capital improvements and renovations to the clubhouse and a new look and feel for the club's brand," said Dale Sorensen broker associate Stacey Morabito, who has lived in the community since 2011 and sold numerous homes there.
"We're launching a very significant membership drive, too," Hill added. "We have 160-some members now and we want to be north of 200. We want people to know this is a fun, beautiful club with lots of younger members and activities."
"People think of Oak Harbor as closed off and have the idea you have to live here to be a member, but that isn't true," said Hallinan. "We have a number of members who live on the island and we think residents in Riverwind, Lily's Cay and other nearby communities are good prospects, too. They could scoot over here for dinner or a round of golf just a couple of minutes from their homes."
"There is no waiting list," said Hill. "You could join this morning and be playing golf after lunch."
Oak Harbor members were following in the footsteps of members at neighboring Grand Harbor when they took control of their club – and their action was inspired to some extent by the impressive success Grand Harbor has had since members gained ownership in 2020. 
But the Oak Harbor deal proceeded much more smoothly and quickly than the prolonged, contentious process Grand Harbor went through to get free from a subsidiary of Carl Icahn Enterprises that controlled the community.
"The first phone call was on March 30 and we closed four months later, at midnight on July 31," said Hill, a former investment banker from Chicago who specialized in acquisitions and mergers in the food and hospitality business.
Los Angeles-based Dylan Investments purchased Oak Harbor in 2015, buying the club, the remaining development land, and Somerset House, an assisted living facility that is an integral part of the community.
Dylan Investments founder and CEO Jeff Damavandi viewed the purchase as a turn-around play, believing that he could add value to the club and community, and some good things followed.
Membership fees were reduced, spurring a surge in new members, and a formal croquet court was built, which has led to croquet being the most active sport in the community, with 60 participants and traveling teams that compete against John's Island, Riomar and other clubs.
In 2019, Dylan Investments sold the last 23 building lots to GHO Homes, which brought new attention and energy to the community, as well as new houses. GHO has since built and sold all of the houses.
But Damavandi didn't have any experience running a country club and there were problems and complaints, too, which intensified during and after covid, according to Hill and Hallinan.
"Covid really knocked the socks off a lot of clubs around here, including ours," said Hill. "When the clubs started reemerging and reconstituting activities after covid, we were just very slow to recover. The clubhouse started to show its age and the residents started getting restive about that.
"One thing leads to another and a group of residents got together and started to make some noise. There was talk of litigation, such as we saw at Grand Harbor, but Lizzie and I and others were very nervous about going down that path. We felt like there had to be a better way than spending tons of money on lawyers and years in court with no guarantee we would win.
"A couple of us got together and talked with the developer and he made a proposal to us. He said, 'I've decided the club was a mistake and I really don't understand the business.'
"He can be a difficult guy to deal with, but he and I seem to have this kind of crazy rapport where we can work out our differences somehow. In the end, it was a friendly transaction – defined as both sides communicating with each other without the help of a judge."
In the transaction, members acquired the business entity of the club along with all its furniture, equipment, membership agreements and other assets, and entered into a 50-year lease of the club building and other community property.
"We created a not-for-profit entity that actually received the assets," said Hill. "Dylan Investments is still our landlord but we have an option at a fixed amount to buy the property during the first five years of the lease, and it is my expectation that we will do that once we have everything up and running."
"We aren't really bankable today," said Hallinan, "because we are all new at running a club. Give us a year or two."
The $2-million-plus capital improvement program will include the new roof, which is already being installed, new storm shutters, and a complete refresh of the clubhouse, including new pool furniture and a new trellis at the club's main entrance.
Those improvements will come on top of a strong package of existing country club amenities at the gated, 55-plus community, including what Hill calls "a sweet little nine-hole golf course," tennis, croquet, swimming, a well-equipped fitness center and a reputation for gourmet dining.
The elegant 42,000-square-foot clubhouse has a full slate of educational, social and fitness activities six days a week, along with the largest dining room in Vero Beach, according to Hill.
"We can serve plated dinners to 250 people," he said.
Numerous nonprofits, including Impact 100, use the space for their large annual meetings, and Hill and Hallinan said the club wants to expand its outside event business, including hosting large wedding receptions that would be cramped in other facilities around town.
There's also a custom wellness program run by a registered nurse who creates tailored exercise and wellness regimens for individual members as part of the community's emphasis on aging in place.
"If you've had a procedure or something and you need some extra care in your home for a period of time, you can call the registered nurse on our staff and she will come over and do assessment as needed and work out a plan with you so you can be cared for in your home," said Hill.
"Having that kind of service available is one of the big selling points here because it allows people to stay in their homes, which is pretty much what most people want to do.
"I am second-generation in Oak Harbor. My mom lived here independently until she was 98, with some extra help at the end. With the services we offer, she was able to stay in her home and be in control of her life until the end. She went to the hospital that morning and passed away that afternoon."
Residents can pick services as needed from the club's wellness and healthcare menu, ranging from yoga in the clubhouse to daily blood pressure checks to nursing care at home.
When life at home becomes too difficult, members have priority for getting a bed in Somerset House, a 30-bed assisted living facility that is part of Oak Harbor.
"You can move into Somerset house for much more advanced care if needed while your spouse continues to live in your home in the community so you can see each other and visit. Most of the clubs don't offer that kind of option," Hill said.
"I have been familiar with this area since the 1970s," said Hallinan, who said she and her friends used to call Oak Harbor 'Croak Harbor' when she lived at John's Island before they discovered the club's virtues.
"We have a lot of people from JI and other parts of the island who join the club because they plan to end up here and want to make friends before they arrive," Hallinan added.
Islanders are buying homes in the community, too. "I can think of six people from the island who have purchased houses here in the past year," said Hallinan.
Dylan Investments, which has other assisted-living facilities in its portfolio, still owns and operates Somerset House. It also retains ownership of 10.6 acres of land north and west of Somerset where it has filed plans to build a 30-bed memory care unit – but the project has been in limbo for years.
The company also has the ability to build two or three condominium buildings on its land, which would increase the number of residences in the community by 48 or more.
Oak Harbor originally was the senior living section of Grand Harbor before the Icahn entity spun it off and sold it. Hill said there are about 235 homes, including golf cottages, larger single-family homes, villas and 60 condos.
Hill said all but three of the members who voted on the matter were in favor of the club purchase. He and Hallinan said there is a new positive energy at the club since the members took control.
"It's palpable," said Hill. "People are re-engaging in a way that is very gratifying."
Hallinan, who had a long career in corporate HR, said the new board will have much better lines of communication with the staff and club members as they shape the club's future than Dylan Investments had.
"There was a deaf ear coming from California for the past several years, but we will be listening," she said. "We are very excited about the future of the club.
"Grand Harbor's club is running beautifully since the members took over," Hallinan added. "A lot of things are going really, really well over there and we hope to have the same result."
Morabito said the member takeover is "very good for the community, for sure. The developer's team was successful in doing much for the community but now it is time to take it to the next level. We are very excited about the future."