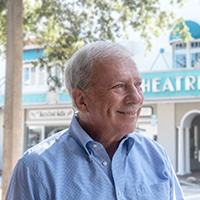 'Perfect fit': Polk eager to oversee Three Corners project
STORY BY RAY MCNULTY (Week of August 10, 2023)
Photo of Peter Polk.

Peter Polk was among the first potential candidates to approach Vero Beach officials about managing the development of the Three Corners property at the west end of the 17th Street Bridge, inquiring about the high-profile position before the city began its search.
City Manager Monte Falls was impressed enough with their conversation – and Polk's long list of credentials – that he asked him to come back for an interview, during which the 74-year-old civil engineer promptly talked his way out of the job.
Or so he thought.
"I told them I didn't see myself as a city employee," Polk said of his follow-up session with Falls and City Planning Director Jason Jeffries in early April. "Next thing I knew, there was a newspaper story saying that a few of us had interviewed but they were still looking.
"I didn't hear anything after that, so I thought – as far as I was concerned, anyway – it was a dead issue."
Weeks later, though, while Polk was preparing to fly back to Vero and going through the security checkpoint at the airport in Burbank, California, his phone rang.
It was Falls.
Knowing that Falls preferred to bring in a full-time project manager, rather than retain an engineering firm on a contract basis, Polk assumed it was a thanks-for-applying courtesy call.
"I figured Monte was calling to tell me they had hired someone else," Polk said.
He was wrong.
After interviewing 15 to 20 engineers, contractors, architects and management consultants, Falls decided to go with the most-qualified overall candidate – not the most-qualified applicant willing to become a salaried city employee.
"He was the best guy, so we decided to go the contract route," Falls said of the semi-retired Polk, who has owned a home at the Indian River Club since 2007. "He's local. He knows this community. He's a good fit."
The contract calls for Polk, founder and director of the Texas-based Occam Consulting Group, to be paid $8,000 per month to oversee all aspects of the Three Corners project and serve as the city's liaison to the yet-to-be-chosen developer.
Falls described Polk as the city's "quarterback," whose job is to "handle the day-to-day issues of the project."
Polk, who started on Aug. 1 and answers directly to Falls and Jeffries, has an extensive background in engineering and as a project manager. His work history dates back to 1971, and he has founded or co-founded engineering and consulting firms in Virginia and Texas.
"I've worked on a lot of projects in a lot of places, and I can tell you: This is an exciting project, and it's an exciting site," Polk said after touring the lagoon-front property last week. "The potential is amazing.
"Throughout my career, I've had offices around the country and done a lot of traveling, working on different projects," he added. "Now, the focus is on one project. It's perfect for me."
The city wants to create a dining, retail, social and recreational hub on 33 acres on the mainland's waterfront – on the sites of the now-defunct municipal power plant and still-operating wastewater-treatment facility that is scheduled to be relocated to the Vero Beach Regional Airport.
City officials have optimistically predicted the new development could open as soon as the summer of 2028.
"I'm impressed with the schedule they've put together," Polk said. "I read the newspaper. I keep up with what's going on. Summer of 2028 might be optimistic. With a project of this magnitude, there's always a chance you're going to run into a few hiccups along the way.
"Once construction starts, nobody can predict what you're going to run into, but you don't want to be pessimistic, either," he added. "Besides, the Florida Department of Transportation is going to be working on that bridge until 2028, so I'm not sure we want things to develop too soon."
He was referring to FDOT's four-year plan to rebuild a crumbling 400-foot stretch at the east end of the 17th Street Bridge and seal the deck of the entire span. Only one lane in each direction will be open during the duration of that project, which is scheduled to begin next month.
Polk's initial task, though, is to finalize the request for proposals (RFPs) the city will send out in hopes of attracting the right developer with the best plan for the Three Corners property.
"We're close," he said.
In fact, Polk said he was surprised by and impressed with the work the city staff had already done in preparing the requests – and that includes bringing in a marketing consultant to advertise the project and generate interest from potential developers.
He said some developers who are based within driving distance of Vero Beach have already met with city staffers and visited the site.
"I think there's interest out there," Polk said, adding that the city hopes to receive the proposals by December, but he won't be surprised if some developers say they need more time.
Falls said he expects developers to invest more than $100,000 in creating their proposals. In the timeline he presented earlier this year, he said it was unlikely construction at the site would begin before September 2024.
"It's going to be a lot of work, managing the various parts of this project – and it's a very visible project," Polk said. "People are already very eager to give me suggestions. Since my name appeared in the newspaper, I've been getting calls and emails, and not just from people I know.
"I even got a call from one of the other applicants for the job," he added. "So, yeah, I'm already getting community input."
Asked if he feels pressure, given the impact the project will have on Vero Beach's future, Polk replied, "Not yet."
At some point, though, he expects some of the input to be negative – because not everyone will get exactly what they want at the Three Corners. But he's eager to see it through.
"I'm sure there are going to be things that are different for me, since, in this case, we're more like an extension of the city staff," Polk said. "But I think it's going to be a lot of fun. It's exciting to be a part of a project like this, especially as someone who lives here."