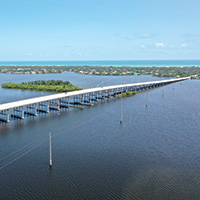 Surprise! 17th St. Bridge closure next week blindsides officials
STORY BY RAY MCNULTY (Week of August 24, 2023)

Island residents weren't the only ones blindsided by the news last week that the 17th Street Bridge will be closed next week – all four lanes – from 12:01 a.m. Tuesday through 5 a.m. Thursday, Aug. 31.
Vero Beach city officials didn't see it coming, either.
That's because the Florida Department of Transportation didn't notify them of its plans until Aug. 11, when the city received a late-Friday-afternoon email.
"During all the meetings we've had with them to discuss that project, you'd think someone would've told us they needed to completely close the bridge for a couple of days at the onset," City Manager Monte Falls said.
"Maybe they didn't know until a couple of weeks ago, but if they did, they should've told us," he added. "We really didn't find out about it until pretty much everyone else did."
An FDOT's news release stated that the bridge is being closed for "traffic shift operations" – to allow work crews to safely install lane separators and re-stripe the south side of the span in preparation for its four-year, $22.3 million project to repair the crumbling, 44-year-old lagoon crossing.
According to FDOT, state-hired crews will replace the 400 feet of the bridge on the island side, seal the full length of the span's surface and make other improvements.
Work is scheduled to begin next Thursday, and the multi-faceted project isn't expected to be completed before the summer of 2028. Traffic on the bridge will be limited to only one lane in each direction for the duration of the project.
Falls said the city first learned of the closure at 4:04 p.m. Aug. 11, when FDOT sent an email to Public Works Director Matt Mitts, who also received the state-published weekly flier notifying cities, counties and the news media of various road and traffic projects in their areas.
Until then, Mitts said, he was unaware that FDOT needed to close the bridge entirely.
"When I saw the advisory, I thought maybe I missed something, so I checked my records," Mitts said. "But I didn't. They never mentioned it."
Vero Beach Police Chief Dabid Currey called the bridge closure a "little bit of a surprise," saying his agency has posted the advisory on its Facebook page and was talking to local news outlets.
"Most people knew there was going to be a partial closure, but I don't think anyone was expecting a full closure, so we're doing what we can to get the word out," Currey said. "FDOT plans to put five message boards out on the roads, along A1A and Indian River Boulevard, to alert drivers of the closure and detours.
"But it's going to be congested," he added. "There's no way to avoid that. There are only two bridges in Vero Beach."
Falls said about 22,000 vehicles per day cross the 17th Street Bridge. That traffic will be rerouted – along A1A and Indian River Boulevard, depending on whether motorists want to travel east or west – with most going to the Barber Bridge, which sees about 20,000 crossings per day.
Local traffic only will be allowed on Causeway Boulevard, east of the bridge.
Currey said his officers will monitor the situation.
"As always, we're asking everyone to be patient, but we know that's easier said than done," the chief said. "This is going to affect a lot of people, not just those on the southern part of the island.
"You can expect to see backups on Beachland Boulevard, and even people on the northern half of the island are going to experience heavier traffic going over the Barber Bridge."
Currey tried to offer some consolation to bridge-crossing drivers, adding, "On the plus side, the closure will affect only two morning rush hours – Tuesday and Wednesday – because they're supposed to be done by 5 a.m. Thursday."
Despite the late notice, Falls said the community was given plenty of time to prepare for the closure, but the way it was handled concerns him.
"It's a four-year project, and just as they're getting started, we get information we didn't know about," he said. "At least it's just August traffic."
Vero Beach Mayor John Cotugno, though, was puzzled by FDOT's failure to give the city more notice.
"I don't know why they did it this way," he said. "They didn't call us in, huddle with us, and tell us what they were doing. We got a memo. You'd think we'd be in the loop on this, but we weren't.
"Instead, it was, 'Oh, yeah, we forgot to tell you, but …,'"
Cotugno also wondered why this prep work – and the bridge closure – couldn't be done at night, even if it required four days to do it.
"The city will field the complaints, but this isn't our project," he said. "FDOT marches to the beat of their own drums."
As of Monday afternoon, FDOT had not responded to Vero Beach 32963's email seeking an explanation as to why the city received so little notice.
The 17th Street Bridge project was initially scheduled to begin this past May and end during the spring of 2026. The start date was delayed – purportedly because of supply-chain issues – and the work will not begin deep into an Atlantic hurricane season that could further push back the completion date.
The reconstruction became necessary to address the deterioration of the concrete at the bridge's east end, some of which sits below the water line and has become compromised by the salty environment.