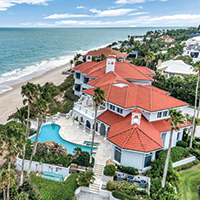 $29M mansion leads sudden surge here in 'stratospheric' listings
STORY BY STEVEN M. THOMAS (Week of February 9, 2023)

When the grand oceanfront house in Sandpointe once known as Casablanca Maria hit the market here a couple of weeks ago, listed for $29.5 million, it was a real estate event in itself, but also part of an important trend in the highest echelons of the island market.
Built in the early 1990s by heirs to the William C. Brown publishing fortune, the house sits on 3 acres with 336 feet of oceanfront and fully embodies a style, ambiance and essential quality that listing agent Cindy O'Dare calls "Palm Beach splendor."
If it happens to sell for the asking price, it will set another new record on the barrier island.
Just as noteworthy, the 11,600-square-foot, 16-room home – which hadn't been on the market since 1996 – was the fifth eight-figure property to be listed in 32963 in the past few months. Three more priced between $8 million and $9 million popped up on the MLS in the same period.
Those eight properties more than doubled the number of listings $8 million and up on the island, and reawakened interest among members of the private jet set in the Northeast and elsewhere who are looking for a house in Florida as an investment, creative project or winter home.
"Late in the boom, we basically ran out of houses in that stratospheric part of the market and the buyers we had who were contacting us all the time asking what we could show them got frustrated," said O'Dare.
"Buyers don't want to fly down to look at just one house they might or might not like. But if you have three or four or five to show them, that is a good day and they will make the trip," O'Dare added.
"For the first time in a while, we have multiple fantastic houses to show our buyers and we are getting a lot of attention from outside the Vero area. We have had showings and offers on the three big properties we have listed and we feel good about the market. We think we will sell – hopefully – all of them this season."
Currently there are 14 "stratospheric" properties for sale in 32963, including 10 offered for $10 million or more. They are spread out along the island from Orchid Island Golf and Beach Club to the Estate Section, with nine on the ocean and five on the river.
Two of those are pending, however, and soon will be off the board. Three others are lot/home packages, where a buyer can purchase land and sign a contract for a house that will have to be built or finished before they can move in.
That leaves nine showing-ready listings priced from $8 million to $29.5 million – including an impressive $10 million riverfront in Seagrove West listed by Matilde Sorensen that is under contract but still active. That is enough, island brokers say, to lure Manhattan and Miami buyers who like what they see on the Internet to jet in for a day or weekend to explore and evaluate properties.
Besides the listed houses, there are a number of others not on the MLS that are being shown by top brokers to selected agents and their clients. For instance, O'Dare, a broker-associate at ONE Sotheby's International Realty, and her partner, Richard Boga, told Vero Beach 32963 they have two high-end pocket listings in addition to the three oceanfront homes they have on the MLS, "one in the high eights and one at $12.9 million."
"The more houses there are, the more reason for buyers to come down and purchase," said Sally Daley, broker-associate at Douglas Elliman, who just listed a $8.9 million riverfront home in Seagrove West that will turn heads in discerning real estate circles.
The Sandpointe estate, which O'Dare and Boga listed on Jan. 26, will be an even bigger head-turner among the highest of high-end buyers nationally and even internationally, bringing Vero's barrier island another burst of attention and interest.
According to property records and press reports from the time, Lawrence and Maria Brown bought 2.5 acres overlooking the ocean in 1989, paying $945,000. Another half-acre parcel was later added to the estate.
They proceeded to build a magnificent concrete and steel house with classic and Palladian design features expressed on a grand scale. The house had one of the first infinity-edge pools in Florida, along with a 20-foot-high window wall facing the ocean in the living room and "6,000 square feet of marble from quarries in Greece, Italy, Spain, Mexico and Portugal that cost half a million dollars" to purchase and transport.
"The antique pink marble flooring [in one of the eight bathrooms] is believed to have been quarried in Italy in the early days of the Roman Empire," according to a 1996 article in the Des Moines Register.
A tour of the house reveals a property where no expense was spared during construction. From the mahogany-paneled bar and club room to the curving main staircase, which has newel posts that would be suitable in a European palace, the scale of the home and the quality of the fit and finishes are extraordinary.
The Browns only kept the house for a few years before selling to Iowa businessman Edward Ochylski.
When they listed it for $6.9 million, it was the highest-priced property ever to have appeared in the Indian River County MLS, according to a 1996 article in a Vero Beach newspaper.
It didn't fetch that price, and eventually was sold at an auction where the auctioneer allegedly employed a shill in California to compete over the phone and drive up the price, according to the Des Moines Register.
Ochylski and his lawyers uncovered the ploy and he got the house for $3.4 million. With seven kids and 15 grandchildren, the many bedrooms and baths came in handy, but he told the Des Moines paper he pulled the trigger because "that place is worth a lot more than I paid for it ... I'm a Depression-era guy and I always grab a bargain."
According to the Des Moines Register, Ochylski grew up poor. He lived for a time in a barn with his parents and siblings after their house burned down and was taunted by schoolmates about his living arrangements. He got the last laugh, quitting school at age 14 and going on to make a fortune in meat packing, but apparently did not forget his childhood trauma.
After he bought Casablanca Maria, Ochylski, who was 76 at the time, told the Des Moines paper that he was thinking of inviting his still-living classmates down to enjoy the Florida sun with him in his new home.
He seems to have regarded the house as a culmination of his rise from poverty and liked it well enough to hang onto it. The estate has been in the Ochylski family ever since.
But it is for sale now, along with a growing slate of other trophy properties that are making the island light up more brightly on the real estate map and increasing jet traffic at Vero Beach Airport.
And more eight-figure homes are coming. Several brokers told Vero Beach 32963 they will be debuting major listings in the coming weeks.
"The calls and contacts are picking back up and I am showing all of our listings today," O'Dare said, cutting short an interview to go and meet clients interested in owning real estate in 32963.