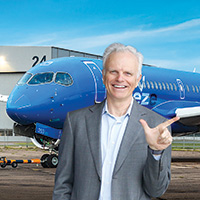 Breeze Airways chief has high hopes for Vero service
STORY BY PIETER VANBENNEKOM (Week of February 2, 2023)

With an "inaugural celebration" involving banners, local dignitaries and other hoopla, Breeze Airways is set to begin its self-styled "nice" regular passenger airline service this weekend between the Northeast and Vero Beach, a destination the airline's founder says he's never visited but heard a lot about.
The first Breeze plane, an Embraer jet that can hold 118 passengers, was to touch down at the Vero Beach Regional Airport Friday afternoon from Westchester (N.Y.) airport, and after the landing and take-off party, return that evening to Westchester with its first load of Vero passengers.
The following day, Saturday, a brand-new A220 Airbus jet with a capacity for up to 137 passengers will make the round-trip to Vero Beach from Bradley Field, the international airport serving the Hartford, Conn., and Springfield, Mass., metropolitan areas. With its brightly colored blue-and-purple jets, Breeze will offer service between Hartford and Vero Beach twice a week, on Thursdays and Saturdays, and twice a week to Westchester as well, on Fridays and Mondays. The flights to Westchester also continue on to Norfolk, VA.
"I must admit that I've haven't been to Vero Beach yet myself," Breeze Airways founder and CEO David Neeleman told 32963 in an exclusive interview prior to the inaugural flights. "But some of my kids live in the Westchester County, New York, and Fairfield County, Connecticut, areas north of New York City. As I was visiting them while we were expanding the airline's route structure, I kept hearing from them and their friends and neighbors that we should fly to Vero Beach, what a great place it is.
"It seems like a lot of people from there moved to Vero Beach, have a second home in Vero Beach, or know friends or family in Vero Beach," Neeleman said.
"You might say they kind of talked me into it," Neeleman said. He said the Vero Beach city officials and the airport management have been very welcoming to Breeze and everyone worked hard to make it happen on time. The initial market response has also been extremely satisfying. "We're off to a good start and our only regret is that for now, we weren't able to offer more flights, but we hope to be able to do that soon."
He even expects to be able to visit Vero Beach personally some time in the near future from his base in the suburbs of Salt Lake City, Utah. "I have a stepdaughter in Fort Lauderdale, so the next time we visit her, I might drop in to see Vero Beach for myself," Neeleman said.
Neeleman is one of the most amazing entrepreneurs in the airline business. After working for SouthWest at one time, he has founded five new commercial airlines, Morris Air, WestJet, JetBlue Airways (now a public company no longer associated with him), then Azul Brazilian Airways, and now Breeze.
To found Azul, which has become the largest Brazilian airline, Neeleman took advantage of the fact that he has dual U.S. and Brazilian citizenship since he was born in Sao Paulo, Brazil, when his father, Gary, was the bureau chief there for the news agency UPI, then in its heyday in Latin America. To found Azul (the word means "blue" in Portuguese), Neeleman commuted from Utah to Brazil. He is still chairman of the airline and goes to Brazil for quarterly board meetings.
Neeleman also took out citizenship in Cyprus, a European Union country, to facilitate business ventures in Europe when he took a minority stake in the Portuguese airline TAP. He sold those shares back to the Portuguese state when a new government took power that didn't look favorably on private ownership of the national flag airline.
"This is it," Neeleman says of his latest Breeze venture. "I'm 63 now and I promise I won't start yet another airline."
Breeze started operations in May 2021, less than two years ago, when the airline industry had not yet fully recovered from the ravages of the COVID pandemic, with a flight from Tampa to Charleston, S.C., and has rapidly expanded to serve more than 30 cities across the country with a fleet of 27 planes.
Neeleman said the launch of the new airline had been in the planning stages before COVID hit, and even though by May 2021 conditions in the market were far from ideal, "rather than folding up the tent, we decided to go ahead anyway. We got a lot of cooperation from the Federal Aviation Administration ... and we got to the point where things were actually looking good for the future. We believe there's still a lot of opportunity out there."
Although Neeleman is keeping future expansion plans close to the vest, he's got 80 new airplanes coming and expects to have a fleet of about 120 planes soon.
Breeze sees good opportunities in smaller and medium-sized markets which have become under-served in the pandemic as established airlines concentrated on trunk lines between major hubs.
Breeze is a low-cost airline, but like all airlines, it will price seats according to demand, with the more popular Friday departures costing a bit more. The first few flights have proved very popular and won't be that cheap, but future one-way fares to Westchester or Hartford can run as low as $69 in economy according to the airline's website. A ticket to Norfolk, Va., on the so-called "breeze-through" service via Westchester County, costs only $10 more.
But apart from being a low-cost airline, Neeleman says he mostly wants Breeze to be the "nicest" airline the flying public is dealing with these days. The "nice" theme is the airline's brand and permeates everything Breeze does to the point that it calls itself the "seriously nice low-fare airline."
If you try to book a flight on Breeze on its website (flybreeze.com), you are greeted with the phrase "Nice to see you." Economy seats are called "nice" seats, economy seats with a little extra legroom are "nicer" seats and the equivalent of business-class seats are the "nicest" seats.
"NICE is our theme because it's the only thing we can control," Neeleman explains. "We can't control the weather, or traffic flight delays, or ground transportation hassles. But we can control the fact that we'll always be nice to people. We hear a lot these days about unruly passenger behavior on airplanes, but we believe that if we're nice to them, they're more likely to be nice to us, too."
Neeleman says the airline has recruited all of its employees specifically for character traits that classify them as "nice" people: "Everyone who comes into contact with customers has to be a nice person."
Breeze also boasts what it calls "nice" seating arrangements. Airline passengers generally hate having to sit in middle seats, so Breeze has as few as possible of them. On its Embraer jets, there are no middle seats. Each row has two seats on either side of the aisle. The Airbus jets on the route to Hartford offer three seats across on one side of the aisle for groups of three or families traveling with a child, while the other side of the aisle has just two seats.
The "nice" message must be getting through. Travel + Leisure Magazine just named Breeze the second-best U.S. domestic airline – not bad for a recent start-up.
Breeze's impending arrival in Vero Beach has stirred up considerable enthusiasm here. There is a lengthy thread of messages on Facebook where people ask other social media users if they know anything about Breeze, and several people replied that they know people in other parts of the country who have taken Breeze flights. The reviews were overwhelmingly popular, with "low fares" being the most frequent comment.
Up to recently, the only regular passenger air service out of Vero Beach had been offered by Elite Airways which flew to Newark, N.J., and Portland, Maine, but Elite hasn't been around for months and it is unsure if it will ever restart operations. Elite had a high cancellation rate and it was never really a passenger airline until it began flying out of Vero Beach; it started as a charter service for sports teams.