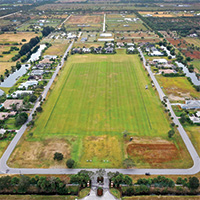 Buyers expected to pony up for new Polo Grounds homes
STORY BY STEVEN M. THOMAS (Week of February 2, 2023)

As the season gets underway at the Polo Grounds west of town, with matches now through mid-April, there is an extra sense of excitement in the air.
Besides horses thundering over the turf in front of hundreds of spectators on Sunday afternoons, a bunch of new homes are coming to the residential loop around the field that will bring the subdivision closer to buildout.
Vero Beach development partnership Belle Z LLC just announced a new offering of 10 lot/home packages, with 3,500-square-foot Anglo-Caribbean homes listed for $1.3 million or $1.4 million, depending on the model.
Two other builders also are active in the 46-lot subdivision, with one-off new homes under construction, and other builders have purchased vacant lots.
Developed by polo enthusiast George Kahle, the development got off to a good start, beginning in 2001, with finished lots selling for up to $200,000 and million-dollar homes going up around the perimeter of the 17-acre polo field.
Success continued until 2006, with a burst of activity and rising prices in the final year or two of the housing boom then underway. But development screeched to halt during the during the Great Recession and never picked up again. Some properties went back to the bank and lots sold for as little as $55,000.
Over the past 15 years, there were occasional lot sales and new homes, and the upscale Sunday crowd continued to gather during polo season, cheering for their favorite teams, but the gated subdivision took on a sleeping beauty quality, quiet and mostly forgotten by real estate agents and developers – until Belle Z came along.
The Belle Z partners – Royal Palm Pointe resident George Allen, investor Rita Chanfrau and one other investor – believe the Polo Grounds' time has come, due to market forces and the inherent appeal of the subdivision.
"When I went out to look at the lots, I was amazed at how beautiful the subdivision is," said Allen, who has a background in real estate and development stretching back more than 50 years.
"I saw the polo grounds and just fell in love with it. It reminded me of places I had in the past up north with open fields and that feeling of being in the country. It is the biggest secret in town.
"It's been out of sight and out of mind in part because luxury agents and developers have been focused in recent years on the ocean and the river and island neighborhoods where prices and profits were much higher. That [pandemic] runup in prices has made this neighborhood highly desirable.
"It actually is amazing economically at this point," Allen continued. "You look at homes in central beach or in nice neighborhoods on the mainland, and those 40-or 50- or 60-year-old homes are selling for a million dollars or more. And many of them are knockdowns – which means a lot is going for a million dollars.
"We paid [an average of $100,000] for our wonderful big lots in a very special and well-established community, and we will deliver brand new houses much larger [than most of those in central beach or the country club neighborhood] for a similar price."
The partners expect their homes to have strong appeal to island buyers.
"A guy from Castaway Cove has reserved a lot," one of the partners said. "I think he wants more space and a quieter place.
"The Polo Grounds is a very elegant community developed by the Kahles, who had in mind a high-end subdivision and instilled a high standard of architecture," the partner added. "It is surrounded by natural beauty but still close to town, and the people who live there take great pride in their property and neighborhood."
Belle Z partners bought 10 half-acre lots from various buyers in 2022, paying about $1 million total for the land. The partners plan to break ground on the first house, which is sold, in March and start a spec shortly after that.
The houses will be built by the single-family-home division of Coastmark, one of the top builders and developers on the island. There is a one-story model and a two-story. Both come with four bedrooms, four or five baths, three-car garages, swimming pools and half-acre lots overlooking the polo field.
The houses are listed with realtor Stacia Zielinski, a partner in a Coral Gables Keller Williams agency who happens to be Allen's daughter. She is promoting the project to local brokers and the public, hosting tailgate parties at the first two polo games of the season and contacting real estate offices around town.
An exciting, entertaining, sometimes dangerous display of horsemanship and ball handling, the sport of kings has a 30-year history and strong following in Vero Beach, and Allen is pleased to have polo at the heart of the community where he and his partners are building.
He was the original developer of Cheval, a country club community in Tampa, which he first intended to build around a polo field. "We did some market research and found out golf would do better, so we went that route," Allen said. "I built an 18-hole course and another one has been built since then, along with 800 homes." The single-story Belle Z model is named Cheval – the French word for horse.
"The Polo Grounds is one of the most beautiful communities in Vero Beach with great aesthetics – from the large lots, which are well spaced out, to the elegant gated entrance, to the spectacular polo field centering the grounds," Zielinski told Vero Beach 32963. "There is an equestrian center on one side and lakes and open fields on two other sides. And the polo grounds become a big park when the teams aren't practicing or playing."
With inventory still tight, prices sky-high at the beach and tens of thousands of people moving to Florida each month, the new homes should have appeal in the current market.