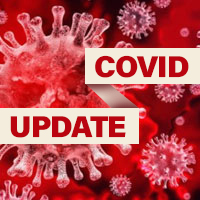 Covid cases here steady; hospitalizations dip
STORY BY LISA ZAHNER (Week of February 2, 2023)

Though public health experts are still predicting a winter COVID-19 surge, the number of new infections locally reported to the Indian River County Health Department last week remained steady at fewer than 100 cases.
A much larger number of 205 cases for week ending Jan. 19 reported by the Centers for Disease Control and Prevention seems to have been erroneous, as it conflicted with the state-reported number of 98 cases, and the CDC lists only 97 new cases for week ending Jan. 26.
Hospitalizations are also trending downward, with the CDC reporting 14 people newly hospitalized with COVID-19 illness, down from 16 the previous week, and 20 the week before.
Cleveland Clinic Indian River Hospital spokesperson Erin Miller said Monday morning, "We have nine COVID-positive patients in-house today, zero of which are in critical care." That number is down from 13 the previous week.
Indian River County remains in the Low Covid Community Level category this week based upon hospital capacity and covid-positive patients requiring hospitalization. The Florida Panhandle and the Tampa-St. Petersburg metro area are also in this green zone, with most of Florida in the yellow Medium Covid Community Level. Only a few rural counties in North Florida are in the High Covid Community Level.
The world is still closely watching China to see if a Covid surge there will spill over to other parts of the globe.
White House National Security Advisor John Kirby last Friday told reporters China "has not been fully transparent" in its reporting of COVID-19 deaths since the nation of 1.4 billion lifted its "Zero Covid" lockdown and quarantine policies in December.
The actual number of new infections is thought to be in the tens of millions per day, but China has only reported a fraction of that.