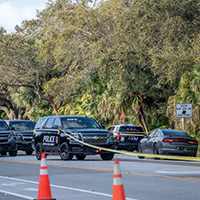 Elderly woman's death adds to grim toll of A1A fatalities
STORY BY LISA ZAHNER (Week of February 23, 2023)

An elderly Indian River Shores woman went out for a walk on the sidewalk along A1A on Saturday afternoon and never made it back home. As she attempted to cross to the east side of the road near the entrance to the Del Mar condominiums, she was struck by a Dodge Charger. 
"Immediately a couple of cars pulled over on the side of the road," a witness who had been walking her dog at the time of the crash told Vero Beach 32963. "The woman was not moving ... she was in the fetal position."
It was the fourth fatal crash on the island in less than two years.  One man was killed in a two-car collision, one struck riding a bicycle, and one run down walking his dog (Click here to read update on that story).
The witness to the latest A1A fatality, who asked not to be identified, told our photographer the woman was "put in an ambulance, and it seems like she died in the ambulance because when they drove off, they didn't have sirens or anything."
As more than a dozen emergency vehicles swarmed the scene, traffic was backed up nearly 2 miles with northbound drivers initially being turned around and diverted back to Central Beach.
Indian River Shores Public Safety Director Chief Rich Rosell said his officers faced a challenge  identifying the woman, because she was carrying no wallet or identification.
Police canvassed Amy Ann Lane trying to find out if someone was missing a loved one in her 80s who was out for a walk. No one did.
But in late afternoon, an elderly man ventured out from his residence, telling Shores Public Safety officers that his wife had been gone for three and a half hours and he was very worried.
He was directed to the Cleveland Clinic Indian River Hospital Emergency Department. Police at the scene were not permitted to deliver the grave news, not knowing for sure if this man's wife was the unidentified woman they transported to the hospital.
"He identified her there at Cleveland Clinic," Rosell said.
Rosell would not release the name of the woman who was killed, or the driver of the Dodge Charger, other than to say, "She was a seasonal Indian River Shores resident in her 80s. He (the driver) is a young white male from St. Lucie County."
Rosell said three officers trained in DUI examination evaluated the driver roadside, and a blood sample was taken to preserve for evidence.  But on Saturday evening Rosell said, "No one is in custody."