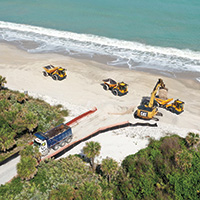 'It's a battle': Sand demand stalls private beach projects
STORY BY CASEY STAVENHAGEN (Week of February 9, 2023)
Photo: Golden Sands Beach

With the county's timeline unknown for replenishing severely eroded beaches on the north barrier island, the oceanfront community of John's Island hoped to shore up its beaches in the weeks ahead privately – but found there is currently not enough sand or dump trucks to go around.
"Right now, it's a battle to get sand. I wish we could have done it, but if sand is not available, you can't do it when something is not there," said Mike Korpar, general manager of the John's Island Property Owners Association.
Korpar said John's Island lost 30 to 40 feet of dunes in the aftermath of this fall's two hurricanes, leading steep, 6- to 8-foot escarpments along the oceanfront and creating a need for about 50,000 tons of sand.
John's Island found itself unable to acquire the needed sand, hire truckers and obtain the needed permits before sea turtle nesting season begins on March 1, at which point no construction can be done on the beach.
"What we'll do is evaluate our beaches over the summer — hopefully, we have no more storms this year — and reevaluate our beaches in the fall and determine what we need to do, if anything, at that point in time," Korpar said.
Korpar said he knows of only three sand mining operations in Florida that produce beach-quality sand in accordance with the Florida Department of Environmental Protection's specifications. The sand must perform just like sand that used to be dredged from the ocean floor and pumped onto the shore, providing a beach-equivalent habitat for sea life and nesting turtles.
One of the companies that has gone through the rigorous process of being approved by the FDEP to supply beach-quality sand from an upland mine is Stewart Materials based out of Jupiter.
Its owner, Nick Stewart, said he has not refused any customers — but that he prioritized government contracts because the cities and counties got in line first. It took John's Island a bit longer to have surveys and beach profiles completed and by that time, there was a fairly long queue of beach projects.
"We're certainly running to our maximum volumes because no one was anticipating the late hurricanes and it was supposed to be a slow season," Stewart said. "Normally we'll know by July or August … basically, we lost that ability of scheduling ahead.
"This year with the storm events so late and unexpected we do not have the cushion of the advanced stockpiling," Stewart added.
So as governments have begun the task of fitting beach replenishment efforts into a narrow window, much of the sand necessary is, in essence, reserved for governmental agreements and emergency projects, leaving private customers whose properties are not in peril out of luck until the fall.
For government entities such as Indian River County or the City of Vero Beach, however, many agreements are already in place.
That's one of the reasons the Town of Orchid opted for a government sand fix, as opposed to running the project through the private Orchid Island Golf and Beach Club.
"Over the past years the Town Council has positioned the town to respond quickly with interim emergency projects of this nature for the purpose of protecting the community," said Orchid town manager Cherry Stowe.
Orchid began mobilizing to place 19,000 tons of sand on its beaches on Jan. 9.  The project was completed one week early and required less sand than anticipated. 
"Between the planning and engineering of the project and the actual placement of sand, the beach can accrete and allow the project to be completed to the original fill template with less material," Stowe said. "Sometimes the opposite can occur, so we've been lucky in this case."
Stowe said Orchid was not able to replace 100 percent of the sand lost, but that the project has built back the high dune and has added a slope for future protection.
"Orchid's beach is rather narrow, so the dune is an extremely important line of defense in keeping the community safe. It's also an invaluable habitat for protected flora and fauna," Stowe said.
The City of Vero Beach completed emergency dune repairs right after Hurricane Nicole to re-open the popular Conn Beach boardwalk as quickly as possible. That same spot routinely needs emergency sand from storm erosion, so city engineers already have a plan in place after a hurricane blows through.
Though the entire long stretch of boardwalk just south of Jaycee Park is open for walking once again, several of the dune crossovers on the boardwalk down to the beach and stairways up to the boardwalk remain closed.
Vero Public Works Director Matthew Mitts said the pending construction will be finished in May and that hurricane repairs to the area have cost about $50,000 so far, anticipating an approximate $50,000 will be required additionally for completion.
Mitts said the dune crossovers were scheduled to be replaced in 2023 before Hurricanes Ian and Nicole and that the cost of that project is approximately $470,000.
Though the owner of Stewart Materials said there is no sand shortage, the mine may need all the beach-quality sand it can process and stockpile to fulfill its existing government contracts. On Jan. 18, Gov. Ron DeSantis announced that $100 million will be awarded to beach erosion projects around the state, with Indian River County receiving $4,080,388, bolstering ongoing projects.
The funds, which will be administered from the FDEP, were approved in a December special session in the Florida Legislature. The funds can be applied to five eligible projects included in the Hurricanes Ian and Nicole Recovery plan with the FDEP.
Indian River County spokesperson Kathy Copeland said the staff has yet to decide whether to allocate the funds to existing efforts or to new projects.