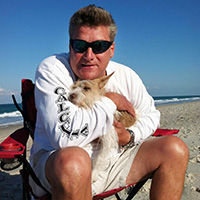 Justice still far off for man struck and killed on A1A in 2021
STORY BY LISA ZAHNER (Week of February 23, 2023)
Photo: Michael Gianfrancesco and his dog Molly were struck while taking an evening stroll on the shoulder of A1A.

The vehicular homicide charge against Fort Pierce resident Jamie Jarvontae Williams, whose speeding car struck and killed South Beach resident Michael Gianfrancesco while he was walking his dog along A1A on Memorial Day 2021, seems likely to take many more months – if not years – to resolve.
But a frequently heard question is why the 29-year-old Williams – who also has been charged with violation of probation – hasn't at least been tried for that since numerous law enforcement officers documented his presence in Indian River County the night of the fatal crash?
Convicting Williams for crossing out of St. Lucie County and driving into Indian River County without first getting his probation officer's permission, and for failing to report having contact with law enforcement officers the night of the crash, would seem a slam-dunk case.
But State Attorney Tom Bakkedahl said Williams' violation of probation trial will not take place anytime soon because it's not as simple as proving he was outside St. Lucie County without permission.
"Not when there's a simultaneous criminal case going on," Bakkedahl said.
And if he was put on trial for violation of probation and convicted, he might even be sentenced to time served and again allowed to go free until his trial for vehicular homicide.
The night of the crash, in fact, the Florida Highway Patrol – which took the lead in the investigation – actually released Williams. He went free for two months. Then after Vero Beach 32963 reported that Williams had been on felony probation at the time of the crash, the Sheriff's Office contacted Williams' probation officer. 
The Florida Department of Corrections submitted a list of minor probation violations to the court, including being outside St. Lucie County and not reporting contact with police, and  Williams was locked up in July 2021.
"Right now, the defendant is being held without bond on the violation of probation charge," Bakkedahl said.
But the Department of Corrections subsequently added the vehicular homicide to the list of specific acts Williams is accused of committing while on probation. 
At that point, the Indian River County vehicular homicide case and the St. Lucie violation of probation case became inextricably linked.
"If the violation of probation case was tried now, we'd have to put on our whole case for the vehicular homicide," Bakkedahl said.
The state, meanwhile, continues to build its vehicular homicide case, which includes law enforcement accounts of what was observed, heard and found the night Gianfrancesco and his dog Molly were struck while taking an evening stroll on the shoulder of A1A.
The Florida Highway Patrol trooper reported his interaction with Williams, which was cited by the Department of Corrections in the amended warrant.
The trooper, who had responded to a request from the St. Lucie Sheriff's Office to be on the lookout for a fleeing suspect driving northbound on A1A following a shooting at Pepper Park a half-dozen miles south of the Indian County line, clocked Williams driving 110 miles per hour before the crash.
"Post Miranda, the defendant understood their rights and agreed to speak with law enforcement. The defendant stated, 'I was really trying to speed and get around like three or four cars.' When asked as to why he was trying to overtake vehicles, the defendant stated, 'I seen another car do it, so I was trying to do it also.' When asked about mechanical defects with his vehicle, the defendant stated that 'the engine was running hard and the brakes do not stop as fast.'"
A sheriff's deputy on scene said Williams claimed he was trying not to hit a speeding Camaro when he crashed his Chevy Impala. "When asked where the Camaro was, the defendant stated, 'I was trying to slow down, that's what made us wreck'."
Police found drugs and a firearm near Williams' vehicle, and one occupant riding in his Impala was a convicted felon, but Williams so far has not been charged in connection with those things as part of his violation of probation case.
The reason Williams was on probation at the time of the crash was that he'd been previously arrested on two third-degree felony charges – carrying a concealed weapon and attempting to tamper with evidence – plus a misdemeanor charge of resisting an officer without violence.
Originally pleading not guilty, Williams changed his plea to no contest in June 2020, and in July 2020 was sentenced to two years of probation for the three offenses.