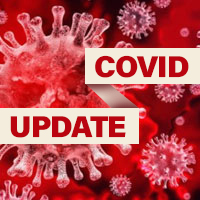 New Covid cases fall sharply here
STORY BY LISA ZAHNER (Week of February 23, 2023)

The number of new COVID-19 infections last week declined 28 percent locally and 20 percent statewide, again defying predictions of a winter surge of the illness.
The case count locally dropped from 120 new cases to 86 new cases for the week ending Feb. 16.
About one in four or nearly 43,000 people in Indian River County have reported a positive COVID-19 test to the Florida Department of Health since March 2020, but the real number of people infected could be twice that, with the widespread use of at-home Covid test kits, plus people with very mild or no symptoms not getting tested.
The Centers for Disease Control and Prevention reported eight people were newly hospitalized with Covid illness locally, down 33 percent from 12 hospitalizations the previous week.
Cleveland Clinic spokesperson Erin Miller said on Monday, "We have four Covid-positive patients in-house this morning, none of which are in critical care."
That's down drastically from nine patients hospitalized with covid illness last week. Indian River County falls within the CDC's Low Covid Community Level, in large part because of the county's robust hospital capacity versus the low number of hospitalizations.
The rest of the Treasure Coast, plus Palm Beach County, is in the Medium Covid Community Level category.
Three years ago this week, the United States had just 33 confirmed cases of the novel coronavirus illness newly named COVID-19, including 18 passengers from the Diamond Princess cruise ship docked off Japan.
The total known U.S. death count from complications of Covid illness at that time was two. 
Nearly 103 million people have since reported testing positive for the SARS-CoV-2 virus that causes COVID-19 illness in the United States. That does not include people who tested positive on at-home rapid test kits and did not report their illness to their local health department or turn up for medical care, at which time their case would have been counted.
As of Monday, 1,113,254 people have died in the U.S. of complications of COVID-19 illness.
Even now, as the federal public health emergency for the Covid pandemic is set to expire on May 11, more than a quarter-million Americans are still reporting positive Covid tests each week, according to the CDC.
Nearly 3,600 people in the United States are being hospitalized each day for COVID-19 illness, which amounts to nearly 18,000 hospitalizations per week. Of those, 2,838 people died last week.  Roughly 16 percent of all patients hospitalized for COVID-19 illness never leave the hospital to return to their lives and families again.
More than 22,000 Americans are in the hospital this week with COVID-19 illness.
Back in 2020 at the start of the pandemic when so little was known about the virus or the course of the disease, Florida did not announce its first presumptive cases of COVID-19 illness until the first week of March. There was no test yet, only a list of symptoms. But public health officials now know that COVID-19 arrived on Florida's shores and in its airports long before the first documented case.
An analysis of state health data conducted by the Miami Herald found at least 170 patients fitting COVID-19 symptom criteria between Dec. 31, 2019 and Feb. 29, 2020. The patients ranged in age from 4 to 91 and 10 of them died.
The virus was presumably spreading in Florida communities throughout December 2019 and over the Christmas holidays. Miami Gardens hosted the Super Bowl LIV on Feb. 2, 2020 at Hard Rock Stadium, welcoming visitors from around the globe in the midst of an already-busy snowbird season.