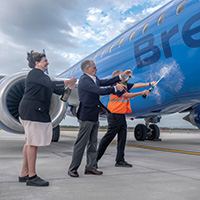 'Nice' start: Vero-bound fliers clearly on board with Breeze Airways' service
STORY BY PIETER VANBENNEKOM (Week of February 9, 2023)
Photo: From left: Vicki Mattteson, Mayor Robert Brackett, and Brian McCormick celebrating Breeze's arrival in Vero.

A lot of island residents travel back and forth quite a bit between Vero Beach and the Northeast, and many prefer to fly first class.
If the comments from this past weekend's first travelers on Breeze are any indication, they can expect the same – or even better – amenities on the new airline now serving Vero that they find on the major carriers that fly out of West Palm Beach or Orlando.
Despite its self-styled moniker as a low-fare airline, Breeze has little in common with other such carriers like Spirit, Frontier, or even Southwest that are famous – or infamous – for bare-bones service in the air.
Breeze flies twice a week between the Vero Beach Regional Airport and White Plains in the Westchester County northern suburbs of New York City, and three times a week to Bradley International Airport, which serves the metropolitan areas of Hartford, Conn., and Springfield, Mass.
Breeze doesn't classify its seats as economy, premium economy or first class (if available) like other airlines. In keeping with its branding as the "nice" airline, Breeze calls its seats "nice" (the equivalent of economy), "nicer" (economy with extra legroom like the emergency exit row seats), and "nicest" (the equivalent of first class).
While fares for the "nice" seats may go as low as $59 on sale for a one-way ticket to either Westchester or Hartford, fares for the "nicest" seats typically run in the $300 neighborhood – still very competitive with other airlines flying similar routes from Florida airports to the main Northeast hubs.
Breeze services the Westchester route with Brazilian-made Embraer jets that offer only "nice" and "nicer" seats; they do not have the "nicest" seats on the smaller planes. The Hartford route is flown by brand-new A220 Airbus jets that offer all three classes, from nice to nicest.
"The flight was very nice," said a strapping, young 6-foot-4 passenger built like a football linebacker who would have a hard time fitting his frame into an economy seat on any plane. "I fly first class a lot on other airlines, and I'd say that this flight was at least on a par with the others."
"I actually think it was much nicer than Delta," said Laura, a Connecticut resident who came to Vero two days later to visit family. "I just love the seats and the service."
Breeze's "nicest" seats are spacious and comfortable and have all the plug-ins for various types of electronic gear. Even the front-end bathroom for the "nicest" passengers is a little wider than usual.
Gerry, a Vero Beach island resident who flies a lot between Vero Beach and Northeast, usually first class, said he was impressed by the cleanliness of the new Breeze Airbus jets, the ease of using the airline's website, and the friendliness of the flight attendants. He used to fly Elite to Portland, Maine, but he didn't like the "sketchy" way in which Elite disappeared from the scene in Vero Beach, and he's already noted that there is no comparison between Elite and a serious airline like Breeze.
"I really hope they make it and can monetize their Vero Beach routes," said Gerry, who asked that his last name not be used. "I've already bought another ticket on Breeze for April."
"It's worth paying a few extra dollars for," said Matt Violette from Burlington, Conn., who was traveling with his wife, who needed a wheelchair, to visit her son in Vero Beach. "We'll be coming back this way, and when her son comes up north, he'll be coming up on Breeze, too."
"If you do a lot of traveling, this is the way to do it," said Jean, another wheelchair traveler ("please don't use my last name") from Windsor, Conn. She was on her way to visit one of her children in Vero Beach as well.
Then there was the Connecticut woman who was en route to visit her father, a retired schoolteacher, in Vero Beach, and who had never in her life flown first class because she always went on Southwest. She was so excited that a new airline was serving Vero Beach directly that she decided to splurge and buy first-class tickets. "We're celebrating," her father said. "What the heck, it's  a few hundred dollars!"
Elaine Apicella travels about once a month from Branford, Conn., to Fort Pierce to visit her parents and discuss the family business in insurance adjusting. She used to travel from Palm Beach International on other airlines that didn't have a first class, but she usually paid extra for more legroom or bought two seats to have more space.
"This is much more convenient for me," she said as she surveyed the room in Breeze's "nicest" section. "I can see myself doing this a lot."
Carol Frago from Cromwell, Conn., was in the "nicest" section of a Breeze flight from Hartford to Vero Beach to visit her son and his family, and perhaps look into retiring here or at least becoming snowbirds. "This ('nicest' seat) is so much better that anything else we've flown so far," she said. "And by staying away from Orlando, we save an hour and a half of travel on the ground after we land."
The "nicest" passengers didn't even seem to mind the one notable difference between the service on Breeze and the first-class perks on other airlines. On Breeze, in the "nicest" seats, you do get free snacks according to the length of the flight and soft drinks, juices or tea or coffee, but even in the "nicest" section, alcoholic drinks cost $9.
"So what?" said one passenger with a shrug as he pulled out his credit card to pay for a gin-and-tonic. "They get you one way or the other."
"If I wanted a beer – and I did," said an elderly passenger in the next row, "I can pay for it."
The only real criticism heard from a "nicest" passenger on the first few flights was that the chief flight attendant had forgotten to hand out napkins with drinks – either that, or the plane had run out.
"It didn't matter," she said with a twinkle in her eye. "I have my own solution for that. Sometimes you have to sneeze and you can't get to your pocketbook right away because it's up in the overhead bin, so I always stick a couple of tissues in my bra."