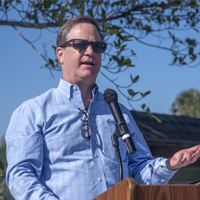 Oyster Bar Marsh: A scenic new trail for walkers, bikers
STORY BY MARY SCHENKEL (Week of February 9, 2023)
Photo: Ken Grudens speaks at the opening of the Oyster Bar Marsh Conservation Area.

The Oyster Bar Marsh Conservation Area, a project more than two decades in the making at the southern end of 32963, formally opened to hikers and bicyclists last week.
The public now has access from dawn to dusk to the 3-mile Oyster Bar Marsh Trail, which circumnavigates a 132-acre mangrove wetland impoundment stretching from a parking area on the western side of A1A to the Indian River Lagoon.
The trail includes amenities such as educational signage and boardwalks through mangrove forests. There is a covered observation deck at the center of the impoundment as well as a lagoon overlook, five trailside benches, and a parking area that boasts native landscaping and a mini-botany trail.
The project, a public-private collaborative effort, had its beginnings in 2001 when the county purchased more than 100 acres using funds from the initial $26 million Environmental Lands Bonds Referendum narrowly approved by voters in 1992, plus a matching grant from Florida Communities Trust.
Another 30 acres was purchased over a number of years by the Land Trust using donor-raised funds. The Land Trust contributed additional funding for the planning and design work of the impoundment and public access areas.   
County residents have approved Environmental Lands Bond Referendums in ever increasing numbers over the past 31 years.  In 2004, a $50 million referendum received 67 percent of the vote, and in November, 78 percent of voters supported the latest $50 million referendum. 
"It's a nice trend," said Ken Grudens, IRLT executive director. "It shows that people have faith in the county's work to acquire lands and see the importance of conservation as more and more development occurs in the county."
At a celebratory ribbon cutting attended by representatives of the various entities involved, Michael Zito, interim county administrator, said it shows that collaboration, hard work and patience can turn environmentally sensitive land into a recreational amenity for the public that also protects the environment. 
"It's truly a partnership between Indian River County, the Florida Communities Trust, Indian River Land Trust, and the Florida Inland Navigation District," said Zito. The project also benefited from a $100,000 grant derived from taxes residents pay to the Florida Inland Navigation District, approximately 80 percent of which comes back to counties in the forms of grants.
"When you walk or bike in these trails, you're walking across independently owned property by the Land Trust and the county, but acquired with a common goal. And that is to get people out to enjoy and appreciate conservation and appreciate the natural areas that we have," said Grudens.
Bicycles and leashed pets are welcomed, but motorized vehicles are not.