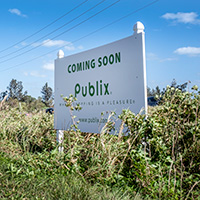 Publix moving ahead with new option for north island residents
STORY BY RAY MCNULTY (Week of February 16, 2023)

Publix is preparing to build a supermarket closer to shoppers on the northern half of the barrier island.
The site plan for the new store – to be located on the south side of State Road 510, less than a half-mile east of U.S. 1 – has been approved, and county officials say the supermarket chain hopes to begin construction later this year.
Ryan Sweeney, the county's chief of current development, said that Publix representatives believe the planned 34,000-square-foot store will become the grocery-shopping destination for island residents as far south as Indian River Shores.
Currently, the nearest Publix supermarkets to island shoppers coming across the Wabasso Causeway are at the intersections of U.S. 1 and Barber Street in Sebastian, and U.S. 1 and 53rd Street, near Grand Harbor, north of Vero Beach.
"Based on what we've been told," Sweeney said, "this store will feature many of the upscale offerings you find at the Miracle Mile location, which serves a lot of island residents further south."
In fact, Sweeney said Publix representatives opted for the site – less than 2 miles west of Wabasso Beach Park – because "they couldn't build on the island."
Sweeney was referring to Publix's decision four years ago to abandon its plans to build a slightly smaller shopping center on a seven-acre parcel on  510 in Orchid, where the proposed development met with overwhelming opposition from town residents and their neighbors.
Publix regional media relations manager Lindsey Willis did not respond to multiple messages left at her office.
Under the plan Publix submitted to the county's Planning and Zoning Commission last year, the new mainland supermarket will anchor the Bridge Marketplace shopping plaza that also will include a 6,400-square-foot retail store, 2,100-square foot liquor store and bank with drive-thru lanes.
"It'll be the prototypical Publix shopping center," Sweeney said.
The plaza will be built adjacent to a 100-acre tract on which DiVosta Homes plans to build 270 single-family homes in Harbor Isles, which it describes as a "waterside boutique community" that will feature a clubhouse, swimming pool and fitness center.
Sweeney said the county is requiring Publix to make roadway and traffic-control improvements in the area. They include the installation of turn lanes from State Road 510 and a traffic signal at the entry to the shopping center's parking lot.
DiVosta will be required to build turn lanes at Harbor Isles' main entrance on State Road 510, as well as a right-turn lane along northbound U.S. 1, where a second entrance will be located.
Sweeney said Publix hadn't yet submitted its building-permit applications and isn't expected to break ground on the new shopping center for at least six months, possibly a year.
As for the seven-acre Orchid parcel where Publix earlier had hoped to build, the Orchid Island Golf & Beach Club purchased it for $2.3 million in December 2020 from the estate of longtime Vero Beach businessman and developer Ken Puttick, who died in May 2019.
The club plans to use the property to build additional amenities, including pickleball courts.
Opponents of the Publix plans for the Orchid site had said the proposed development was not in compliance with the town's building and zoning codes, and was out of character with the town's feel, quality of life and natural surroundings.