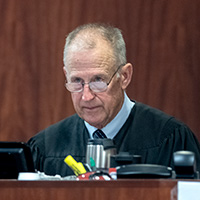 Retired jurist Vaughn was case study in fairness
STORY BY LISA ZAHNER (Week of February 2, 2023)

Right up to the moment he hung up the black robe for the last time, Circuit Court Judge Dan Vaughn gave the taxpayers of Indian River County and all of Florida's 19th Judicial Circuit his full effort and attention to ensuring that justice was done.
On the bench, Vaughn displayed a rare combination of meticulous attention to detail, exhaustive knowledge of Florida law and good-hearted humanity toward jurors, victims and their families, and even to the beleaguered defendants who wound up in his courtroom.
Realizing that any normal person gets really nervous in a courtroom, Vaughn had a habit of repeating important instructions three times. He thanked jurors profusely for serving and it was during the jury selection or voir dire process that Vaughn sought to put prospective jurors at ease by letting let his humorous side show.
But to the attorneys who practiced before him, Vaughn never joked about the law. 
Prosecutors and defense attorneys got exactly the treatment they deserved – respect for being prepared, thorough and quick on their feet to represent the state or their client, or a rebuke for being lazy, careless and not following the rules.
Vaughn praised Diamond Litty's public defenders who represent the judicial circuit's indigent.
"They're very dedicated to helping people and they're very good at criminal law. They're knowledgeable and they're in there with the judge every day, day in and day out, and they're very good lawyers and they're dedicated," Vaughn said.
"I've told defendants many times, you're not getting any kind of substandard representation because you've got a public defender. The contrary is true. You're not going to get better representation from a private lawyer that you're going to pay a ton of money to.
"In bigger cases, they'll give the state a run for their money," Vaughn said, adding that the circuit's public defenders are very skilled at jury selection, especially in death penalty cases.
As a former assistant state attorney under both retired State Attorney Bob Stone and retired State Attorney Bruce Colton, Vaughn held the circuit's prosecutors to an extremely high standard because he knew from seven years as a prosecutor how crucial their job is to the integrity of the justice system.
"A lot of times in felony court, I feel like they over-charge because they'll come back and take the charge down to a misdemeanor," Vaughn said. "And it should have never been a felony in the first place if they couldn't make a case for it."
Vaughn presided over an unprecedented period in the criminal courts the past several years. Vaughn said the challenges of the pandemic revealed some pretty shoddy behavior, including defendants who lied about having Covid so they didn't have to come to court. "These defendants knew how to game the system," he said, explaining that he had to start requiring medical documentation because it got so bad with people pretending to be sick. "They'd tell the deputy downstairs, 'I've got Covid," Vaughn said.
Attorneys also displayed an ample amount of lazy lawyering, Vaughn said. And by the way, he really hates Zoom.
"Either the lawyer you're trying to talk to wouldn't be available when you called them, or there's some kind of technical malfunction and you can't hear them, or they'd be driving around in their car," Vaughn said. "I had several of them, they're driving around in their car on Zoom and I'd have to say, 'Could you pull over, please?' I'm talking to them on Zoom and I'm afraid going to see a car wreck!"
Vaughn reminded them that what they were doing was illegal. Vaughn said he would hold the Zoom hearings last and "for the people who bothered to get off their keister and come to court like they're supposed to, to represent their client, I'd get to them first," he said.
At a certain point, lawyers started complaining that they had to wait too long on the Zoom calls to get to their hearings. "It was a nightmare," Vaughn said. After that, Vaughn required a medical excuse for lawyers to not show up in person, but that didn't always work either.
With regard to the massive felony case backlog in Indian River County, the 1,100-plus cases awaiting trial that are now in the hands of Circuit Court Judge Bob Meadows, Vaughn wanted to set the record straight about the delays.
"With the exception of maybe two that I can think of, none of these lawyers ever file what's called a demand for speedy trial," Vaughn said. "And I invite them to do it if they want to get their case over-with, file a demand for speedy trial, which binds them, the state and the court to bring the case to trial no less than five days from the date the demand is filed nor more than 45 days away, but they never do that."
Vaughn said cases are routinely continued because they attorneys are not ready for trial, and sometimes have not taken the first deposition. Many lawyers also do not ask the judge to compel a witness to show up if they dodge a deposition.
"When they're in there kind of disingenuously saying they're ready for trial and I say, 'You're down the list. Why don't you file a demand for speedy trial? You'll go to the head of the class. You'll get a trial in less than 45 days and the court is bound to try the case,' they never do that."
Vaughn said he worked through the backlogged felony cases in a systematic way, and let attorneys pick convenient trial weeks. "There's a million different reasons they come up with on the morning of trial, on the day they asked for, when three weeks before they were ready for trial."
Vaughn said both prosecutors and defense attorneys offer excuses, but that defendants out on bond are hardly ever motivated to get a speedy trial. "They're both equally culpable in this," Vaughn said. "Don't let them make you think they're standing here banging on the courthouse door trying to get a trial because they're not."
Vaughn said getting a second full-time Indian River County felony judge is an urgent matter, but based upon experience, he doesn't expect the legislature or the court bureaucracy to rectify the problem anytime soon.