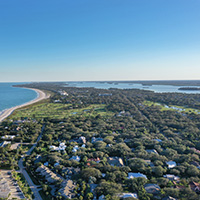 Riomar draws national attention as top luxury market
STORY BY STEVEN M. THOMAS (Week of February 16, 2023)

Long seen as one of the best neighborhoods on the island, Riomar has come into its own as a world-class real estate destination.
With a series of record-breaking sales and an average home price that is up more than 100 percent in just the past two years, Riomar was recently lumped in with La Jolla, one of the dreamiest parts of the California Dream, and elite Colorado resort town Telluride in an article about top luxury markets in Forbes Global Properties.
"At this time three years ago, the average listing price in Riomar [including Riomar Bay] was $1.75 million. Today, the average is $4 million," Forbes Global reported at the beginning 2023.
When Vero Beach 32963 checked active listings a week ago on Feb. 8, the transformation in valuation was even greater, with an average listing price of $5.78 million for the 12 homes and lots in Riomar and Riomar Bay shown online at Realtor.com and similar sites.
What the current listings will sell for remains to be seen but Matilde Sorensen, co-owner of Dale Sorensen Real Estate, told Forbes Global that "as recently as October 2022 a three-bedroom home sold for $400,000 above the listing price, totaling $2.3 million."
Closed sales in Riomar since 2019 tell an even more impressive story than soaring list prices.
In the final pre-pandemic year of 2019, there were 10 sales in Riomar and Riomar Bay with a total value of $22,359,500 and an average sales price of $2.23 million, according to the Indian River County Property Appraiser.
Against all odds, the pandemic juiced the market and there were 20 Riomar sales in 2020 worth $40,650,000.
Then, in 2021, there were another 20 sales with an average sales price of $3.14 million, up nearly 40 percent from the year before, with a total value of $67,277,000.
By 2022, a fraught year for the real estate market as a whole, the average price in Riomar had jumped to $5.08 million, 60 percent above the prior year and up more than 120 percent from 2019.
There were 16 sales in 2022 with a total value of $81,350,000 – almost four times the sales volume in 2019.
That blockbuster $81 million number included a $20 million sale on the water in Riomar Bay that set a new record for riverfront property in Vero, fetching 60 percent more than the previous recordholder.
Twenty million was three times the $6.5 million the sellers paid in 2014 and there were similar price jumps on the ocean where Sorensen in March 2022 sold a home for $13.9 million that had changed hands two years earlier for $4,425,000. The home had been redecorated and upgraded but there was no major structural renovation between the two sales.
"Riomar has always been one of the most desirable areas and now the market has really taken off there, due to its beautiful setting by the ocean and its location between the bridges, within walking or biking distance to town," said Sorensen, whose company was involved in half of the sales in Riomar in 2022, repping either the seller or buyer.
Sorensen has a long history with the neighborhood. She and her husband Dale Sorensen Sr. have owned and lived in four houses in Riomar, starting in the 1970s, and currently are building a new residence there. She sold her first of many homes in Riomar in 1980 and has a $4 million listing on the market now.
"We have tried [living in] other places in Vero but we always come back to Riomar," Sorensen said.
Cindy O'Dare, broker-associate at ONE Sotheby's International Realty  who has sold many homes in the enclave, agreed that "Riomar has become the most sought-after neighborhood in Vero Beach.
"There is no other place I have been on the east coast of Florida besides Riomar that has the beautiful historical houses and sandy streets with canopies of live oaks that can survive salt breezes and hurricanes," O'Dare said.
Premier Estate Properties estate agent Lange Sykes said Riomar has a "mystique" that no other island neighborhood possess. He notes the country club and golf course at the heart of the historic community and the allure of the setting between the Indian River Lagoon and the Atlantic Ocean.
"It has wide, accreting beaches and there is a reef close to shore that is like a National Geographic documentary at times," with abundant, colorful marine life, he said.
He also talked about the boating and fishing virtues of the Riomar Bay side of the community where most homes have docks and water views.
Like Sorensen, Sykes knows Riomar well. His grandparents owned one of the original cottages in the development, which stayed in the family until 2019, and he spent much of his childhood in the community, soaking up the seaside beauty and Old Florida ambiance.
"Riomar is a haven for people who might otherwise live at (John's Island) or one of the other club communities on the island but who aren't into club life," Sykes said. "It is the same caliber of people," but a different lifestyle.
"It is a small neighborhood where everyone is very cohesive and friendly," said Sorensen.
Just how special Riomar is can be seen by comparing its home prices with values in two nearby subdivisions – Castaway Cove and the section of Central Beach south of Beachland Boulevard.
Both neighborhoods offer high-quality housing and enviable lifestyles, with the village charm of Central Beach and suburban ideal embodied along the shady streets of Castaway Cove.  Values in both were lifted by the same pandemic tide that quadrupled the prices of some homes in Riomar.
But even though the neighborhoods are close by and partake of the same general island lifestyle that has such appeal to buyers these days,  their values remain far below values in Riomar.
According to county records, there were 20 sales in Castaway Cove in 2022 with a total value of $29,068,000 and an average sales price of $1.45 million. In Central Beach south of Beachland, there were 22 sales worth $39,275,000 with an average price of $1.78 million – just 35 percent of the average price in Riomar.
There are commonsense reasons for the price differential – lots and homes tend to be larger in Riomar than in Central Beach or Castaway, and Central Beach lacks waterfront properties, which are the most valuable.
But more of the difference seems to be due to the "mystique" that Sykes mentioned, that blend of history, architecture, natural beauty and country club amenities that set the neighborhood apart.
And prices could go higher still.
Forbes Global, which was founded by Jeff Hyland – Josh Altman's boss in early seasons of "Million Dollar Listings Los Angeles" – and is co-owned by Forbes, claims its articles reach 140 million people.
If 1/100th of 1 percent of those folks read about and were intrigued by the thought of living in Riomar, that would be 14,000 extra potential buyers to put upward pressure on prices in the approximately 240-home enclave.