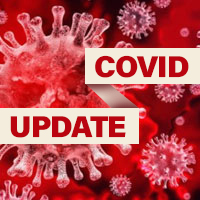 Rise in new COVID-19 cases here offset by a drop in hospitalizations
STORY BY LISA ZAHNER (Week of February 9, 2023)

New COVID-19 infections statewide declined significantly over the past four weeks, but Indian River County saw an uptick in positive covid tests jumping 23 percent from 97 cases to 120 cases reported to the health department for week ending Feb. 2.
Fortunately, COVID-19 hospitalizations locally are down, despite the slight increase in new infections.
The Centers for Disease Control and Prevention's Covid Data Tracker reports that 11 people were newly hospitalized this past week, down from 14 the previous week.
Numbers are down at Cleveland Clinic Indian River Hospital, too. "We have seven COVID patients in-house at Indian River Hospital, none in ICU," said Cleveland Clinic spokesperson Arlene Allen-Mitchell on Monday. That's down from nine hospitalized Covid-positive patients the previous week.
According to the CDC Covid Data Tracker, 496 people had covid tests performed through a medical office, pharmacy or lab over the past week, resulting in a 24 percent overall case positivity rate for last week. Anything over 10 percent is somewhat concerning, but because Indian River County has substantial capacity in its healthcare system to handle people hospitalized for COVID-19 illness, the Vero Beach area remains in the CDC's Low Covid Community Level category.
Roughly half of Florida's counties join Indian River in that CDC "green zone" with a cluster of counties in North Florida still battling higher levels of covid illness.