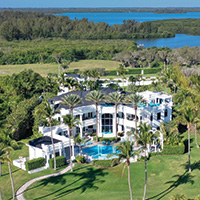 Second $60M listing further enhances island's cachet
STORY BY STEVEN M. THOMAS (Week of February 23, 2023)

Less than a month after a $60-million oceanfront compound came on the market in the barrier island's Estate Section, garnering attention worldwide, a second $60-million listing has popped up a quarter mile south of the first one.
The latest blockbuster listing, located at 2150 S. A1A, is generating another burst of publicity for the barrier island around the globe and creating lots of buzz in South Florida where a majority of Vero's luxury buyers now come from.
But rather than merely doubling the attention drawn to the 32963 market, island brokers say it is a case of one plus one equaling three – or four – in terms of upping Vero's profile among the ultra-wealthy.
During the pandemic boom, the barrier island entered a new real estate category, emerging as a $20-million-plus market for the first time, with multiple record-breaking sales at or above that figure.
But $60-million buyers are different from $20-million buyers and the back-to-back big listings have made Vero light up on the map those buyers look at when they're seeking real estate investments.
"One difference is that the $20-million buyer might be local, while the $60-million buyer will almost certainly be new to the area and probably didn't start out looking specifically for Vero Beach, but rather for a trophy property," said Cindy O'Dare, broker-associate at ONE Sotheby's International Realty, who with her partner Richard Boga listed the latest $60-million house as "coming soon" on Valentine's Day.
"This is truly unprecedented and exceptionally exciting," O'Dare added. "When the Wall Street Journal covered the previous $60-million listing,  that article received millions of impressions, and as a result, we have heard from buyers all over the world.
"We are seeing a new echelon of buyers. Almost overnight, areas like Palm Beach, Naples, Los Angeles, San Francisco and the Hamptons have become true feeder markets for Vero Beach."
"Certainly, these listings are drawing new eyes to Vero that had not previously taken note of our market," agreed Boga.
O'Dare and Boga's listing, which went live on the MLS this week, is one of the most famous houses on the island. Long known as "the barcode lady's house" and later renamed Palazzo Di Mare, it was the first major home built in the Estate Section.
Completed in 2001 in an elegant, Regency-revival kind of style, the house was the creation of Sharon Nicholson, widow of William Nicholson, inventor of barcode technology and co-founder of Retail Grocery Inventory Service, now called RGIS, a leading inventory control company.
The 23,315-square-foot house sits on a 5-acre ocean-to-river lot with 205 feet of ocean frontage and 198 feet of river shoreline. There are seven bedrooms, nine full baths, two elevators, stone and hardwood floors, a 14-car underground garage, and extensive landscaped grounds, including a sweeping back lawn that would do a 5-star seaside resort proud.
Nicholson sold the house in 2016 for an undisclosed sum to a buyer who resold it a year later to island developer Ken Cooper for $7.9 million, according to county records.
Cooper renovated the dated home, giving it the light, bright look and feel of a classic Palm Beach estate, making it into a breezy dream world with expansive sea views that was both restful and wonderfully alive with architectural and design elements that range from Moorish to Art Deco.
Current owners Doug and Sharon O'Banion bought the property from Cooper in 2019, paying $10,250,000, shortly after selling their RV dealership in Fort Worth for $250 million.
They then spent two years doing extensive additional renovations that Doug O'Banion told Vero Beach 32963 cost approximately $3 million.
The renovations included 14 new air conditioners, a $200,000 Crestron home control system, redoing the resort-style pool and landscaping and, most notably, transforming the little-used third level observation deck into a private, 28-seat bar and dining area with the finest equipment and furnishing and the kind of views you get in heaven.
Even with those improvements, the jump from $10 million-plus to $60 million is epic, and some island agents think it is unrealistic – but the most potent support for the price comes from what could be called the Florida Factor.
According to a recent article in Bloomberg, "38 of the 50 million-dollar U.S. neighborhoods with the largest price gains over the past three years are in Florida," and the upward price trend is continuing with hedge-fund kingpin Ken Griffin's spending spree in Miami.
Griffin, who moved his company Citadel to Miami last year, has spent hundreds of millions on real estate, with his executives following in his wake, and Maria Elena Lagomasino, CEO of WE Family Offices, a Miami-based wealth management firm, told Bloomberg that "the migration of affluent people to Florida is only in 'the early innings.'"
As buyers like Griffen bid up prices in south Florida, sellers are able to cash out and flee increasing congestion in Miami, Fort Lauderdale and Palm Beach, with many looking north to Vero where they can buy an equivalent property for much less than they sold for.
A quick glance at homes for sale in Palm Beach shows that the historic price differential between Vero and south Florida remains, even with $60-million listings in 32963: On Monday, Realtor.com showed a 2.8-acre oceanfront lot listed for $150 million (without a house!) and an older home on the river without ocean access on a 2.7-acre lot offered for $210 million.
"Florida got the lion's share of the pandemic transplants, and I think that momentum is ongoing," said Boga.
"With a new level of buyers coming in, south Florida sellers can get a fabulous price for their house in Miami or Palm Beach, which makes now seem like a good time to move to a less crowded and less expensive part of the state."
Connected to the influx of ultra-wealthy buyers is the incredible increase in wealth among the kind of people who purchase $60-million homes.
The top 1 percent of American households gained $26 trillion in wealth over the past three years, according to a January article published by cnbc.com. That cash created many new billionaires and bigtime multimillionaires who can easily afford a $60-million house, ushering in a new era in the ultra-luxury real estate market.
That new era was apparent in Vero last year when Matilde Sorensen's listing at 1804 Ocean in Riomar sold for $13.9 million, more than triple what it sold for just two years before, and 500 Bay Dr. closed for $20 million, more than double the previous riverfront record here and triple what it sold for previously, in a deal handled by Charlotte Terry at AMAC Alex MacWilliam and Dale Sorensen Real estate agent Cathy Curley.
Miami real estate investor Jonathan Molano said the $60-million listings are good for the island market, where he has a 17-acre riverfront parcel listed with super-agent Oren Alexander for $25 million.
When he put the property on the market last year, some island agents scoffed at the list price, but he told Vero Beach 32963 on Monday that he is getting a steady stream of calls from interested buyers and is thinking of raising the price in light of the big new listings nearby.
Boga also noted that "oceanfront construction prices have at least tripled in recent years," which makes an existing structure like 2150 S. Highway A1A more valuable by the day.
"The increase in construction costs and the scarcity of properties like this are helping drive big price increases," Boga added.
In addition, he pointed out that there is development potential at the property.
"Besides about three and a half acres on the oceanside, there are one and half acres on the river side, with plenty of room for a helipad, a tennis court, or another single-family residence oriented to river with a pool and maybe a 20-vehicle car barn, if the buyer is a car collector," Boga said.
Doug O'Banion told Vero Beach 32963 that he and his wife will not be "out in the rain" after selling their Vero home. They have homes in Texas and the Bahamas and he is thinking about moving counter to the current migration and buying a place in Palm Beach.
His RV dealership, Motor Home Specialist, was the largest in the world at the time he sold it, according to Fort Worth Business Press.
"We were selling $300 million a year," he says, "with a top sale of $3 million. When people ask me who buys a $3-million motorhome, I always tell them 'people with money!'"