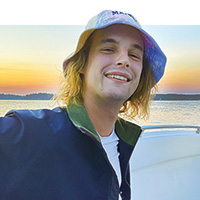 Vero man's disappearance devastates anguished family, friends
STORY BY NICK SAMUEL (Week of February 2, 2023)

The night before 27-year-old Johnny Peters went missing, he enjoyed a casual meatloaf dinner with his brother Freddy and friend Steven Stewart at the Peters brothers' Vero home, then the three sat around a fire pit in the backyard, with good vibes flowing.
It would be the final time Stewart saw Johnny Peters, his friend since Vero Beach High. Stewart spoke to his former classmate the next day on Jan. 9. Johnny told him he was at the beach having a beer.
He was last seen at Waldo's at the Driftwood Inn, then on a nearby beach. The Peters boys were raised in Central Beach before parents Fred and Amanda Peters moved to Indian River Shores, so the eateries and watering holes of Ocean Drive were Johnny's home turf. Nothing unusual there.
"Everything seemed normal, from dinner to the phone conversation," Stewart said, adding that the trio planned a golf outing that following Tuesday.
But after that phone call, Johnny Peters never returned to the Vero residence he shared with his brother. Pictures of Johnny flooded the social media of friends, families and others who knew him. Social media users said he had a "heart of gold," and that his family is heartbroken.
At Waldo's, a popular beachfront eatery for residents and tourists alike, a missing persons flier of Johnny Peters still hangs on the wall.
Jamie Weber, a bartender at Waldo's, said she had served Johnny two beers during happy hour before his disappearance. "He was smiling and in a great mood," Weber said. "I had to ask his name for the tab. That's how I knew who he was. He said, 'I'm Johnny Peters.'"
The morning after Johnny Peters went missing, Stewart and Freddy Peters searched the beach near Humiston Park where Johnny's cellphone had pinged. Freddy found his brother's clothes piled up near the seawall, Stewart said. Worried that his brother might have taken a nighttime swim, Freddy later found Johnny's black 2013 Hyundai Tucson parked in the 3100 block of Ocean Drive.
Police issued an alert on social media Jan. 10 asking for the public's help in finding Johnny.
Officers learned the man visited Waldo's Restaurant on Vero's beachside for a drink about 5 p.m. the day he vanished, an incident report showed.
Johnny Peters' disappearance prompted a multi-agency search involving the U.S. Coast Guard, Vero Beach Police Department and Indian River County Fire-Rescue. The Coast Guard used boats and helicopters to comb more than 1,440 miles of the Atlantic Ocean over 42 hours Ocean for any sign of him before suspending the search. No clues have washed ashore and no reports of any sightings have been made.
"It's so sad," said Weber who had been tending bar at Waldo's.  "I've been working here 12 years and haven't had anything like this happen."
On Jan. 11, detectives got a glimpse of the last-known movements of Johnny Peters through images captured on security camera footage. After leaving Waldo's, Johnny went alone to Humiston Beach Park, a small, family-friendly area dotted with picnic tables and tall palm trees, as the sun began to go down over the western horizon. The skies had been partly cloudy, with temperatures at a warm 75, the National Weather Service reported.
He removed his jacket, then his shirt, hat and sandals, Vero Beach police said. Then Johnny Peters – wearing only a pair of shorts – apparently jumped into the ocean, never to be seen again.
"We have two young ladies who saw him walk into the ocean," said Vero Beach Police Chief David Currey. 
Peters has been missing for more than three weeks. Freddy Peters said the family – baffled by the disappearance – is still seeking any information on what may have happened.
"We have no new leads," said Currey.
"It's confusing. I don't know where to put my energy," brother Freddy said. "I don't know what happened. Do I need to keep looking for him? Do I mourn him? Without any proof he's dead, we have to continue to look for him."
No vigils or memorials are planned, Freddy said, as family and friends wait for answers. Freddy Peters said his parents are not ready to speak publicly about Johnny's disappearance.
But Freddy Peters recalled the memories he cherished with his brother – only one year his junior.
The two enjoyed hobbies including golfing, grilling, cooking, surfing and even traveling around the world to Germany and Italy, Freddy said. He described his brother, with his sandy blonde hair and affable smile seen in the photos distributed across social media, as a "relaxed and upbeat guy.
"He spent a lot of time with his friends at the beach," Freddy said. The brothers are both Vero Beach High School alumni, with Freddy Peters graduating in 2012 and Johnny graduating in 2014. 
Johnny Peters was finishing up a bachelor's degree in economics at the University of North Florida, according to his brother. He also worked for the family real estate company Peters & Company LLC. Both Peters brothers hold real estate licenses.
"We were trying to figure out how to bring back good business," Freddy Peters said.
The brothers also have two younger sisters – Kristin Mori, 26, who lives with her husband Kou Mori in Tokyo, Japan, and Katherine "Kiki" Peters, 25, of Delaware.
"My sister (Kristin) just had a baby, so we wanted to see her in Tokyo," Freddy said.
Johnny Peters' friends remember him as a care-free guy and a fast learner who loved video games,  playing tennis, and grilling out. He liked TV shows such as "South Park," "American Horror Story," and "Naruto," according to his friend Daniel Blasco, 27, of Vero Beach.
Blasco said dealing with his friend's disappearance is tough. Like family, he and others are waiting for answers. "He was a really good friend to me. We would see each other every week," Blasco said of the guy he met in freshman biology class.
"I never had a close friend growing up. He was my friend throughout all of high school."
Anyone with information should contact Det. Sean Crowley of the Vero Beach Police Department at 772-978-4664.